Report: Rockets looking to deal Robinson, free up spot for Howard
The Houston Rockets are going to make a run at Dwight Howard this summer and are reportedly looking to deal Thomas Robinson for cap room.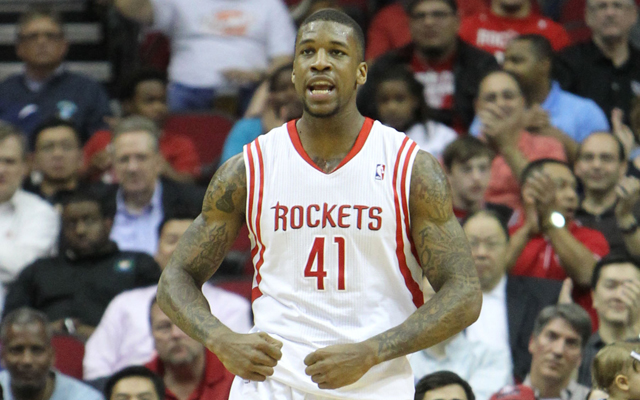 The Houston Rockets and Daryl Morey are always looking to make a big splash and land a star to try to bring back the days of Hakeem Olajuwon leading the franchise to a championship. They landed James Harden to be a franchise player right before this past season and are trying to give him another star to play alongside.
Dwight Howard is the big target this summer, and as Ken Berger told us on May 19, the Rockets are one of the teams capable of wooing the All-Star center if they can carve out a little room. Adrian Wojnarowski of Yahoo Sports is reporting that the Rockets are looking to move Thomas Robinson, as Berger mapped out, in order to help create enough cap space to offer Howard a four-year max contract. 
The Houston Rockets are determined to trade forward Thomas Robinson -- the fifth pick in the 2012 NBA draft -- to create salary-cap space for the pursuit of the Los Angeles Lakers' free-agent superstar Dwight Howard, league sources told Yahoo! Sports.

The Rockets have made clear to multiple rival teams that they plan to accept the best offer to move Robinson and eliminate his $3.52-million salary for the 2013-14 season.

Without the salary of Robinson and others, the Rockets will have the space to offer Howard a maximum deal starting at approximately $20.5 million a season.
In a league of teams stacking up stars, the Rockets certainly seem to know the lay of the land. And while giving up on the fifth pick of the 2012 draft may seem a bit risky, putting a healthy Howard in the middle of their defense would beef up a team that was 16th in the NBA in defensive rating. He would also provide a pick-and-roll option (assuming you can convince him it's his best way of scoring) to run with Harden that would be devastating moving toward the basket.
Robinson would be moving on to his third team in a year, which could start to make people wonder what's wrong with him. He played poorly with the Sacramento Kings, but he was also part of a dysfunctional organization that had no direction and tons of questions with the leadership of the organization. With the Rockets, he played better but saw limited minutes because this wasn't a team developing young players first and foremost; it was a team competing for a playoff spot.
Robinson's removal from the organization via trade would be more of a numbers game with salary-cap availability than it would be an indictment on his abilities. 
The Warriors have shown that simply putting talent together isn't enough

Hayward will be in Miami this weekend, while Utah and Boston also have meetings scheduled

Sacramento signs Serbian to 3-year, $36 million contract while passing on Ben McLemore
Free agency is around the corner, which means there could be a ton of significant moves coming...

The Knicks still intend to trade Carmelo Anthony even with Phil Jackson gone

Paul George is a college football coach at heart