Bigger, healthier Falcons can't wait to prove critics wrong in 2014
After getting bigger up front on both sides of the ball, and with key playmakers back, the Falcons, led by steady Matt Ryan, are motivated to prove 2013 was a fluke.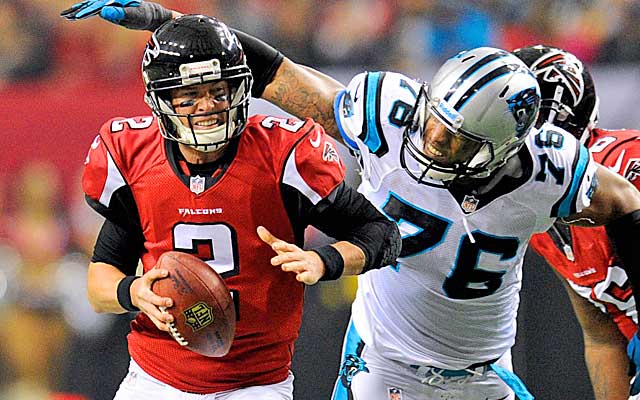 More NFL offseason: League minicamp dates | Latest news, notes
FLOWERY BRANCH, Ga. -- Seventeen months ago, the Atlanta Falcons were 10 yards from a Super Bowl, the team was considered on the rise and their general manager-coach combination seemed as rock solid as any in the league when it came to job security.
But as I watched the Falcons work here during an OTA day this week, so much has changed. This is a team coming off a 4-12 season, tied for last in the NFC South, and there are whispers that some heads could roll if the team doesn't bounce back from that disappointing 2013 season, which, in turn, has led to this notion that the Falcons aren't very good.
In fact, Pro Football Focus, my analytics buddies, ranked the Falcons as having the third-worst roster in the NFL.
That is way off base.
When I ran the idea that the roster was one of the NFL's worst by Julio Jones, one of the elite receivers in the game, he flat out laughed. Same for Falcons quarterback Matt Ryan , who somehow has become a whipping boy for the misinformed who think he didn't play well last season. "Roster?" Jones said. "Roster? That's OK. It doesn't piss me off or nothing. A lot of people are going to see this year. The thing (people miss is) about all the guys we have on our team now. We have several offensive linemen and defensive linemen who will push each other. You come to work every day, and you have nobody pushing you, you are going to do what you need to do to get by. If you have somebody there to take your job, and is working his butt off, you are going to amp up to keep your position. That's what we have now."
"That's ridiculous," Ryan said.
The Falcons had 72 missed games to injuries last season, and some of their key players, including Jones, linebacker Sean Weatherspoon , left tackle Sam Baker and pass rusher Kroy Biermann all missed significant chunks of time.
It's hard to win games when the talent isn't there. Jones missed 11 games with a broken foot and Roddy White , the other part of the team's dynamic passing game, missed three games and wasn't really healthy for much of the season at all.
"We have a good football team," Ryan said. "We had so many injuries last season that it took a toll. No disrespect to anybody, but there were times when I would look around the huddle and wonder who was playing X or who was playing Z. We will get back this season to being a good football team. This is a good roster."
I agree. This Falcons will be better than people think, even with Weatherspoon now down for the year with a torn Achilles tendon. There are a lot of reasons why general manager Thomas Dimitroff and coach Mike Smith, both of whom could be on the hot seat (which is premature, by the way) should feel much better about their team moving into 2014.
Here are some of the reasons why there's reason for hope:
Additions in free agency and draft
One of the things Smith and Dimitroff both wanted to do was to get bigger and stronger on both lines. Smith was part of the Ravens' staff in 2000 that won a Super Bowl with big bodies in the middle of the defense. That's why the Falcons signed Tyson Jackson , Paul Soliai and drafted Ra'Shede Hageman to help the strength up front.
The additions of those players will mean a shift to more of a hybrid defense, using both 3-4 and 4-3 principles under coordinator Mike Nolan. It is hoped that the Falcons' additions will help a run defense that was 31st in yards and per-carry average last season. The Falcons still lack the premier pass rusher, but cutting down the per-carry average will help get teams in more third-and-long looks, which will help.
The Falcons also signed guard Jon Asamoah in free agency and drafted Jake Matthews in the first round. With Baker back healthy at left tackle, Matthews will settle in on the right side next to Asamoah. The staff has been raving about Matthews so far in drills. The right side of the line has been a major problem for the Falcons in recent years.
Falcons owner Arthur Blank said in April that most people would not consider his team as a tough team that plays right up until the edge, but not past it. That is something he wants to see, but that sure isn't anything the players would really want to hear. That reputation is based mainly on the notion that teams that pass it first, which the Falcons do on offense, aren't tough, while run-first teams are tough.
"So what do you call Drew Brees and Aaron Rodgers ?" Jones said. "Were they on tough teams? Both of those won Super Bowls. The 49ers haven't won the Super Bowl. You can run it all you want to, but you get in the playoffs you have to be able to throw the ball. And get one or two explosive plays to win it all."
The additions should make the Falcons tougher -- even if the true definition of that in the NFL is one that's hard to come by.
As Ryan said, "We have a lot of tough guys on this team."
The Falcons also brought in former NFL players Mike Tice (offensive line) and Bryan Cox (defensive line) to toughen up the units. They are two coaches who won't take crap from their players and will instill a meaner attitude.
The steadiness of Ryan
As I wrote in my Monday Musings this week, the Falcons insist that Ryan played significantly better last season than he did in 2012 when he led the team to the best record in the NFC.
Ryan's completion percentage was 67.4 percent, second best of his career to the 68.6-percent he completed in 2012. His 2013 number was better than all but three other starters last season -- Phillip Rivers, Peyton Manning and Drew Brees. Yet now entering his seventh season, Ryan has averaged more than 25 touchdown passes per season, even with little help from the run game over the years.
Where the Falcons had real issues in their passing game last season was hitting the big play. That's because of the injuries to Jones and White. Atlanta tied Jacksonville for 27th in the league with 44 passing plays of 20 yards or more. Jones had nine of those 20-plus plays in five games. He also had three of the nine 40-plus plays they had.
Ryan was sacked 44 times -- 16 more than in 2012 -- as the offensive line struggled to keep him upright.
"To see what he went through on a weekly basis was incredible," one Falcons staffer said. "And he never complained. Not once. He took some big shots too. Anybody who doesn't think he played well last season needs to go back and watch the tape."
With his receivers back, and the line upgraded, look for Ryan to show that he is better than a lot of critics and media members think.
The Harry Douglas factor
That brings me to Harry Douglas , the team's third receiver. With Jones and White missing time, Ryan had to develop more trust in Harry Douglas, which he did. As a result, Douglas had 85 catches for 1,067 yards and two scores, starting 11 games and being the primary pass catcher.
It is Douglas who is expected to fill the void left by tight end Tony Gonzalez in the middle of the field. With Jones and White back, Douglas will be the slot receiver again. His speed will help get more big plays in the middle of the field than Gonzalez did.
For all the talk of how Gonzalez will be missed, he averaged 10.3 yards per catch and had five catches of 20 yards or more. Douglas had 13 and five of 40 yards or more.
Add Douglas to the mix with Jones, who is expected back for opening day, and a healthy White and the Falcons should use more three-receiver looks. "Now we have a third receiver," Jones said. "Even though Tony is gone, now he has enough confidence in Harry. No tight end and now we can bring Devin Hester in."
Young players forced to play in 2013
With so many missed games, youth was served last season. Three of the Falcons four leading tacklers were rookies. Both starting corners entering this season were rookies in 2013, with Desmond Trufant getting 12 starts and Robert Alford four. Paul Worrilow , one of the starting linebackers entering this season, had 12 starts in 2013 as an undrafted rookie and led the team in tackles.
Joplo Bartu , another undrafted linebacker, had 13 starts and flashed a lot of athletic ability, although he was inconsistent at times. Bartu could end up starting next to Worrilow this season with the injury to Weatherspoon.
That rookie experience will be valuable as players usually make big strides in their second season.
Tight end Levine Toilolo also saw playing time last season as a rookie and is projected as the starter this season.
"Somebody asked me what kind of mindset we would have coming into this year?" Jones said. "I told him the same as last year. We had a lot of injuries. We will be back."
I tend to agree -- if they can stay healthy.
Show Comments
Hide Comments
Brett Hundley was apparently on the block during Day 2 of the draft

The Bills fired their GM Sunday morning, then cleaned house

Get ready to start hearing a lot about Sam Darnold and Josh Rosen
College players who didn't get drafted are now free to sign with any team in the NFL

Benjamin has had weight issues going back to college

As one exec put it, 'We don't know what the hell they were doing'