Broncos DE: Calling Tom Brady a crybaby is 'an accurate statement'
Antonio Smith was more than happy to take some shots at Tom Brady before the two players meet on the field Sunday.
• 1 min read
The Broncos defense will be tasked with slowing down a Patriots offense Sunday that finally features two healthy weapons in Julian Edelman and Rob Gronkowski. To do so, the Broncos will need to make Tom Brady uncomfortable in the pocket.
Well, it's not even Wednesday, and the Broncos defense is already doing their best to land some shots. On Monday, Broncos linebacker Brandon Marshall alleged that Gronkowski got open so often because he pushes off defenders. Then, defensive end Antonio Smith decided to get in on the action, targeting Brady with a verbal jab.
According to The Gazette, which is based in Colorado Springs (the article also appeared in the Boston Herald), Smith was asked if Tom Brady is a crybaby. His response?
"That would be an accurate statement. I've never seen any quarterback look to the referee right after he gets sacked more than Brady," Smith said, per The Gazette. "Every time he gets sacked he looks at the ref like, 'You see him sack me? Was that supposed to happen? He did it a little hard. Please throw a 15-yard penalty on him. Get him fined.'"
If Smith's name sounds familiar, it's because he's the Broncos player who accused Ben Roethlisberger of trying to "pull the jedi mind trick" with his shoulder injury -- the same injury that Broncos cornerback Aqib Talib also didn't buy after the Broncos ended the Steelers' season last weekend. So, at least the Broncos' defenders are staying consistent. They're certainly not shy.
With that being said, Smith did give Brady a compliment -- well, kind of.
"He's not going to rattle just because you hit him hard. I've tried over the years," Smith said. "That's what D-linemen think: 'The harder you hit the quarterback, the better it will make it on the secondary.'
"With Brady, he's a great competitor. You know it's coming. He's going to cry about getting hit, but he's going to take the hit and keep going."
The matchup between the league leader in touchdown passes and the league's top-ranked passing defense was already an enticing one. Throw in the fact that Peyton Manning might be taking on Brady for one final time and the game is clearly in a position to go down as an all-time classic.
The trash talk happening in advance of the game -- that's just a bonus.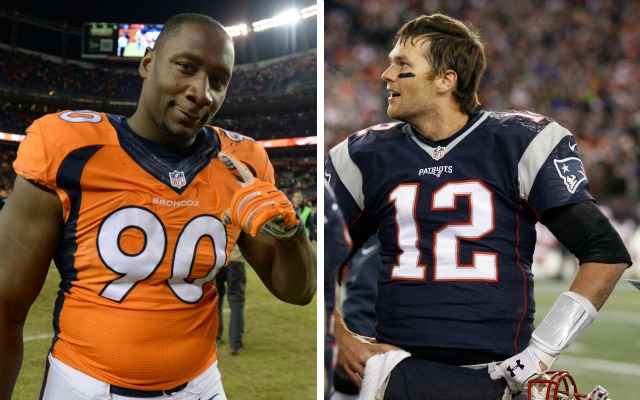 Show Comments
Hide Comments
Here's everything you need to know about the 2017 NFL Draft

Marshawn Lynch might not ever take off his Raiders' helmet

Where does your team need the most help? Check out this team-by-team breakdown to find out
Hernandez's third suicide note remains a mystery

Beast Mode seems like he's going to be a popular guy in the Raiders' locker room

The Browns might go quarterback and not take Myles Garrett No. 1 after all