Browns sign first-round pick CB Justin Gilbert
The Browns agreed to terms with first-round pick Justin Gilbert on Wednesday, leaving only one player from the 2014 draft unsigned.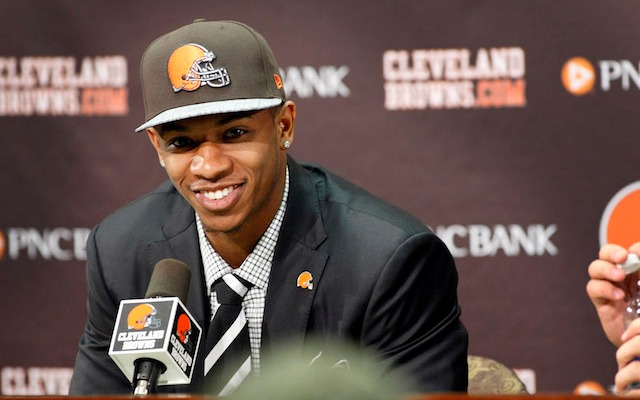 More NFL: Photos |   Videos & GIFs |  Stories | Training Camps | Johnny Manziel watch 
There were 256 players selected in the 2014 NFL Draft and as of Wednesday, 255 of them are officially under contract.
The Browns have signed eighth overall pick Justin Gilbert, the team announced, leaving Titans first-rounder Taylor Lewan as the only unsigned player from May's draft. 
Like all first-rounders, Gilbert will sign a four-year deal with a team-option for a fifth-year. Gilbert will make about $12.8 million in fully guaranteed money over the first four years of the deal, including an $7.65 million signing bonus.
CBSSports.com senior writer Pete Prisco gave the Gilbert pick a C, noting that he thought there were at least two better corners than Gilbert in the draft. At eighth overall, Gilbert was the first cornerback taken, followed by Kyle Fuller going to the Bears at No. 14. 
Browns general manager Ray Farmer probably wouldn't give himself a 'C' for the pick. Back in May, Farmer said he's excited for his new secondary. 
"Joe Haden, Justin Gilbert, (free agent addition) Donte Whitner -- I'm getting excited," Farmer said. "I probably shouldn't go there. We're excited about having corners that we think can go out, play press, get after people and give us a chance to turn the ball over. We've improved our defense."
Gilbert is one of two first-round picks the Browns made in May's draft, however, he's made slightly fewer headlines this summer than the other guy. That 'other guy' signed his rookie deal on June 17 -- starting the summer of Johnny. 
Show Comments
Hide Comments
Plus Nick Saban sends a ton of talent to the NFL, the Browns find a QB and more from Rounds...

The Vikings' Latavius Murray and Bengals' Jeremy Hill also get put on notice with Cook, Mixon...

Here's everything you need to know about the 2017 NFL Draft
Here's a recap of Round 2 and Round 3 in the 2017 NFL Draft

Here are the 25 best prospects still available after three rounds of the 2017 draft have w...

The fans in Philadelphia did their best to make the 2017 NFL Draft more fun