Buccaneers place WR Mike Williams on injured reserve
The Buccaneers placed wide receiver Mike Williams on injured reserved on Monday. Williams told reporters last week that he has a torn hamstring.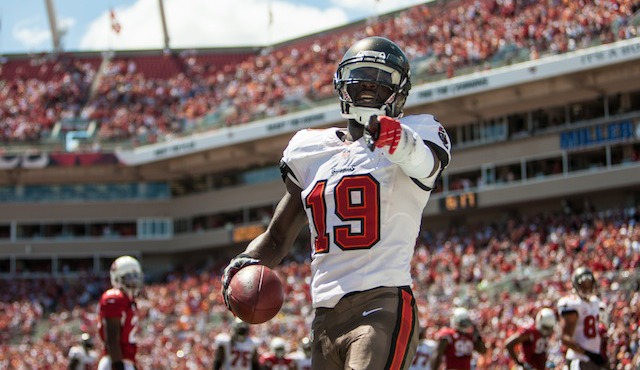 Buccaneers wide receiver Mike Williams suffered a torn hamstring against Carolina on Thursday and that torn hamstring will cost him the rest of the season. Tampa Bay placed the fourth-year receiver on season-ending injured reserve on Monday. 
In a season of bad news, this is the latest blow for the Buccaneers. Williams is the team's second leading receiver, but had been hobbled by the hamstring since first injuring it in a Week 4 loss to Arizona.
The Buccaneers had a Week 5 bye, but that wasn't enough time for Williams' hamstring to heal and he was put on the inactive list for Tampa's Week 6 game against Philadelphia. The Eagles game marked the first time in his four-year career that Williams had missed a game.
Williams may have tried to do too much too quickly on the hamstring. After missing the Eagles game, the 26-year-old returned for Tampa's Week 7 game against the Falcons, then played again four days later in the Buccaneer's Thursday night loss to the Panthers. 
The torn hamstring comes less than four months after Williams signed a six-year, $40.25 million extension with Tampa Bay that included $15 million in guaranteed money.
Williams' season will end with 22 catches for 216 yards and two touchdowns. All three of those numbers rank second on the team behind only Vincent Jackson's 41 catches for 623 yards and four touchdowns.   
There are 12 NFL teams that currently have a Super Bowl drought of more than 20 seasons

Derek Carr is the clear-cut top quarterback, but what about Blake Bortles and Teddy Bridge...

Williams is currently a free agent
Eight members of the Cowboys' defensive front-seven have been suspended since 2015

After being scammed, Portis contemplated murder until his friend dissuaded him

Two months after a woman earned a football scholarship, the AFFL says 'everything is on the...