Dating website for Packers fans actually exists
Are you looking to make a Lambeau Leap of Love? Because now you can at a dating website that was designed specifically for Packers fans.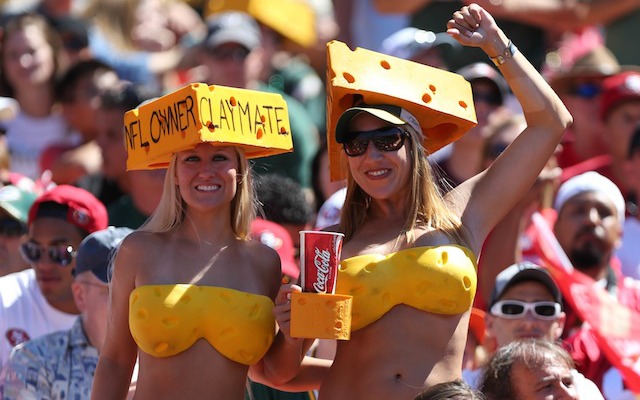 Are you single and looking for someone who likes Ashton Kutcher movies, but also enjoys wearing giant blocks of cheese on their head? 
If you answered yes, yes and yes -- or even if you answered yes, no and yes -- then you're in luck because there's now a dating website devoted to Packers fans. Yes, people who like to wear cheese on their head now have their own dating website. And you're probably still single. 
Just in case that didn't quite sink in, let me repeat myself one more time: there's a dating website for Packers fans. 
Here's a description of GreenBayPackersLovers.com, directly from the website:
Green Bay Packers fans are the most loyal fans around. Just look at Pack's die hard fans that tackle the brutally cold winters to storm outside and cheer on the Pack Attack. At our site you can find other Packers Bakers cheeseheads looking for love.
Obviously, there's a lot of questions here.
Are Bears fans allowed to sign up? Probably not because no one wants to date a Bears fan. 
Are Vikings fans allowed? I'm guessing yes, but you probably shouldn't wear purple on the first date because A. purple isn't a good first date color and B. you're trying to pretend to be a Packers fan and wearing purple screams that you're not a Packers fan and that you know nothing about good first date colors. Any good Packers fan would be offended by both of those things.
Anyway, all I know is that I'll be using the name '50 shades of Clay.' Then, hopefully the ladies will think I'm Clay Matthews because you're supposed to mislead people on dating websites, right? You're supposed to mislead them into thinking you're someone taller, richer and better looking. RIGHT? TELL ME I'M RIGHT!
Show Comments
Hide Comments
Joe Banner says the Browns had Manziel off their board at the time he was fired

Late breaking news has caused several players to slide down the Top 100 just before the 2017...

Bridgewater's recovery from a catastrophic knee injury continues to cloud his NFL future
Drama is always a certainty when it comes to the unpredictability of the draft

Anderson will be keeping track of the linebackers who get picked before him on draft night

Tennessee could be on the move again, and here are four possible suitors