Eagles finalizing trade that will send RB DeMarco Murray to Titans
DeMarco Murray is on his way out of Philadelphia.
The Philadelphia Eagles are on the verge of unloading DeMarco Murray.
The sports agency that represents Murray tweeted on Monday that Philadelphia is in the process of finalizing a deal with Tennessee that will send Murray to the Titans.
A trade & new contract has been orchestrated to make @DeMarcoMurray a member of the Tennessee @Titans. pic.twitter.com/WlUez4wyXT

— SportsTrust Advisors (@_SportsTrust) March 8, 2016
According to ESPN.com, the Eagles will get an unspecified draft pick (or picks) in exchange for Murray.
The fact that Murray is being traded isn't a surprise. The 28-year-old running has wanted out of Philadelphia for months now. In his only season with the team, Murray got lost in Chip Kelly's offense and never really produced. Murray only crossed the 100-yard mark one time in 15 games in 2015. 
Murray's failures in Philadelphia were somewhat shocking, considering that he was coming off a 2014 season with the Cowboys where he led the NFL in rushing with 1,845 yards. Murray used the leverage from his 2014 season to score a huge five-year, $42 million contract with the Eagles in March 2015. 
After Kelly was fired by Philadelphia, Murray still wanted out. The running back even kept his distance from new Eagles coach Doug Pederson.
Pederson admitted on March 3 that there had been zero communication with Murray since Jan. 14, when Pederson was hired.  
"I don't know," Pederson said, when asked if Murray was happy. "I haven't talked to him. I can't tell you one way or the other if he is or not."
Pederson and the Eagles spent the day on Monday trading players leftover from the Kelly regime. Besides the Murray trade, the Eagles are also expected to send Byron Maxwell and Kiko Alonso to the Dolphins. However, it should be noted that neither of these trades can be officially finalized until the new league year begins at 4 p.m. ET on Wednesday. 
Murray's agents noted that the running back will have a new contract in place once the trade is finalized, so it's not yet clear how much money the Titans are spending on Murray. Whatever the amount is though, you have to think it makes sense.
The addition of Murray instantly gives Tennessee a running threat that its lacked for the past two years. Things were so bad in 2014 and 2015 that no Titans running back even reached the 600-yard mark in either season. 
Despite his troubles in 2015, Murray still managed to rush for 702 yards with the Eagles, which would've led the Titans in rushing. Antonio Andrews' 520 yards led Tennessee in rushing for the 2015 season. 
The addition of Murray also means we might see the Titans light up a few scoreboards in 2016. Not only do the Titans have Marcus Mariota, Delanie Walker and Dorial Green-Beckham, but they also have the No. 1 overall pick in the NFL Draft, which should enable them to beef up their offensive line.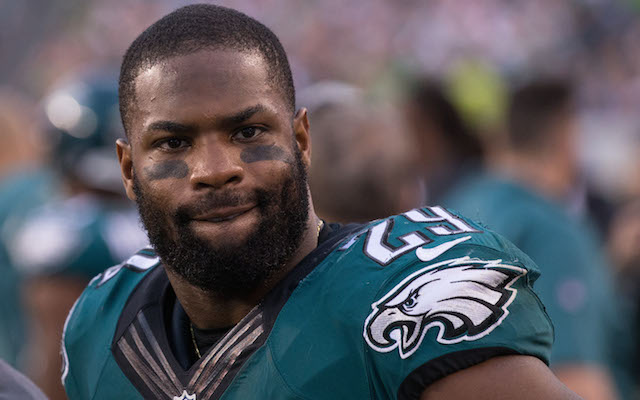 Show Comments
Hide Comments
Our Latest Stories
Credit Mike McIntyre for developing the talent needed to catch scouts' attention in this t...

The Browns quarterback took to Twitter to discuss his personal life

Broncos GM John Elway doesn't sound like he has any regrets about letting Brock Osweiler get...
The Division-III left tackle transfer is quickly proving he has a future in the NFL

Clay Matthews and Morgan Burnett join Sam Shields as out, while two others are now doubtfu...

The former NFL wide receiver has some strong opinions on the commissioner