Eddie Lacy suffers concussion on Brandon Meriweather hit
Packers rookie running back Eddie Lacy is out for the game after suffering a concussion, following a brutal hit by Brandon Meriweather.
• 1 min read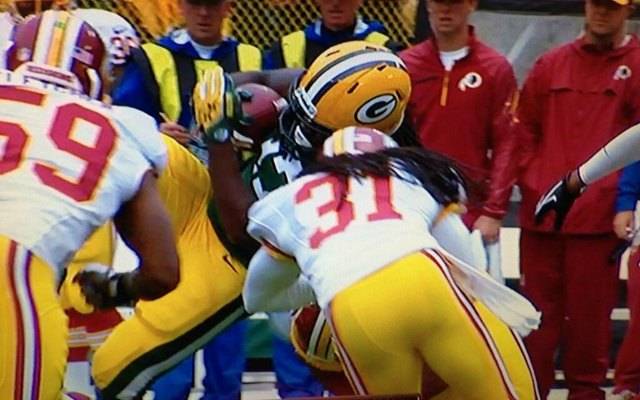 On the Packers first drive of the game against Washington, second-round draft pick Eddie Lacy took a helmet-to-helmet shot from Redskins safety Brandon Meriweather that is sure to draw a fine from the league. It also knocked Lacy from the game with a concussion.
Meriweather, who wasn't penalized on the play, met up with Lacy after he had gained 10 yards on his only carry of the day, and it took Lacy a few moments to rise from the turf. Packers trainers attended to him on the field, and then walked him off of it in order to bring him to the locker room.
This only was Meriweather's second start in his 18-game tenure with the team, but it's obvious, he's still a hard hitter. And a hard hitter who likely will be lighter in the wallet this time next week.
James Starks replaced Lacy at running back. 
Follow Redskins-Packers with our live gametracker.
Follow Josh Katzowitz on Google+
Show Comments
Hide Comments
Conley, a first-round talent, has denied rape allegations that came to light this week

Lamps Plus and Charmin' are to the rescue for some smart endorsement money

Here's everything you need to know about the 2017 NFL Draft
Will Garoppolo be Tom Brady's backup in 2017 or will he be dealt Thursday?

Ben Roethlisberger, Alex Smith and Carson Palmer get youngsters to mentor in Prisco's final...

Plus Jonathan Allen falls further than expected and the Saints double dip in the secondary