Eddie Lacy suffers concussion on Brandon Meriweather hit
Packers rookie running back Eddie Lacy is out for the game after suffering a concussion, following a brutal hit by Brandon Meriweather.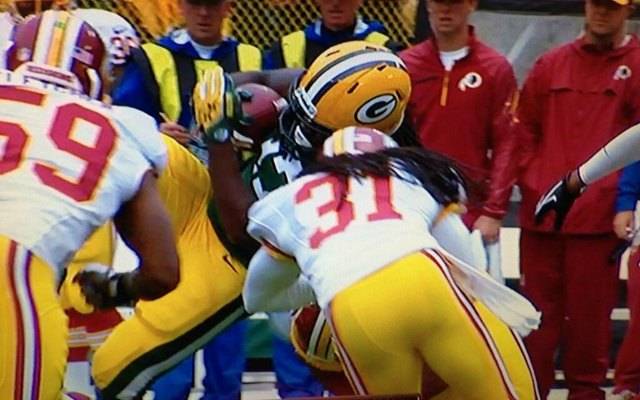 On the Packers first drive of the game against Washington, second-round draft pick Eddie Lacy took a helmet-to-helmet shot from Redskins safety Brandon Meriweather that is sure to draw a fine from the league. It also knocked Lacy from the game with a concussion.
Meriweather, who wasn't penalized on the play, met up with Lacy after he had gained 10 yards on his only carry of the day, and it took Lacy a few moments to rise from the turf. Packers trainers attended to him on the field, and then walked him off of it in order to bring him to the locker room.
This only was Meriweather's second start in his 18-game tenure with the team, but it's obvious, he's still a hard hitter. And a hard hitter who likely will be lighter in the wallet this time next week.
James Starks replaced Lacy at running back. 
Follow Redskins-Packers with our live gametracker.
Follow Josh Katzowitz on Google+
Show Comments
Hide Comments
Our Latest Stories
A look back at J.J. Watt's incredible reign, examining Trevor Siemian's success, and the Seahawks...

The Texans quarterback hasn't been much of an upgrade over his predecessors

Everything you need to know for the Colts vs. Jaguars on Sunday
Here are your worst, er, Best Bets for Week 4 of the NFL

Here are the 10 biggest storylines to watch as Week 4 of the NFL continues Sunday

Pete Prisco pinpoints the key matchups in every game that'll likely decide who will win and...