Gary Kubiak releases statement after being fired by Texans
Former Texans coach Gary Kubiak released a statement on Friday, just hours after being fired by Houston owner Bob McNair.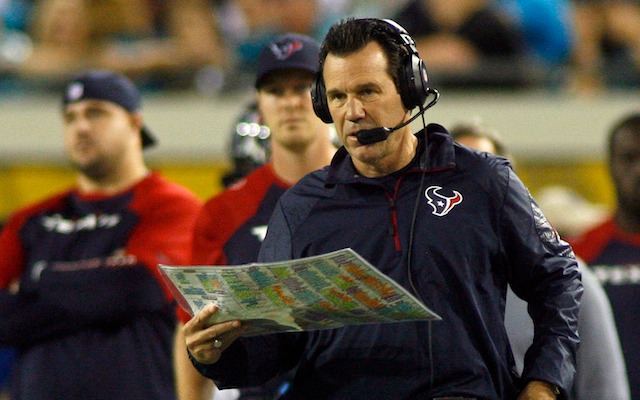 Gary Kubiak was fired on Friday as the coach of the Houston Texans and like any breakup, it's hard to leave without saying a few things first. Kubiak released a statement on Friday, thanking Texans owner Bob McNair and other members of the organization. 
Kubiak had been the Texans head coach since January 2006, when he was hired away from Denver after spending 11 seasons as the Broncos offensive coordinator. Kubiak was fired on Friday morning, less than 12 hours after the Texans 27-20 loss to the Jaguars, Houston's 11th straight loss this season. 
Here's the full text of Kubiak's statement. 
"I want to thank Bob McNair and his family for giving me my first head coaching opportunity in the National Football League. Bob has treated me with the utmost class and respect throughout my career with the Texans. I am appreciative of him for bringing me back to Houston to coach my hometown team.

I want to thank the players and coaches for all the work they have put in during my years with the Texans. Though we came up short this season, the work, effort and sacrifice they gave me and this organization over the last eight seasons is not to be taken for granted. I want to wish them all the best. 

I want to thank the people in the organization for their support over all the years. We could not have achieved our goals without their tireless work and commitment to our team.

Lastly, my family and I want to thank the city of Houston for their support of the football team and our family. We had a great run here and we will never forget our back-to-back AFC South Championships. Coming back home was a dream come true for all of us. This will always be our home. Thank you."
Kubiak's first big decision as the Texans coach in 2006 was who to select with the No. 1 overall pick in the NFL Draft. Coincidentally, that could also be the first big decision faced by Houston's next coach. If the Texans lose their final three games, they'll have the No. 1 overall selection in May's draft. 
Show Comments
Hide Comments
No teams did bad enough to earn an 'F,' and give credit where it's due to the 49ers(!) and...

The expectation is that Whaley will be replaced with the Panthers' Brandon Beane

Plus Seahawks eschew needs on the line and Rams seek help for Goff as we hand out NFC West...
Plus Saints and Falcons load up on defense as NFC South gets a massive boost in talent

Lions draft for now, Packers run down their checklist and Vikings find a runner in our NFC...

Plus Giants do a lot with a little and Eagles and Redskins face durability concerns in our...