Jim Harbaugh's relationship with 49ers brass is getting worse
If anything, the impression I got this week was that the situation in San Francisco is actually much worse than how it has been portrayed in the media.
• 2 min read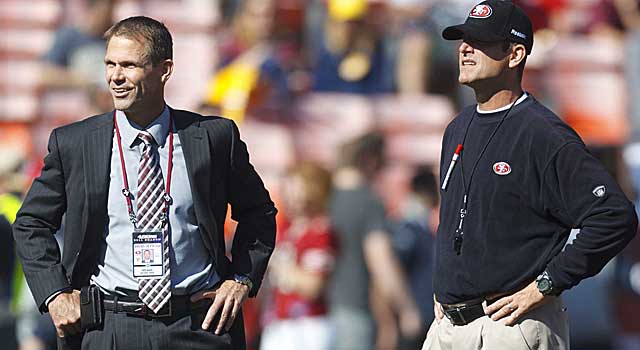 More Draft: NFL Mock Drafts | Prospect Rankings | NFL combine workout results
INDIANAPOLIS -- Things are not getting better behind the scenes for the San Francisco 49ers. There was a persistent rumble throughout the combine about the extent of the rift between coach Jim Harbaugh and the team's front office. It doesn't seem like it will go away, and there is increasing buzz that the team might have to decide between Harbaugh or GM Trent Baalke.
The men are barely speaking, I'm told, and almost all communication is through email. Harbaugh also has a strained relationship with team president Paraag Marathe, sources said, and he has clashed with many within the organization. It could prove untenable. If anything, the impression I got this week was that the situation there is actually much worse than how it has been portrayed in the media, and helps explain the delay in giving a new deal to the coach, who has two years left on a contract he has outperformed.
Harbaugh has done nothing but reach, at least, the NFC Championship Game since coming to San Francisco three years ago, and the longer this goes on, the worse it might get. To almost anyone I posited the question to, the response was pretty much the same -- there is no way they can't extend Harbaugh. But then again, in the NFL, you never know.
I've long expected Dolphins owner Stephen Ross to attempt to trade for Harbaugh, and we all know he already tried to hire him before firing a coach in the past. I'm also not surprised that the Browns made an attempt to land him as well, although, from what I have heard of that situation, Cleveland's approach did not get very far. Still, if other teams sense a vulnerability there, they will continue to explore, and it's hard to imagine Harbaugh coaching out a lame-duck year there in 2015 if he hasn't received an extension by then.
This is a matter that will need attention this off-season, one way or the other. When the 49ers landed Harbaugh, his intensity, personality, potential issues getting along with others, etc., were no secret. Some wondered how long it might be before issues arose, with Baalke also very intense and strong-willed himself. If they did in some way move on from him -- via a trade or whatever -- many believe defensive line coach Jim Tomsula would be positioned to slide in.
Perhaps owner Jed York can find a way to make this situation work long term and retain the many talented people he has assembled. He has proven to be a dynamic leader and a problem solver already.
Show Comments
Hide Comments
Our Latest Stories
Four teams in all find their quarterbacks of the future in this updated mock draft

The 49ers receiver is not the only person taking the NFL to task for its handling of Josh...

The team believes Brown's hamstring issues were actually the result of his sickle-cell tra...
Beckham took off his helmet after scoring and now has to give the NFL some money back

Suh has a history of skirting the line of dirty play but won't draw a fine this time

The sheriff in King County, Washington took exception to being blamed for a lack of eviden...