Louisville's Teddy Bridgewater: 'I'm the best quarterback in this draft'
Louisville quarterback Teddy Bridgewater is confident. He says he's the best signal-caller in the draft.
• 2 min read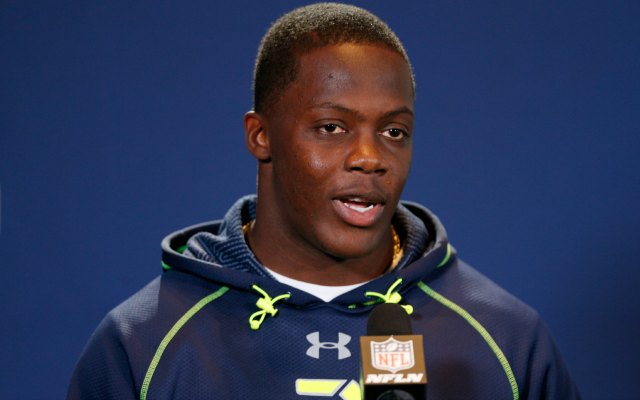 More Draft: NFL Mock Drafts | Prospect Rankings | NFL combine workout results
INDIANAPOLIS -- Like the other two big-name quarterbacks who likely will be taken in the early portion of the first round, Teddy Bridgewater, formerly of Louisville, was engaging and impressive when he took to the podium to speak to the media.
And just like you'd expect, Bridgewater thinks he's the best quarterback in the draft.
"I'm not just going to sit up here and just say it," Bridgewater said, even though he had just said exactly that one second earlier. "Obviously, actions have to back up these words and I'm just confident in myself, my capability to be able to play this position and I'm just going to go out there and prove that I'm the best guy."
To compare, neither Johnny Manziel nor Blake Bortles made the claim that they were the best of this year's draft class. Manziel said, "I feel like I play like I'm 10-feet tall," while Bortles was a little less self-assured when he said, "I need coaching, I need help and I'm going to work my butt off to do everything I can to be the best that I can be to help a team be the best that they can be."
Either way, Bridgewater, whose actions seem so important to him, is not going to throw at the combine. Manziel isn't as well, though Bortles will do so. Bridgewater is declining the opportunity because he doesn't want to throw to receivers with whom he hasn't developed any chemistry, and it's an interesting decision since Bridgewater is considered the most accurate passer of the three and could perhaps give the Texans more reasons to draft him with the No. 1 overall pick.
At this moment, none of our CBSSports.com mock drafters have Bridgewater headed to Houston -- instead, three of the four have Houston taking Bortles, while Rob Rang believes the Texans will grab Jadeveon Clowney. All of them, though, have Bridgewater going somewhere in the top five.
But of the three quarterbacks, the general consensus is that Bridgewater is the most NFL ready. For that, he gives credit to former Louisville and current Texas coach Charlie Strong and the pro-style offense he ran with the Cardinals.
Unfortunately for the teams that are thinking about selecting Bridgewater and who might agree that he's the best quarterback in the draft, they'll see everything this weekend but his arm.
Show Comments
Hide Comments
Our Latest Stories
Four teams in all find their quarterbacks of the future in this updated mock draft

The 49ers receiver is not the only person taking the NFL to task for its handling of Josh...

The team believes Brown's hamstring issues were actually the result of his sickle-cell tra...
Beckham took off his helmet after scoring and now has to give the NFL some money back

Suh has a history of skirting the line of dirty play but won't draw a fine this time

The sheriff in King County, Washington took exception to being blamed for a lack of eviden...