Monday Musings: Larry Fitzgerald no longer No. 1 Cardinals receiver
No longer the Cardinals' No. 1 receiver (that would be Malcolm Floyd), Larry Fitzgerald may well be playing his last year in Arizona.
More NFL: Photos |  Videos & GIFs |  Training Camp updates | Manziel Watch
GLENDALE, Ariz. -- There is no doubt receiver Larry Fitzgerald is loved by Arizona Cardinals fans, his name constantly being called out during practices and even more so after when it's time for players to sign autographs.
What's not to like? He's one of the all-time great Cardinals, likely on his way to the Hall of Fame, and happens to be one of the NFL's class acts, a player who gets what it takes to succeed on and off the field.
He's simply a pro in every way possible.
But there's also the sad reality that this could very well be Fitzgerald's last season with the Cardinals. He is scheduled to have a cap figure of $23.6 million next season, which is way too high for a No. 2 receiver.
Yes, No. 2.
For 11 years, Fitzgerald has been the go-to guy in the Arizona passing game, but that's now the job of third-year receiver Michael Floyd. I thought I was crazy thinking that Floyd would take over as the No. 1 receiver at some point this season, but after visiting with the Cardinals and talking to others around the league, I am not alone in that thinking.
"Floyd was the No. 1 guy late last season," one NFL general manager said.
Floyd has slimmed down and looks much quicker, much to the delight of the staff. Floyd caught 65 passes for 1,041 yards last season, while Fitzgerald caught 82 for 954 yards. The biggest difference was yards per catch, which, to me, is always a telling stat. Floyd averaged 16.0 ypc, while Fitzgerald was at 11.6 ypc.
I asked Floyd about taking that spot. He kind of smiled, but didn't really seem to want to stake a claim to it out of respect for Fitzgerald, which I understand. It's hard not to respect a player like Fitzgerald.
That puts the Cardinals in a tough spot. Loyalty can be a dangerous thing in the NFL. While team president Michael Bidwill has publicly stated he wants Fitzgerald to retire as a Cardinal, reality makes that a difficult task.
Under his current contract, Fitzgerald is essentially untradeable right now. He is scheduled to make base salaries of $15 million next season and $14.75 million in the final two years of the deal.
That's a lot of money for a player who hasn't had 1,000 yards receiving the past two seasons. Fitzgerald is still a good player, even if he isn't what he used to be, so it makes little sense to trade him now -- even if they could. Some league personnel people think he's slowing down.
When I watched him practice last week, he was still making plays -- just not down the field. But that's OK because Floyd is that guy now.
Fitzgerald likely will have to restructure his deal next year to stay with the team. Maybe a three-year deal that averages $6 million to $7 million, but even that might be high. He turns 31 this month and he was never a burner to begin with, and age is undefeated when it comes to NFL careers.
Fitzgerald told Arizona reporters he isn't worried about his contract, yet you hear some talk that he is concerned with being phased out. Floyd certainly is more dynamic now.
So I would advise Cardinals fans to enjoy seeing him in that No. 11 jersey this season. In all likelihood, he will be somewhere else in 2015, another reminder of how much the NFL is a business and why there is no room for sentiment -- nor should there be.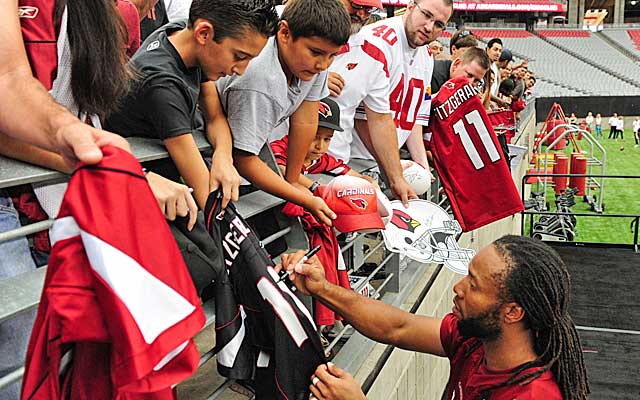 Rookie Brown turning heads: One of the great things about camp is seeing a young, relatively unknown player burst onto the scene and become the talk of camp.
That player for the Cards is rookie third-round receiver John Brown, who is another reason why Fitzgerald could be expendable. Watching Brown work last week was eye opening; his explosive speed and poise when running routes really stood out.
This might sound like high praise, but some around the organization have already said he compares favorably to former Colts receiver Marvin Harrison, who is a sure Hall of Famer.
Brown, who ran a 4.34 40 at the combine, has been nicknamed "Smoke" by some in the organization because he is so fast. Brown is listed at 5-foot-10, 180 pounds, but that might be stretching it. He can fly and he is quick, which is a nice combination.
That size, and the fact that he came from tiny Pittsburg (Kan.) State, had some in the organization a little cautious as they went to training camp, even after he impressed during offseason work. They wanted to see if he could handle the physical part of camp. He has answered those concerns in a big way, although he tweaked his hamstring late last week and sat out some work.
"The one thing, when you get a guy that's not a first-round pick, that's from a smaller school, when those guys come in you always wonder, 'Is it going to be too big for them?' " Cardinals quarterback Carson Palmer said. "When there's a crowd, when the pads come on, going against the ones [first stringers], once everything's installed and the whole playbook is thrown at him, and the one thing that jumped out at me is nothing's too big for him."
In Fitzgerald, Floyd, Ted Ginn and Brown, the Cardinals have a lot of playmakers on the outside. Palmer, who looks much more comfortable in Bruce Arians' offense this year, is excited to have that type of firepower outside.
"We should be able to score a lot of points," Palmer said.
And Brown should get his share of catches.
Around the league: It happens every summer: Offenses around the league struggle working against their own defenses which leads to concern from fans. But Arians made a good point after one of his defensive players jumped a route and had a pick in a practice last week. "They've had 18 practices against them," he said. "They know what's coming." So if you are at camp and the offenses are struggling, don't fret. The defenses are usually ahead now. If it's still that way in late August, then your offense might have some issues.
• I hate music at practice. It was so nice to not have to deal with it at Cardinals practices last week. I know I sound old when I say this, but it's too damned loud. Yes, I like music. And I love football. I just think it makes it tough to communicate during practice. Coaches tend to think it helps to amp up the team and that it can simulate large crowds. This is what Texans coach Bill O'Brien had to say about the music at his practices, which is the loudest I've heard so far. "Obviously, places that I have been we did it," he said. "I felt like it did a few things. It forced communication with the players. The coaches aren't out there on Sundays telling you what your alignment is, what call you should make and who the 'Mike' is. You're out there as a player on your own. You've got to figure it out in communication with your teammates, so you crank the music and it forces communication -- then they get to know each other's body language and how they do a signal or how they do this or how they do that. I think that is good. And then obviously, I just see, I believe a difference in the enthusiasm and the tempo of practice when you crank the music. Not to say that they always like my music selections, but they seem to like when the music is going." OK, then.
• You have to love Redskins defensive coordinator Jim Haslett firing back at some officials who said coaches will have to coach differently because of an emphasis on illegal contact in the secondary. Asked what he would say to the officials, Haslett said, "You know what I would tell the official? I would tell him that he needs to worry about officiating and we'll coach the team. He needs to worry about calling interference because he called about four or five yesterday where there was nothing. So tell him to worry about his job, we'll worry about our job." Expect a lot of snippy comments from defensive coaches this season as the league intends to call illegal contact penalties a lot closer in the secondary.
• It's easy to identity the power teams in early July, but once camp starts and the injuries start to pile up things can change. The 49ers have already taken some hits with running back Kendall Hunter and nose tackle Glenn Dorsey out for the season. Dorsey, who suffered a torn biceps muscle in last Friday's practice, is a big hit. He played well for the 49ers last season after coming over as a free agent from Kansas City. The big thing for Dorsey is he was entering the final year of his contract and was playing for a new deal. The 49ers have also had some nagging injuries, the latest being receiver Michael Crabtree missing time because of a hamstring issue. This is when a team like San Francisco, touted as having great depth, will be challenged.
• Speaking of the 49ers, coach Jim Harbaugh said last week it is "refreshing" to put off talking about a new contract with the team until after the season. Want to bet it would be even more refreshing to get a new deal for $8 million a season? Then again, there is discourse between him and general manager Trent Balke. So maybe Harbaugh is wise and is just waiting to go to another team. Maybe Miami? Maybe Dallas?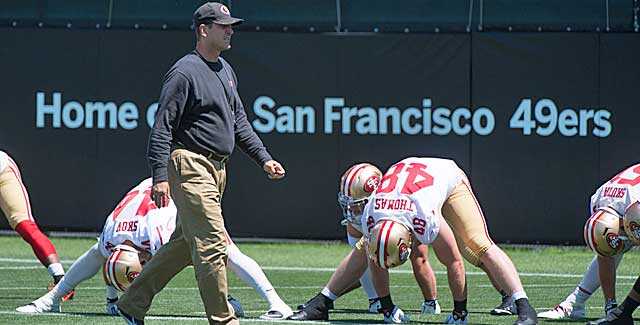 • The Browns have raved about Johnny Manziel's football smarts. That's one thing I heard over and over from personnel people leading up to the draft. They said he was a football savant of sorts. So even if he is partying, the kid knows the playbook. Isn't that the most important thing?
• Raiders running back Maurice Jones-Drew said last week he considers it "hilarious" that people think he's getting old. So he's not? Hmmm. The other interesting thing: Jones-Drew raved about all the work he put in to get in shape this off-season. That type of talk was met with snickers from his former team, the Jaguars. "Why didn't he do that when he was here?" one Jaguars source said. "He might still be here." Jones-Drew let his weight balloon in Jacksonville, and was clearly slow to the hole. Maybe shedding the weight will help him with the Raiders.
• I still can't believe NFL Commissioner Roger Goodell defended the two-game punishment given to Ravens running back Ray Rice for his domestic-abuse incident. Goodell has to know better. He really whiffed on this one, but it's still lunacy to hear some calling for his head. Are you kidding? The guy has made millions for the owners, those who employ him. He isn't going anywhere, despite the dumb idea that some have thrown out there that he should.
• Some in the league think Steelers owner Dan Rooney has to be privately fuming Rice got only two games. The reason: Ben Roethlisberger got six games -- reduced to four -- for his off-field incident that was never brought to trial and never led to charges in 2010. The league simply made an error on Rice. It should have been a lot more -- maybe even the season. If the tape from inside the elevator ever gets publicly released, the uproar over the light suspension will be even greater.
• I like the idea of the Hall of Fame adding a category for contributors. It's too hard to get some of those men in, men like former NFL Commissioner Paul Tagliabue and 49ers owner Eddie DeBartolo, with a logjam of players. So this is a smart move. Now they need to add more voters to the process. But that's another story.
• The 49ers released former Chiefs' first-round pick Jonathan Baldwin on Sunday. He came over in a trade from the Chiefs and is clearly on his way to being a bust. He has talent, but he isn't a burner and the rap is he doesn't love the game. Some will say he should have stayed in school instead of entering the draft as a junior, but if you don't love it, does it really matter when you come into the league?
Show Comments
Hide Comments
Our Latest Stories
The Jaguars quarterback might not be the Jaguars quarterback much longer

The NFL quietly finalized the draft punishment for two different scandals on Friday

The Cardinals receiver isn't happy about playing an extra preseason game
Twenty-nine coaches will be available to the media in Indy, but these three won't

The NFL announced on Friday that 32 compensatory draft picks have been awarded to 16 teams

Was it Lady Gaga's fault the Falcons lost Super Bowl LI?