Once again, Pettine says Brian Hoyer will start 1st preseason game
If you wanted new news on who would start the Browns first preseason game, you're out of luck. It's still Brian Hoyer.
• 1 min read
More NFL: Photos |  Videos & GIFs |  Training Camp updates | Manziel
Hey guys, did you hear that Browns quarterback Brian Hoyer is going to start the first preseason game vs. the Lions? Coach Mike Pettine said it here a couple weeks ago, he hinted at it here earlier this week, and he said it again Wednesday.
So, in case you haven't heard, BRIAN HOYER WILL START THE BROWNS FIRST PRESEASON GAME ON SATURDAY.
"He's done nothing to have that taken away from him," Pettine said.
But Pettine also provided a slight variation Wednesday when he said he'd like to name a starting quarterback before the team's third preseason game. As for the team's 2014 exhibition opener, color Hoyer unsurprised with Pettine's decision.
"I feel like I'm the starter until someone tells me otherwise," Hoyer told reporters.
By virtually all accounts, Hoyer actually has performed better than first-round pick Johnny Manziel for most of training camp. Manziel has been low-key around camp, and various players have said that Manziel has been studious and professional.
But Hoyer has been better on the field, and as CBS Sports' Jason La Canfora recently wrote, "Brian Hoyer is considerably faster, and more nimble, than Johnny Manziel. No, that is not a misprint. The veteran journeyman, coming off an ACL surgery and trying to retain his job as the starting quarterback of the Cleveland Browns, is quicker than Johnny Friggin Football ..."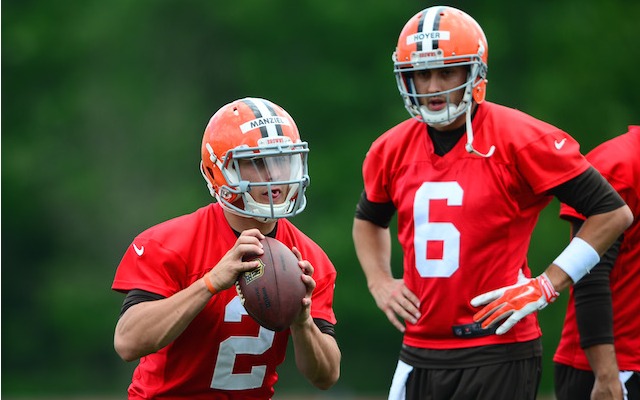 Show Comments
Hide Comments
Plus Saints and Falcons load up on defense as NFC South gets a massive boost in talent

Lions draft for now, Packers run down their checklist and Vikings find a runner in our NFC...

Plus Giants do a lot with a little and Eagles and Redskins face durability concerns in our...
Plus Broncos and Chargers help their QBs while Raiders gamble big in our AFC West grades

Texans pin hopes to Watson, new Jaguars must focus and Titans help Mariota in our AFC South...

Ravens get upside, Bengals go boom or bust and Steelers bank on names, but hail the Browns