Raiders QB Matt Schaub would 'love to see' DeSean Jackson in Oakland
New Raiders quarterback Matt Schaub thinks DeSean Jackson would be a 'big help' in Oakland he'd 'love to see' the Raiders sign the former Eagles wide receiver.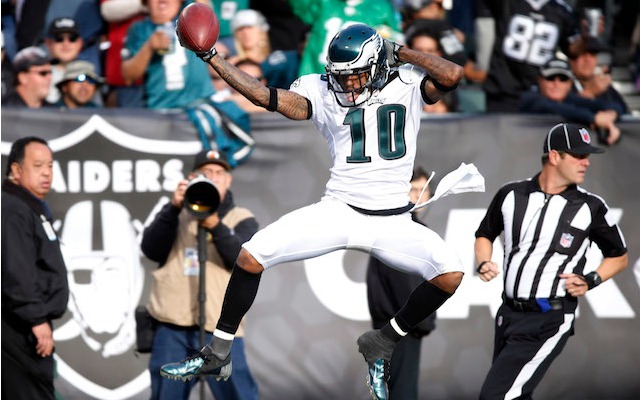 More NFL offseason: Mock Drafts | Prospect Rankings | Pro days | Top free agents
You can now add Matt Schaub to the list of people who want to see DeSean Jackson in Oakland. Schaub joins Charles Woodson, who said over the weekend that the Raiders should 'bring Jackson in.' 
Raiders fans have also started a social movement of sorts to get Jackson to Oakland. The hashtag "#DJaxToOakland" trended nationally on Twitter on Saturday and Sunday, meaning it was the most popular subject in the United States over that time period. 
#djaxtooakland is now trending in United States http://t.co/D3FxV6pu8Y

— Trendsmap USA (@TrendsmapUSA) March 29, 2014
As for Schaub, he said he'd 'love' to have Jackson on the team. In an interview with Sirius XM NFL Radio on Monday, the new Raiders quarterback called Jackson an explosive receiver who could help the team win. 
"I'd love to see (DeSean Jackson) out there. He's a phenomenal talent, a great player," Schaub said. "The times I've been around him, a great guy."
Schaub thinks adding Jackson to the Raiders would be a big building block for the organization. 
"I think he can add a lot to any team, especially ours in Oakland and really add some explosiveness that you've seen his career," Schaub said. "Anytime you can add type of explosiveness to your team, it's going to do a lot as far as wins for you. I think he can a big help to what we're trying to build and I'd love to have him at my disposal as a receiver."
If Raiders general manager is taking advice from his players, Woodson thinks Oakland should add Jackson too, "Bring him in, I think he would look good in the silver and black," Woodson said. "When you talk about bringing in a guy as talented as he is, and you have that opportunity, I think you take a shot at it and I think where we are as a team, we need all the playmakers we can have, and adding that guy would definitely help take us to the next level."
If the Raiders are serious about signing Jackson, they're going to have to wait their turn. The former Eagles wide receiver is spending Monday and part of Tuesday in Washington. If Jackson leaves Redskins Park without a contract, that would leave the door open for the Raiders to make their move. 
Show Comments
Hide Comments
Hernandez's third suicide note remains a mystery

Beast Mode seems like he's going to be a popular guy in the Raiders' locker room

The Browns might go quarterback and not take Myles Garrett No. 1 after all
Cleveland apparently really wants to get Mitchell Trubisky

Joe Banner says the Browns had Manziel off their board at the time he was fired

Late breaking news has caused several players to slide down the Top 100 just before the 2017...