Report: Derek Carr was a non-starter as possible Texans draft pick
That the Texans are in the market for a franchise quarterback should come as news to exactly no one.
That the Texans are in the market for a franchise quarterback should come as news to exactly no one. Ryan Mallett was released after he couldn't be bothered to show up to work on time. And while Brian Hoyer gets points for punctuality, the Texans would've been better off if he skipped last Saturday's playoff game altogether.
Instead, Hoyer played all four quarters, and managed four interceptions and a lost fumble. Perhaps even more astounding: he was so bad that the entire stadium broke out in a "WE WANT WEEDEN!" chant.
On Tuesday, Texans owner Bob McNair restated the obvious, when he told reporters that the team's No. 1 offseason priority was finding a franchise quarterback.
Of course, Houston could already have its franchise quarterback if it had drafted Blake Bortles first-overall in 2014 instead of taking defensive end Jadeveon Clowney. Yes, Clowney was widely considered the draft's best prospect, but the Texans had bigger needs under center.
But the organization could have had both a potential dominating pass rusher and a quarterback of the future if it had selected Derek Carr with the 33rd pick. Instead, the Texans took guard Xavier Su'a-Filo and Carr went to the Raiders three picks later.
Turns out, there was no way Houston was taking Carr, at least according to Yahoo.com's Charles Robinson.
"I was told that Derek Carr was an absolute non-starter as a draft pick for Texans & that's a full franchise failure" - @CharlesRobinson

— Lance Zierlein (@LanceZierlein) January 14, 2016
If you're unfamiliar, Carr's older brother, David Carr, was the expansion Texans' first-ever draft pick in 2002, and he played for some truly terrible teams. In Carr's defense, Houston's offensive line was a mess; by the time he left after the 2006 season, he had been sacked a whopping 249 times in 76 appearances, or an average of 3.3 sacks per game.
So even though Derek Carr may have been considered one of the best quarterbacks in the '14 draft class, apparently the Texans couldn't justify using a high-round pick on the brother of the team's first-ever pick, who never came close to living up to the hype. (Though let's be honest: Peyton Manning, Tom Brady and Drew Brees would've likely had similar NFL existences under those circumstances.)
Derek Carr finished the 2015 season ranked 12th in total QB value, according to Football Outsiders' metrics, just behind Jay Cutler and Cam Newton. In case you're wondering, Hoyer ranked 20th.
Which brings us back to this offseason.
"I don't think there's any question," McNair said, when asked if finding a franchise quarterback is the Texans' top priority. "I've been saying that. The question is what's available, and what's the price? How many draft picks might you have to give up? You can't undermine the rest of your team while you're trying to get a quarterback. This isn't a department store where they have them on the shelf, and you just pick one up. It's a question of who's available. We're working on that. We think there are some good prospects out there."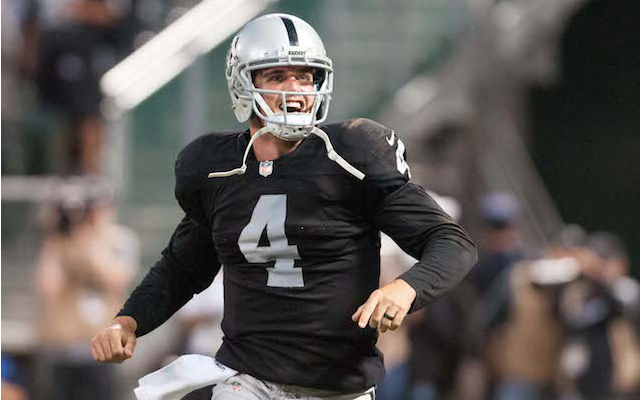 Show Comments
Hide Comments
Kaaya will battle for the right to back up Matthew Stafford

Jets trade down five times after GM Mike Maccagnan made it known they were looking for extra...

Spencer Hall grades every seventh-round pick of the 2017 NFL Draft
Spencer Hall grades every sixth-round pick of the 2017 NFL Draft

He's also better at football than you

Brantley was regarded as a second-round talent before he allegedly knocked a woman unconsc...