Report: Dolphins GM Jeff Ireland has been assured his job is safe
Miami Dolphins owner Stephen Ross has reportedly assured general manager Jeff Ireland that his job is safe.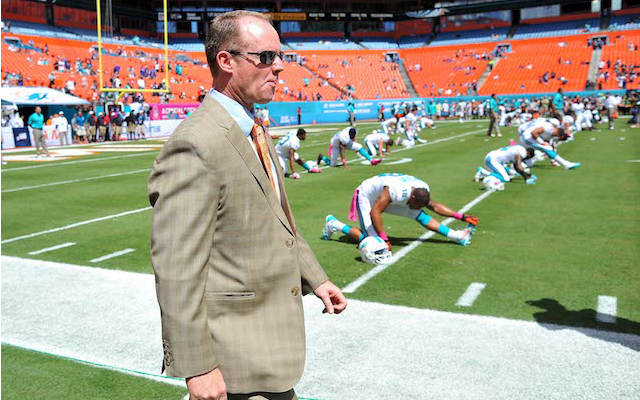 Going into Week 11, it didn't look like Miami Dolphins general manager Jeff Ireland was going to make it through the season. Ted Wells had just launched his investigation into the Jonathan Martin-Richie Incognito situation and the Dolphins were coming off a 22-19 Monday Night Football loss to the then-winless Buccaneers.
However, a lot can change in a month and a lot has changed in Miami. The Dolphins have won three of four and Ireland's job security is no longer in question, according the the Miami Herald. An NFL source told the Herald that Dolphins owner Stephen Ross has assured Ireland that his job is safe. 
Helping Ireland's case is probably the fact that the team he built is in playoff contention. At 7-6, the Dolphins are tied with the Ravens for the sixth and final seed in the AFC. Ross is obviously a fan of Ireland's work and he proved that when he signed his general manager to a one-year extension over the summer. 
Working in Ireland's favor is also the fact that things seem to have gotten slightly quieter on the Incognito-Martin front. The Dolphins made a deal with Incognito that will allow the offensive lineman to be paid even though he's suspended. 
If Ireland and coach Joe Philbin both stick around for next season, it could turn out that the only two people involved in the Incognito-Martin situation who don't return are Incognito and Martin. 
Show Comments
Hide Comments
The Cowboys' draft picks since 2002 have been to 17 more Pro Bowls than the next closest t...

The Cardinals, however, don't sound enthused about his return

According to NFL Network's Michael Silver, the Browns might want to trade up to draft a franchise...
The projected top-20 pick could fall out of the draft with teams having little time to gather...

Bryant will have his progress reviewed again before the coming season

From Jadeveon Clowney to Odell Beckham, here's the option year prognosis for each 2014 first-round...