Report: Falcons give extension to defensive coordinator Mike Nolan
The Falcons defense was unimpressive this season, but Mike Nolan reportedly will retain his job.
• 1 min read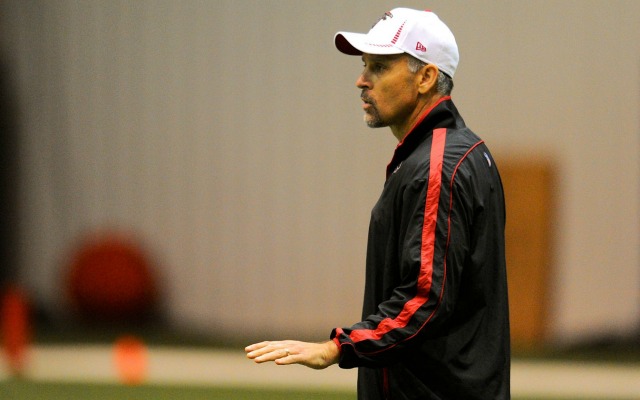 The Falcons were one of the most disappointing teams in the NFL this season, going from a 13-3 season in 2012 to a disastrous 4-12 mark this season.
Through it all, head coach Mike Smith was never thought to be in danger of losing his job, and now, we can reportedly say the same thing about defensive coordinator Mike Nolan -- who has signed a contract extension, according to Fox Sports' Jay Glazer.
Nolan's contract was set to expire, and it's unclear how long or how large Nolan's new deal is. But considering the Falcons allowed 379.4 yards per game -- ranked 27th in the league -- and gave up 27.7 points per game (26th in the NFL), the front office must have continued confidence that Nolan can return the squad to a top-five ranking in points allowed (as they were last season).
"Look from a statistical standpoint, there's no way we met our expectations," Nolan told ESPN.com last week. "Especially after last year where in the significant areas -- things like third down and red zone and takeaways, quarterback ratings and all that -- we were outstanding a year ago. We were not this year.
"So I'm disappointed in that. So realistically, I would say we underachieved. At the same time, we've got a lot of young guys playing. But nobody wants to hear that. And I don't even really want to hear it. Those guys busted their tails, and I can't ask for anything more than that. And it's my job also to motivate those guys to play at a higher level than they can, and I thought they did that. But was it enough all the time? Not really."
But was it enough to keep him employed? Apparently so.
Follow Josh Katzowitz on Google+
Show Comments
Hide Comments
Brett Hundley was apparently on the block during Day 2 of the draft

The Bills fired their GM Sunday morning, then cleaned house

Get ready to start hearing a lot about Sam Darnold and Josh Rosen
College players who didn't get drafted are now free to sign with any team in the NFL

Benjamin has had weight issues going back to college

As one exec put it, 'We don't know what the hell they were doing'