Rex Ryan says Michael Vick can win starting QB job vs. Geno Smith
Rex Ryan says that "yes" Michael Vick can certainly win the Jets starting quarterback job.
More NFL offseason: Mock Drafts | Prospect Rankings | Pro Days | Top free agents
ORLANDO -- When the lights came on Rex Ryan Tuesday at the 2014 NFL owners meetings, he didn't make any guarantees. Which is probably good for him, but bad for Geno Smith, who's not remotely close to having the starting Jets quarterback job on lockdown.
In fact, Rex said the starting gig would be wide open and that "yes" Michael Vick could get the nod.
"I would say yes," Ryan said. "Anybody. We want that competition. We'll let it all play out."
Ryan stressed there would be competition at every level and at every position for the Jets as they enter 2014. 
"It's not just Geno. I think competition is good for everybody," Ryan said. "When you look at it, whether you're a quarterback or a right tackle or whatever, competition brings out the best of everybody. I think it's a good thing to have. We feel good about our quarterback situation, feel really good about it right now.
"The competition part of it, if we can have that kind of competition at every position that would be great."
But the difference is that Geno's the guy they drafted to take over as the quarterback of the future in New York. He's (theoretically) John Idzik's guy and should be (theoretically) groomed for the future. 
The future isn't Rex's biggest concern, at least the long-term version. Rex has to win now and it's pretty obvious -- at least from a global perspective and at this point of the offseason -- Vick gives him a better chance to do that.
Rex acknowledged that Vick, even at age 33, can still do so much athletically that most quarterbacks can't do.
"He's an unusual guy. He was unusual when he came out of the league because of how athletic he was but I think he's definitely still … you see all that athleticism he has," Ryan said. "He can still run, moves well in the pocket, he's more accurate when throwing from the pocket than he used to be when he came into the league. He's got a big arm and can still run so very dangerous. I like the fact that both those guys give us the ability to run zone reads and all those types of things that help your running game. Having a guy, that mobile quarterback, is harder to defend then maybe a guy who's a stationary pocket guy.
"That being said, I'd probably rather defend a mobile quarterback than a Peyton Manning or Tom Brady."
Peyton and Tom aren't walking through that door. Vick's already in the building. But he's not guaranteed the first snap. No one is and Rex would really prefer you not ask him who's getting it.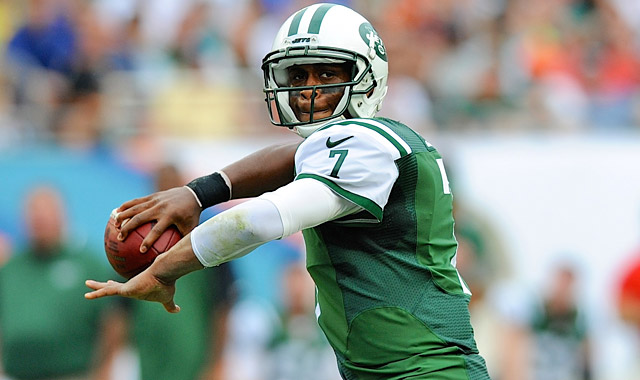 "Oh my gosh. Here we go. Really?" Rex said. "Well, I think we do know. But we'll let it play out. Is it going to be balanced, is it going to be whatever. It's still early in the process but there will be competition there and at every position."
It's late March. Nothing that Rex says really means much of anything when it comes to the depth chart. And there will be a fierce competition. Geno's going to be better in his second year and he wasn't nearly as bad as people want to claim during his first season.
Eric Decker's on the team now and the Jets could ultimately end up landing DeSean Jackson as well. They have more playmakers than a year ago.
But right now the tea leaves read in the favor of Vick starting. And Rex allowing -- encouraging? -- that possibility will ensure it's a topic that's discussed from now until he names a starter.
Show Comments
Hide Comments
Sometimes it's hard to figure out what the Bills are doing

Peterson would join a formidable backfield that includes Mark Ingram and, of course, Drew...

John Schneider has a simple rule: He doesn't like lying to people
Kizer, the former Notre Dame standout, is one of the top QBs in the draft class

Can the Browns get it right? Can the Cowboys and Raiders build dynasties?

The versatile safety/linebacker could slip out of the first round