San Francisco to host Super Bowl L; Houston lands Super Bowl LI
With Miami left out in the cold, Super Bowl L will land in San Francisco and Super Bowl LI will be played in Houston.
• 2 min read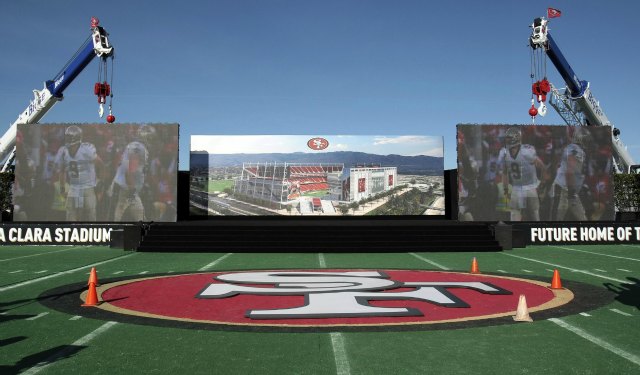 Turns out all the predictions saying the lack of a new stadium in Miami would doom the region's ability to land a Super Bowl were correct. On Tuesday afternoon, NFL commissioner Roger Goodell announced San Francisco will host Super Bowl L in 2016 and Houston will host Super Bowl LI in 2017.
The news of San Francisco's win certainly wasn't a surprise. After the bid to land a new stadium in Miami fell short in the Florida legislature this month, the appeal of San Francisco and its future stadium in the Bay Area was strengthened mightily.
"After losing a Super Bowl, it's certainly nice to win a Super Bowl," 49ers owner Jed York told reporters.
The loser of Super Bowl L -- which, ahem, will be the next Super Bowl played on CBS -- faced off against Houston for the right to host Super Bowl LI, but Miami still was the underdog. Mostly because Goodell has intimated in the past that the current state of Sun Life Stadium wasn't conducive to another Super Bowl.
And all of those predictions came true. As the 49ers gleefully tweeted out.
Super Bowl 50 is coming to the Bay Area. #SFSuperBowl twitter.com/49ers/status/3…

— San Francisco 49ers (@49ers) May 21, 2013


Even though Miami had history on its side -- the region has hosted 10 Super Bowls, tied for the most of any city with New Orleans -- the stadium issue proved too tough to overcome.
"We are humbled and honored by this opportunity," San Francisco bid committee chairman Daniel Lurie told the NFL Network moments after the announcement. "The Bay Area has been waiting for a game since 1985. We had a great team, and we're just thrilled."
Houston, meanwhile, will offer a new scoreboard at Reliant Stadium, which will be the largest scoreboard in the world. Bigger even than the one in Cowboys Stadium?
"I didn't tell [Jerry Jones] that until after he voted," Texans owner Bob McNair joked on the NFL Network.
More from McNair: "We had a wonderful time in 2004, and we loved having the NFL in Houston. We're even better prepared this time. It will be a wonderful celebration. We look forward to having people from all over the world come to Houston."
Said Houston bid committee chairman Ric Campo to the NFL Network: "It's really good. It's like an overtime win for us. We're really excited about bringing the Super Bowl to Houston. We'll put on a party that no one has seen in a long time."
Meanwhile, the Dolphins franchise was disappointed.
"Congratulations to San Francisco and Houston on Super Bowl L and LI," owner Stephen Ross said in a statement. "However, we don't think there's a better place in the country to host Super Bowl than right here in South Florida. I am grateful for the hard work and creative energy that the South Florida Super Bowl Host Committee showed in their bid. Today's decision doesn't dampen our enthusiasm to pursue Super Bowls in the future, since we are steadfast in our belief that those games are good for the South Florida community."
Show Comments
Hide Comments
Our Latest Stories
The Texans' sackmaster appeared to have recovered from offseason surgery and didn't miss a...

Long snapper Kameron Canaday is a free agent after his latest mistake

The Patriots have one more game to endure without Tom Brady
Donald Trump told Colin Kaepernick to leave the country a month ago

The Browns also can't wait on DeShone Kizer, taking the Notre Dame QB at No. 1

Bell will play in his first game after serving his three-game suspension