The Seahawks are holding a combine event for local media members
It's not a new combine for only Seattle media to attend. The media members are the ones actually being tested in combine events.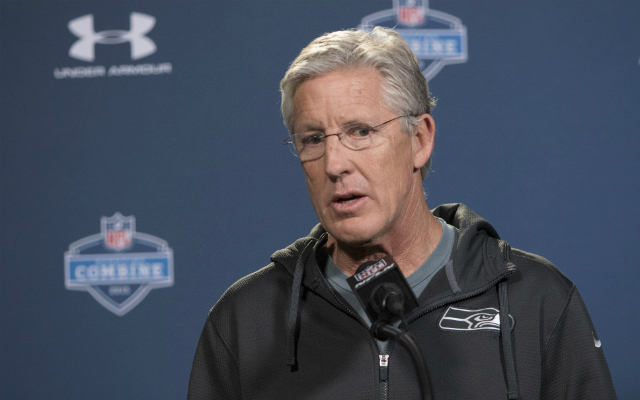 Every year in late February, the best college football players in the nation head to Indianapolis to take all kinds of tests. They run, they jump, they leap, they get their height and weight and body fat and hand length (and more) measured, they run and jump some more, and they do a metric ton of interviews. It's called the NFL combine, and it's the biggest pre-draft test of the offseason.
The Seattle Seahawks are taking this idea and running with it, only instead of inviting players for more tests, they're doing it with the local media:
Ha! #Seahawks invite local media to 1st Seattle Media Combine. 40yd dash, vertical jump, 3cone, shuttle run, broad jump, Gauntlet #bringiton

— Gregg Bell (@gbellseattle) February 19, 2016
This. Is. An. Amazing. Idea.
One can only hope that all of the Seahawks' players will stand around watching this event, tweeting out everyone's height and weight as they step off the scale, then tweeting out all the different 40-yard dash times they clocked on each media member's first, second and third run. After that, Richard Sherman and Michael Bennett can conduct all the interviews with the combine participants. This is a can't-miss idea, and I hope every team does it for their local media contingent.
Show Comments
Hide Comments
Brett Hundley was apparently on the block during Day 2 of the draft

The Bills fired their GM Sunday morning, then cleaned house

Get ready to start hearing a lot about Sam Darnold and Josh Rosen
College players who didn't get drafted are now free to sign with any team in the NFL

Benjamin has had weight issues going back to college

As one exec put it, 'We don't know what the hell they were doing'