Monday night in Toronto, the Blue Jays will look to avoid falling into a dreaded 3-0 hole in the ALCS. The Indians won the first two games of the series in Cleveland. Games 3 and 4 will be played at Rogers Centre. Game 5 too, if necessary.
The Blue Jays have been held to one run in two ALCS games so far, and in fact they only have 10 hits and two walks in their 18 offensive innings. Cleveland's pitchers have shut them right down. According to Jose Bautista, the Indians have had some help from "circumstances" as well.
We aren't stupid. Bautista is talking about the home plate umpires. He and his teammates have been complaining about called strikes all series. They do it all the time, really. Toronto has a lot of players who aren't afraid to let the umpire know when they don't agree with the call.
Here, via the magic of Brooks Baseball, are called balls and strikes against right-handed batters (like Bautista) for Games 1 and 2. You can see the plots for lefty batters at the links.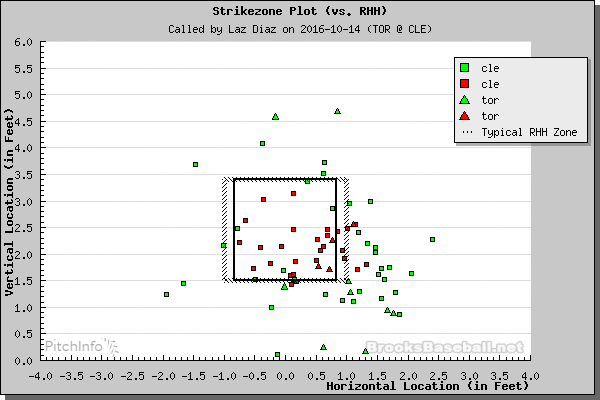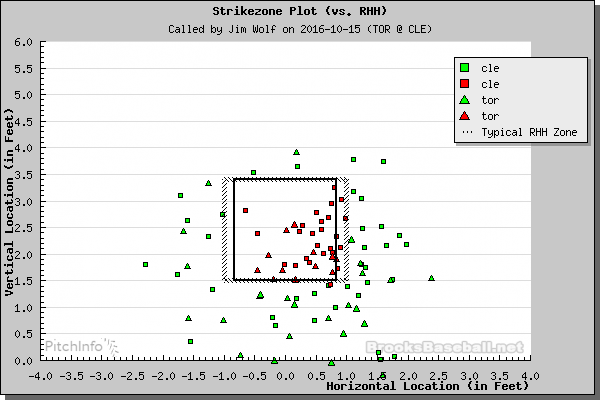 We're looking for red squares. Those are called strikes on pitches thrown by Indians pitchers. Red triangles are called strikes for Blue Jays pitches. Are there more red squares outside the strike zone than red triangles? Yes. Yes there are. Because the Indians threw more pitches there in general. It's not like the Blue Jays aren't getting the same call.
Home plate umpires Laz Diaz and Jim Wolf called big strike zones in Games 1 and 2. That's true. The PitchFX data confirms it. The Indians got more called on pitches off the plate because they threw more pitches there. They took advantage of the big zone. The Blue Jays did not.
In a perfect world the strike zone would be the same for every umpire. It's not though. That's just a fact of life. Bautista feels "circumstances" are working against the Blue Jays? Fine. But don't pout about it. Make the adjustment. The Indians and their pitchers sure have.