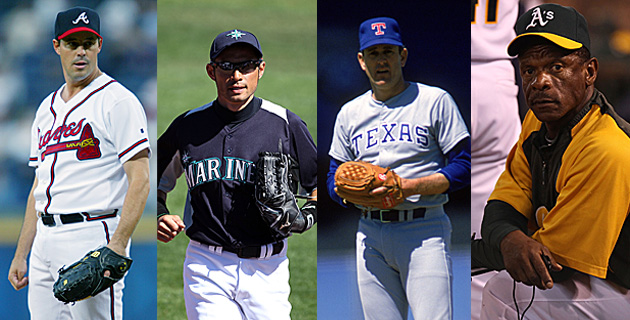 Jamie Moyer
is 49 years old. If he makes the Rockies this year --
and coming off a four inning no-no it looks pretty good for him
-- it will be the eighth franchise he's played for in 25 seasons.
Omar Vizquel
will turn 45 in April. If he makes the Blue Jays, it will be his sixth franchise and 24th season.
With all that service time, the two players have played with an absurd amount of great players over the years. But whose "All-Star team" -- that is, a team consisting of former teammates -- is better? We'll concentrate on extended primes, not how good the players are now or were when Vizquel or Moyer played with them. Definitely feel free to tinker with the lineups, rotations, bullpens, benches, etc. -- there really is no right answer here.
Here are the Jamie Moyer All-Stars
|
Click here for the Omar Vizquel All-Stars
Lineup
1. Rickey Henderson, LF
2.
Ichiro Suzuki
, RF
3.
Ken Griffey
, Jr., CF
4.
Alex Rodriguez
, SS
5. Rafael Palmeiro, 1B
6. Edgar Martinez, DH
7. Ryne Sandberg, 2B
8. Cal Ripken, 3B
9.
Carlos Ruiz
, C
Rotation
Roger Clemens, Greg Maddux,
Randy Johnson
, Nolan Ryan,
Pedro Martinez
This was the hardest decision here and I'm still not sold. That's because I had to leave off
Roy Halladay
. My rationale was that each of the above five were better in their primes, which is just absurd to even think about. Maybe we should go with a six-man rotation?
Bullpen
Dennis Eckersley (closer), Lee Smith, Goose Gossage,
Felix Hernandez
,
Cole Hamels
,
Cliff Lee
and Halladay
Yes, if you had the choice between putting the above starters in the bullpen or instead using
J.J. Putz
or Jose Mesa, you'd choose the guys with better stuff.
Bench
Dan Wilson (have to have a backup catcher),
Ryan Howard
,
Chase Utley
, Ozzie Smith, Andre Dawson
Manager
Charlie Manuel
Good-to-great players who missed the cut
Mo Vaughn, John Olerud,
Carlos Guillen
, Bret Boone,
Jimmy Rollins
,
Adrian Beltre
, Ray Lankford,
Mike Cameron
, Jay Buhner,
Raul Ibanez
,
Shane Victorino
,
Pat Burrell
,
Jayson Werth
, Rick Sutcliff, Kevin Brown, Kenny Rogers, Fernando Valenzuela, Mike Mussina,
Freddy Garcia
,
Armando Benitez
, Jesse Orosco, Jose Mesa, Kaz Sasaki,
Eddie Guardado
, J.J. Putz,
Rafael Soriano
,
Ryan Madson
,
Brad Lidge
,
Harold Baines
, Ruben Sierra. Oh, and Moyer himself.
Man, make a team from the guys who didn't make the cut and it's still very impressive. Something to consider: That log-jam at shortstop, where I was able to bump Cal Ripken to third but still had a Hall of Famer on the bench and Jimmy Rollins left in the dark -- you can add
Troy Tulowitzki
to that group if Moyer makes the Rockies this year. And Todd Helton would enter the first-base mix, too.
Finally, it's amazing that Moyer has played with Hall of Famers at pretty much every position but then Carlos Ruiz is the best catcher he's ever played with. Very weird coincidence.
Vote:
For more baseball news, rumors and analysis, follow @EyeOnBaseball on Twitter, subscribe to the RSS feed and "like" us on Facebook.