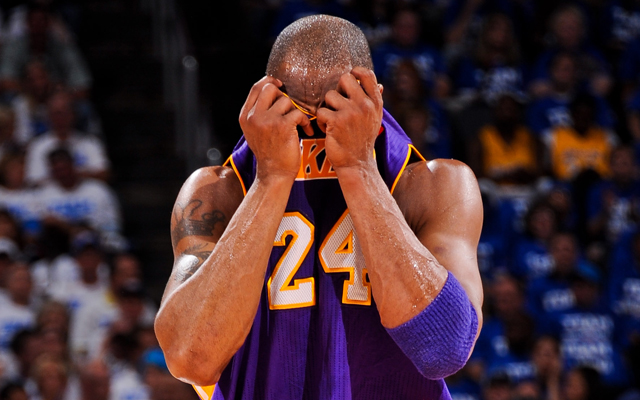 Lot of this going around Wednesday night.
(Getty Images)
Turns out, it's something going around. 
A day after LeBron James missed two late free throws and Dwayne Wade a driving layup going a combined 1-9 in the final four minutes in a Game 2 loss to Indiana,
Kobe Bryant
outdid the younger stars.
In terms of late-game failure, at least.
The Lakers blew a seven-point lead with two minutes to go behind a turnover from Kobe Bryant, a ball knocked out off of him, and two bad misses including an airball. The Thunder finished on a 9-0 run. Bryant's troubles started with a lazy entry pass to
Pau Gasol
which
Kevin Durant
stole and then finished off of at the other end. Then a bad pass from
Steve Blake
was deflected off Bryant. The Lakers could have burned more clock, but Bryant on a subsequent possession went into hero mode. 
There would be no heroes for the Lakers Wednesday night.  
So now Bryant has his own game that he let slip through his fingers. The offense needed to go through the post, forcing fouls and inside play sto burn more time, but instead, Bryant opted for the winning attempt. At game's end, Steve Blake was found open and missed that three. It was a quality look and getting the ball to Bryant on the final play may have resulted in a turnover. 
Watch Bryant's reaction after the play. It's total frustration, to the point Bryant fails to try and foul
Thabo Sefolosha
as the clock ticks down. That's how livid he was. Bryant has a reputation as thegame's greatest closer, a notion that has been challenged by actual evidence over the past few years. But few could have predicted such a calamitous end for the Lakers, who face the reality that the Thunder may have just stolen a win in a game they played as bad as they're going to in this series.
After the game, Bryant told reporters regarding the Lakers' two late turnovers:
"They just made gambles and they just jumped in the passing lane. It's something we're not accustomed to seeing. It was just flat out risks defensively. Jumping in the passing lane in front of the ball. Durant did it and got a steal. Westbrook did it and caused a turnover. It was a little unconventional but we'll make our adjustments in Game 3." 
It wasn't unconventional, it's the exact kind of play the Lakers have made on opponents throughout the years, always coming up with the huge play. Only this time, the Lakers were on the receiving end of it. How will Bryant respond to his struggles in Game 3? He's always come back stronger from these kinds of defeats, but given what the Lakers need in term of offensive balance, that may be a double-edged sword. Either way, with the series shifting to L.A. for a back-to-back set this weekend, we'll find out just who these Lakers really are in a hurry.