How do you know Eddie Vanderdoes is a liar, Notre Dame fans?
Some Notre Dame fans are convinced former Irish recruit Eddie Vanderdoes is lying about his reasons for wanting to play at UCLA. Why? Because some Notre Dame fans are awful.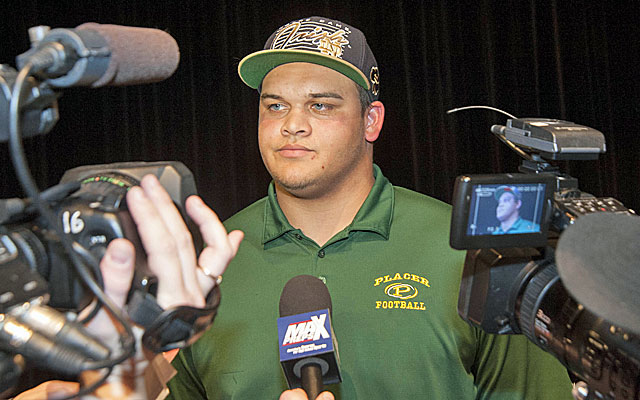 Stop telling me Eddie Vanderdoes is a liar, Notre Dame fans. Stop attacking the kid, telling me he's a schemer and you know his scheme. He's a liar, and you know his lie. He didn't get the promise he wanted from Notre Dame coach Brian Kelly, and you know the promise.
Stop telling me all that, Notre Dame fans, because I know where your "information" came from. It came from a message board somewhere, from someone who carries himself as an insider with all kinds of access to the secrets of Notre Dame football.
Don't bring me that crap and expect me to be impressed, Notre Dame fans.
I have two cats. A couple times a week, one of them kills a bird or a mouse and presents it to me. They leave it on my front stoop, kind of like Notre Dame fans are leaving me their dead carcass of a rumor on my Twitter feed or my Hate Mail inbox.
When my cats do it, I think, "gross."
When Notre Dame fans do it, I think, "gross."
Because you people -- and I'm talking specifically to you people, not to all Notre Dame fans; all fan bases have a lunatic fringe, and it's unfair to paint everyone with that crazy brush -- really believe you have insight into Eddie Vanderdoes.
You're convinced he's a liar. You're convinced this football recruit, this five-star defensive lineman who signed with Notre Dame in February but now wants to play for UCLA -- this 18-year-old kid -- concocted a sick relative to justify his decision to stay in his home state, with his home weather, instead of traveling 2,000 miles to play in the cold of South Bend, Ind.
You're convinced you're right, because someone on a message board said so. It would be hysterical, if it weren't so awful.
Manti Te'o got the benefit of the doubt from you people, and why? Because he played for Notre Dame. Eddie Vanderdoes doesn't get the benefit of the doubt from you people, and why? Because he doesn't want to play for Notre Dame.
The lunatic fringe of the Notre Dame fan base is so transparent, I feel like I'm looking at your X-ray. I see your bones. It's humorous, how I can see your humerus. You know how it is with X-rays, though: You can't see the heart.
Not sure you people have one.
And stop bringing me dead animals. It smells bad.
Show Comments
Hide Comments
Ranallo is leaving WWE after 16 months as the voice of SmackDown

Braun Strowman straight flipped an ambulance and Raw added a number of new superstars

Gotch, one half of the former NXT tag team champions, mutually agreed to part ways
Two thrilling debuts added pep to a SmackDown show that suffered from a lack of creativity

A WWE fan favorite, Angle was inducted into the Hall of Fame just three days ago

The Raw after WrestleMania is always a hot show, and Monday night certainly had its bright...