Ernesto Frieri hasn't allowed a hit in 11 innings as an Angel
Right-hander Ernesto Frieri has dominated since coming to the Angels in a trade from the Padres on May 3. Over 11 innings and 11 appearances, Frieri has struck out 23 batters.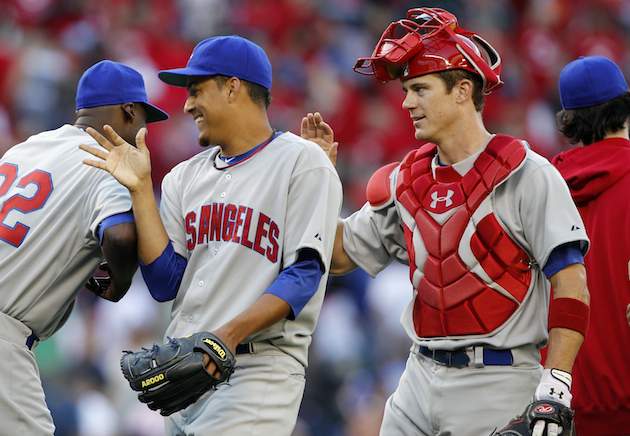 It's not quite the same as a no-hitter, but
Angels
reliever
Ernesto Frieri
has yet to give up a hit in his 11 innings as a
Los Angeles
Angel.
Acquired in a trade from
San Diego
on May 3 to help the team's ailing bullpen, the 26-year-old right-hander has done just that. Saturday he pitched the final 1 1/3 innings to earn his second save with the Angels -- and of his career. Frieri struck out three batters and walked one. On Sunday, he tossed another hitless frame. He's walked eight over his 11 appearances for the Angels, while striking out 23. Just nine of the 41 batters he's faced since switching teams have put the ball in play.
He's also picked up saves in two of the team's last four games. Left-hander
Scott Downs
picked up the save in Friday's game, so it appears Mike Scioscia has started platooning his closers. Frieri's three-strikeout performance on Wednesday marked his first career save.
It's not just Frieri who is throwing well out of the team's bullpen. Downs has not given up a run this season, including scoreless appearances on Saturday and Sunday. He's given up just 10 hits and four walks in 15 innings, while striking out 10.
Jordan Walden
, who started the season as the team's closer, hasn't given up only one run in 11 outings since blowing a save in a loss to the
Rays
on April 26. Over that stretch of 11 2/3 innings, Walden has given up just three hits and five walks, while striking out 10. He struck out two and walked one in 2/3 of an inning on Saturday, relieving starter
Jerome Williams
. His ERA is down to 3.07 after seeing it at 8.31 after the loss to the Rays.

Show Comments
Hide Comments