July 1 is Bobby Bonilla's day to get paid by Mets
Due to a deferral clause in his contract, Bobby Bonilla will get paid almost $1.2 million every July through 2035 because the Mets bought out the final year of his deal back in 2000.
More MLB: Scoreboard | Standings | Probable Pitchers | Sortable Stats | Odds
It's July 1, so that means Bobby Bonilla got a check for $1,193,248.20 today, just as he will every July 1 through 2035. That's due to a deferral clause from when the Mets bought out the final year of Bonilla's contract before the 2000 season.
The deal was signed by the Marlins in 1996, but Bonilla was traded to the Dodgers in the 1998 blockbuster that involved Gary Sheffield and Mike Piazza. Bonilla was later flipped to the Mets. He then only played 60 games in 1999, hitting .160/.277/.303, so the Mets saw fit to get rid of him before the 2000 season instead of paying him $5.9 million that year.
And now they'll be paying him a bit more than four times that -- just stretched out over 25 years.
And just because it's awesome, here's our Bobblehead Project rendering of Bonilla getting his dough in 2035: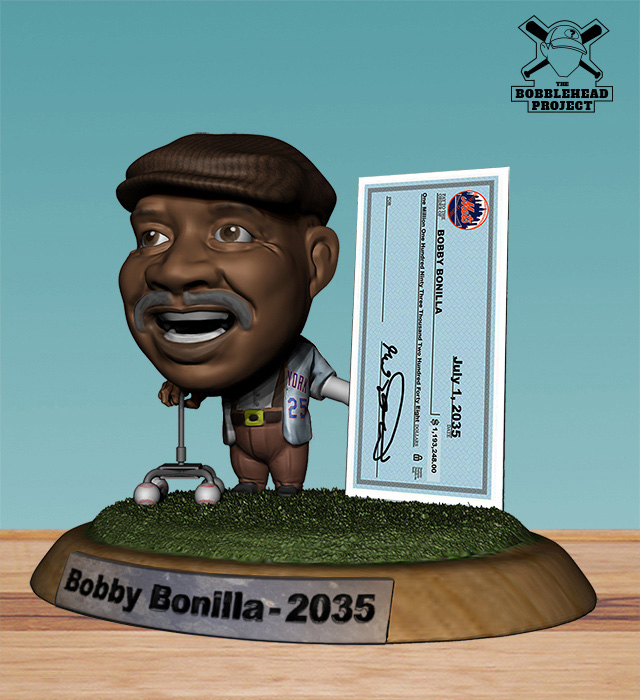 Hat-tip: My buddy C. Trent Rosecrans
Show Comments
Hide Comments