Report: Tyronn Lue to interview with Cavs
Clippers assistant and longtime NBA point guard Tyronn Lue will reportedly interview for the vacant Cleveland head-coaching position.
• 1 min read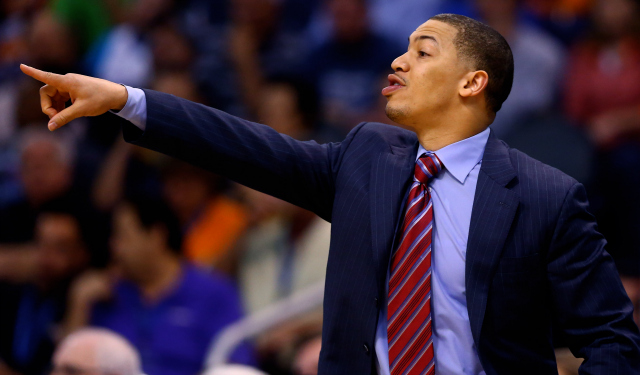 More Offseason Analysis: Coaching changes, news | Free Agency | Draft
Los Angeles Clippers assistant coach Tyronn Lue will interview with the Cleveland Cavaliers for their vacant head-coaching position next week, according to Yahoo Sports' Adrian Wojnarowski.
Lue has served as an assistant under Doc Rivers in both Los Angeles and Boston. He had a 10-year NBA career, and his name has been mentioned recently in relation to the New York Knicks' coaching search because he won two championships playing for Phil Jackson with the Los Angeles Lakers.
Cleveland is turning to NBA assistant coaches and former head coaches after having "closedly examined the college ranks," according to Yahoo. The Cavaliers also reportedly have interviews coming up with Vinny Del Negro, Alvin Gentry and Adrian Griffin.
Owning the No. 1 pick in next month's lottery, Cleveland has become a more attractive destination for prospective head coaches. It will be interesting to see whether they end up going with a big name or an up-and-comer like Lue.
The Wolves' newest star welcomes any and all interviews and expects to take the blame as the...

Donald Trump isn't known for his filter, and that was on full display when Dan Gilbert joined...

The Knicks failed to reach the playoffs in Thomas' first stint in New York as president in...
Will Toronto's current team president be the successor of Phil Jackson in New York?

Where are the top NBA free agents heading and who is still available?

Griffin suffered a toe injury that cut short his postseason, and apparently may keep him s...