Boomer Esiason: 'I'm a former Bengal and I'm embarrassed' by end of game
Esiason's former team lost its composure in the last few minutes and blew a likely playoff win.
The Cincinnati Bengals' last playoff win came all the way back on Jan. 6, 1991, against the Houston Oilers. Their quarterback for that game was a man by the name of Boomer Esiason. Heading into Saturday, Jan. 9, 2016, the Bengals had lost each of their last seven playoff games since the victory over the Oilers.
With the first playoff win in 24 years on the line, the Bengals completely melted down. In the last few minutes of their game against the Steelers, Jeremy Hill fumbled, Vontaze Burfict tried to take Antonio Brown's head off, and Adam Jones shoved a Steelers assistant coach (who shouldn't have been on the field, but still). This all came after the Bengals had been penalized for unsportsmanlike conduct twice earlier in the game and had gotten into multiple fracases with the Steelers throughout.
On the postgame show on CBS, Esiason made his opinion of the Bengals' conduct throughout the game known. "This was a disgraceful performance by the Cincinnati Bengals. An ugly performance by one, Vontaze Burfict," Esiason said.
"I'm a former Bengal and I'm embarrassed by the way this game ended and by the way these guys acted on the field today," he continued.
Lastly, he said of head coach Marvin Lewis, "If Marvin Lewis can't control his players, maybe Marvin Lewis shouldn't be standing there on the sidelines coaching."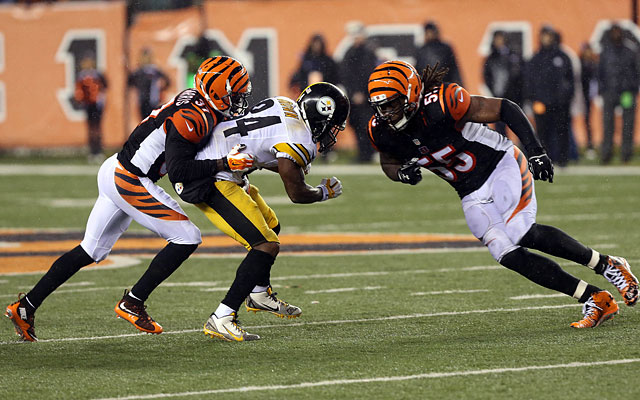 Show Comments
Hide Comments
Our Latest Stories
J.J. Watt's dad reveals that his son's injury might've been worse than we thought

President Obama encourages both sides to listen to the opponents' viewpoint

The stats are lying -- the Vikings don't have Eli Manning's number
Dolphins-Bengals will not be streamed live on Twitter this week, but here's how to watch

Burfict returns to the lineup with the Bengals on a two-game losing streak

Can the Cowboys win without Romo and Bryant in the lineup? That will likely be answered Su...