Cowboys forget to touch Giants TE Brandon Myers, Myers scores TD
Giants tight end Brandon Myers was on the receiving end of a 27-yard touchdown pass that probably shouldn't have been a 27-yard touchdown pass.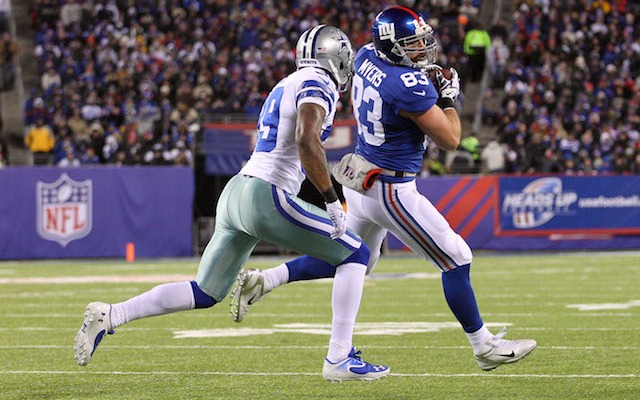 Watching film this week could get a little awkward for Cowboys defenders Jeff Heath and Bruce Carter, especially if Dallas loses to the Giants -- and it's all because of a wild play that happened in the third quarter. 
With the Giants facing a fourth-and-3 from the Dallas 27-yard line, New York coach Tom Coughlin decided to go for it. The gamble paid off when Eli Manning hit tight end Brandon Myers for what appeared to be a 17-yard gain.
That 17-yard gain turned into a 27-yard touchdown pass though because no one on the Cowboys touched Myers after he hit the ground. As you can see in the GIF below, Carter and Heath almost went out of their way to not touch Heath. Myers then got up and ran into the end zone for a touchdown that cut the Cowboys lead to 21-13. 
(Wink of the CBS Eye to Gifdsports)
Show Comments
Hide Comments
With Tony Romo out, the Cowboys may look beyond their current roster for a QB

It's a brutal night on offense for both the Giants and the Jets in preseason dress rehears...

The Raiders' coach is more concerned with figuring out who Murray's backup will be
Dashon Goldson is headed to Atlanta to help out after the Falcons' top pick goes down

Prescott has a lot of confidence in his ability to win the mental side of the game

Prescott has played well in the preseason, but the level of difficulty will be much higher...