New Saint Coby Fleener questions effort of former Colts teammates
Drew Brees is probably a much better predictor of Coby Fleener's future success in New Orleans than the first four years of Fleener's career with the Colts
On the first day of free agency, the Saints signed Coby Fleener to a five-year, $36 million deal.  Given the previous productivity explosion of Jimmy Graham and Ben Watson, it's fair to assume that Fleener will fare well in Drew Brees' offense.
In fact, Brees is probably a much better predictor of Fleener's future success than the first four years of his career with the Colts. The former second-round pick fell short of expectations -- he never caught more than 54 passes in a season -- and the team opted to re-sign more versatile tight end Dwayne Allen for slightly more money.
On Friday, Fleener hinted that his final season in Indy, one that saw Andrew Luck miss nine games and the team stumble to an 8-8 record, saw some teammates giving less than full effort.
"I think it's one of those situations where it really reveals character," Fleener said, per ESPN.com's Mike Wells. "The guys that kept fighting through it -- knowing that we may not have our star quarterback on the field but we still have a chance to win the game -- those are the guys you want kind of in your corner. And the other guys, it becomes pretty apparent that they're along for the ride."
Fleener later told Sirius XM that "the Colts' lack of interest and the Saints' interest made going to New Orleans an easy choice."
One knock on Fleener is that he provided next to nothing as a blocker, a claim he refuted this week.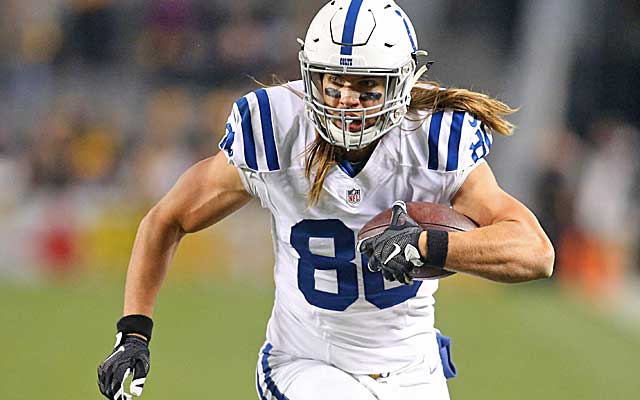 "I don't know if I would consider it a strength of my game, but I think I'm an adequate blocker, and it seems like the Saints have done an outstanding job of kind of moving their tight ends around and making sure they have the advantage when it comes to blocking and receiving," he said during a conference call, according to The Advocate.
There was also a question about the perception that Fleener was "soft."
"I think it's easy to say that sitting at a desk, typing it into a computer," he said. "I honestly didn't know that until you said that. I don't know. I think if you listen to what other people say about you, it's going to be an emotional roller coaster. One day you're amazing and the next day you're the worst.
"Personally, I try to keep it on an even keel. The easiest way to do that is ignore the people who are telling you are the best and ignore the people who are telling you that you're the worst."
If Fleener follows in the footsteps of his predecessors in New Orleans -- in five seasons, Graham had 386 receptions for 4,752 yards and 51 touchdowns; in 2015, 34-year-old Ben Watson finished with career bests in receptions (74), receiving yards (825) and tied a career best in touchdowns (6) -- no one will care if he can throw a block.
Show Comments
Hide Comments
Brett Hundley was apparently on the block during Day 2 of the draft

The Bills fired their GM Sunday morning, then cleaned house

Get ready to start hearing a lot about Sam Darnold and Josh Rosen
College players who didn't get drafted are now free to sign with any team in the NFL

Benjamin has had weight issues going back to college

As one exec put it, 'We don't know what the hell they were doing'