VIDEO: Metrodome demolition continues with 84 charges of TNT
Explosives were used to take down portions of the Metrodome on Sunday morning to help make way for the Vikings' new stadium.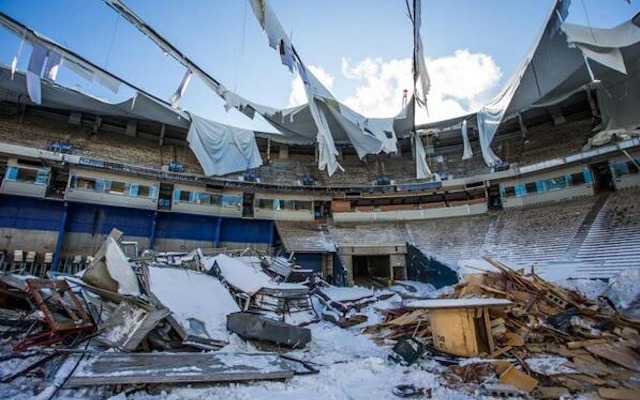 We've been documenting the destruction of the Metrodome since it began on Jan. 18 when the roof was deflated. However, the roof being deflated wasn't half as exciting as what happened on Sunday morning. 
What happened on Sunday morning? Things got serious. Seriously awesome. The last remaining concrete ring in the stadium was destroyed with 84 charges of dynamite. If you want to know what it looks like when 84 charges of dynamite destroys something, just watch the video below. 
The Vikings are scheduled to play their next two seasons at the University of Minnesota's football stadium. After that, Minnesota is expected to move into their new stadium, which is scheduled to open in time for the 2016 season.
Because everyone likes dynamite, here's a second angle of the destruction. 
Show Comments
Hide Comments
John Mara says he's 'comfortable' having the kicker on his roster

Maybe Johnny Football can find work after all

The Seahawks QB confirms -- without confirming -- that he moved his wedding over bathroom...
Too early to project how a rookie will turn out? Sure, but here's five comparisons based on...

The most important week of the preseason kicks off on Thursday

Preseason Week 3 is where the rubber meets the road; jobs are won and depth charts are sol...