Yankees have looked bad, but not to their AL East rivals
It's not hard to find baseball people who say the Yankees could be bad this year, but two of their American League East rivals disagree.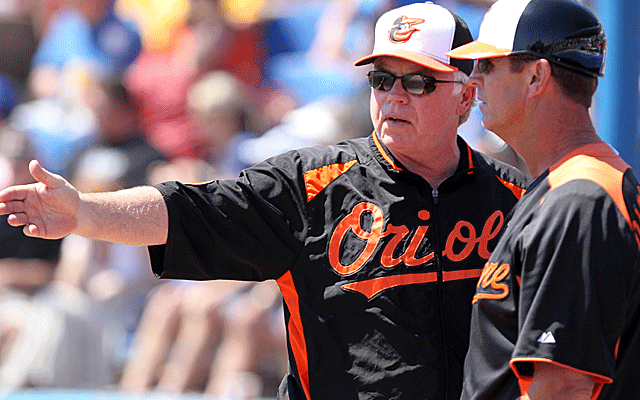 Buck Showalter (left) says it's a given that the Yankees will be good in 2013.
(Getty Images)
SARASOTA, Fla. -- Travel around Florida (and even Arizona), and it's not hard to find someone who will tell you what a terrible spring the Yankees have had, and how bad they could be this year.
You even hear it from people who work for the Yankees.
Everywhere but here, where on the final Monday of spring training, two of the Yankees' American League East rivals worked hard at convincing us the Yankees aren't dead before the season even begins.
"As we've seen overnight, things can change," Red Sox manager John Farrell said.
Overnight, the Yankees traded for Vernon Wells, which is only a game-changer if you assume Wells' great spring with the Angels (1.112 OPS) is a sign his last two years (.667 OPS) can be ignored.
"To me, it's a given that [the Yankees] are going to be good," Orioles manager Buck Showalter said.
Showalter went on to say basically the same thing about every team in the AL East. He praised the Rays and the Blue Jays, too.
"And I like what Boston did in the offseason as much as anyone," he said.
Picking a last-place team in the East isn't easy. Picking a favorite might be a little easier, as Farrell pointed out.
"You look on paper, you could say Toronto should be in the World Series," he said. "The talent they've added is substantial.  ... They have a deep lineup, a lot of speed and power. And their rotation is much improved."
But everybody is saying that about the Blue Jays. Few are saying it about the Yankees.
"It's not like you ever feel like there's not going to be good players there," Farrell said. "They're still going to be a good team, no question about it."
He says there's no question about it.
It's not hard to find plenty of baseball people who disagree.
Show Comments
Hide Comments