Giants WR Victor Cruz undergoes knee procedure, out for Week 16
Giants wide receiver Victor Cruz underwent a procedure on his knee on Thursday and has been ruled out for New York's game this week against the Lions.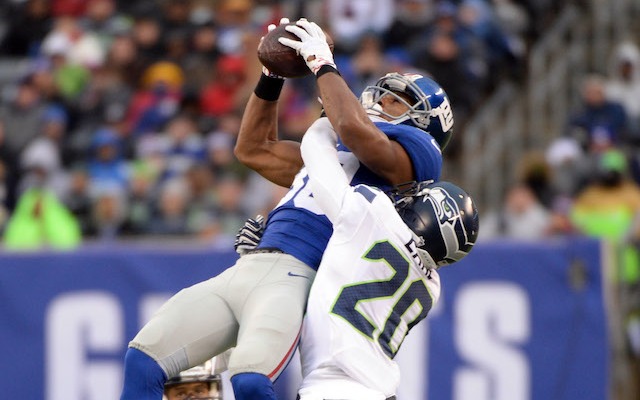 New York Giants quarterback Eli Manning has had a rough season and things aren't going to get any easier against the Lions this week. Manning will be without leading receiver Victor Cruz, who underwent a knee procedure on Thursday. Cruz has officially been ruled out of Sunday's game in Detroit.
Cruz was injured in the third quarter of the Giants 23-0 loss to the Seahawks. After going up for a catch, Cruz was slammed to the ground by Seahawks defensive back Jeremy Lane. Not only did Cruz injure his knee on the play, but he also suffered a concussion. As far as the concussion goes, Cruz was given the all clear on Wednesday. 
The procedure on Cruz's knee was performed in Florida by Dr. James Andrews. 
The game against the Lions will mark the first time since his rookie year in 2010 that Cruz hasn't suited up for the Giants. Cruz has played in 46-consecutive games in that span, the fifth-longest streak on the team. 
Although the Giants haven't officially ruled Cruz out for the season finale, he's not likely to play. That means Cruz will finish 2013 as the Giants leading receiver with 998 receiving yards, just two yards shy of what would have been his third-straight 1000-yard season. 
With Cruz out, wide receiver Reuben Randle is expected to start in his place against the Lions .
Show Comments
Hide Comments
NFL teams find out their schedule on the same day you do

There probably weren't too many complaints in Kansas City after the schedule was released

Glen Coffee is hoping to make an improbable NFL comeback
Geography can be hard sometimes

Hernandez appears to have left suicide notes for at least three different people

Beast Mode and the Raiders apparently don't see eye to eye on this one thing