NFL Week 9 Injury Roundup: Texans RB Arian Foster out with back injury
Raiders quarterback Terrelle Pryor and running back Darren McFadden both left the game early after suffering injuries in Oakland's 49-20 loss to Philadelphia on Sunday.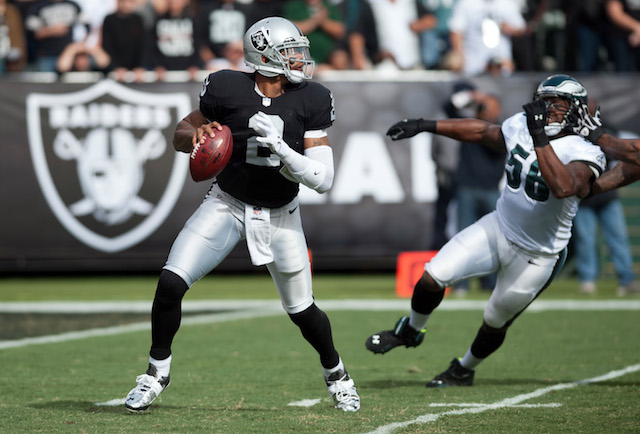 For more injury news and notes from around the league, be sure to check out CBSSports.com's NFL Rumors blog.
QB Terrelle Pryor and RB Darren McFadden both injured against Philadelphia Eagles  
The Oakland Raiders were blown out 49-20 by Philadelphia on Sunday, but that might not be the worst news in Oakland as both Terrelle Pryor and Darren McFadden were injured in the loss. McFadden left the game in the first half after suffereing a hamstring injury and was immediately ruled out. It's not clear how serious the injury was, but any time a player is immediately ruled out, that's never good news. As for Pryor, he left the game in the fourth quarter to get his knee examined. With the Raiders trailing Philadelphia 49-13, Pryor said after the game that was taken out as a precaution. "Coming out was a precaution. There was nine minutes left in the game. We weren't coming back," Pryor said, via CSNBayArea.com. 
Texans RB Arian Foster leaves game after one series 
Arian Foster was a game-time decision and the Texans decided he was healthy enough to play against the Colts. Foster didn't last long against Indianapolis though, he left the game after only one series with a back injury. Foster had one pass thrown to him and zero carries in the game. The Texans running back was wearing street clothes by the time the second quarter started in Houston. 
New Orleans Saints RB Darren Sproles suffers concussion
Darren McFadden wasn't the only Darren to get injured in Week 9, Saints running back Darren Sproles was injured too. Sproles suffered a concussion on the Saints opening drive and didn't return to the game. The injury was a big loss for quarterback Drew Brees : going into Sunday, Sproles was the Saints' second-leading receiver with 36 catches for 366 yards. 
New York Jets leading WR Jeremy Kerley injures elbow
The Saints weren't the only team at MetLife Stadium playing without a leading receiver, the Jets were too. Jeremy Kerley injured his elbow in the second quarter while blocking for running back Bilal Powell and never returned to the game. Going into Sunday, Kerley was leading the team in both receptions (27) and receiving yards (346). Without Kerley, the Jets only managed 140 passing yards against the Saints and 25 of those came on a Wildcat play where Josh Cribbs threw a completion to tight end Zach Sudfeld . 
Minnesota Vikings TE Kyle Rudolph injures foot against Dallas
Kyle Rudolph scored a touchdown in the Vikings 27-23 loss to Dallas, but it came at a price, Rudolph injured his left foot on the play. The Vikings tight end left the game after suffering the injury and didn't return. Rudolph finished with two catches for 35 yards in the Minnesota loss. 
Buffalo Bills WR Robert Woods leaves game with leg injury
The Bills offense struggled in the second half against  Kansas City and part of that may be because rookie wide receiver Robert Woods got injured. Woods injured his leg in the second half and didn't return to the game. Before the injury, Woods had caught four passes for 44 yards and he had been targeted by rookie quarterback Jeff Tuel eight times. After the game, coach Doug Marrone said x-rays on Woods came back negative, so he should be able to go next week when Buffalo plays in Pittsburgh. 
Show Comments
Hide Comments
The top three-technique prospect in the draft could see his name not called at all

The former Florida football player was expected to be a second-round pick in the NFL Draft

This much is certain: The Browns desperately need a quarterback
The man who signed Romo is happy to see him move on from playing the game

Roger Goodell typically announces all the first-round picks, but he'll make an exception this...

NFL teams find out their schedule on the same day you do