Upset Alerts, Week 6: Irish to rebound at Sun Devils' expense?
The Eye on CFB gang make their upset calls for Week 5, with Arizona State, Miami, Rutgers and Ole Miss on alert.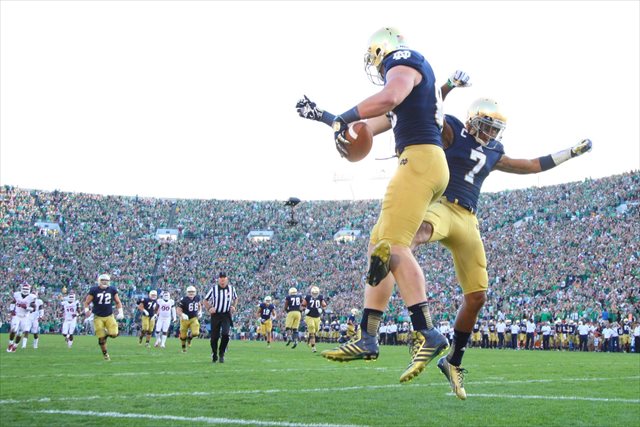 Welcome to Upset Alerts, where each week our three intrepid Eye on College Football writers and special guest BCS/bowl projections expert Jerry Palm each pick an upset they believe will shock (or at least mildly amuse) the college football world.
This week's lines are here. The picks:
JERRY PALM: Notre Dame (+6) over Arizona State : This game will be played in front of a "home" Notre Dame crowd in Dallas as part of the Shamrock Series. The Irish are smarting after a home loss to Oklahoma, where QB Tommy Rees returned to his generous ways. Rees turned the ball over three times to the Sooners, and helped dig a hole from which Notre Dame could not recover. Arizona State has one of the most prolific offenses in the country and is coming off a game where they racked up 62 points on USC and sent the Trojans' coach packing.

However, lost in that news was the fact that USC's previously moribund offense lit ASU up for 41 points and almost 550 yards of total offense. 273 of those yards came on the ground, and that's not an aberration. They are giving up almost 240 rushing yards per game the last three weeks. Notre Dame will be happy to give the Sun Devils a healthy dose of George Atkinson and Rees can't be as bad as he was a week ago. Ball control is the formula for success for the Irish, and if they can do that, they'll be back on track in their attempt to chase down a BCS berth.
Last week: Missed on Colorado over Oregon State. Season-to-date: 1-for-3
JERRY HINNEN: Georgia Tech (+6) over Miami : Yes, the Jackets are coming off a dispiriting 17-10 home loss to Virginia Tech. Yes, the Hurricanes are undefeated and the No. 14 team in the country. But things aren't really that bad for Tech, and not really that good for the 'Canes. The Hokie defensive line -- arguably the nation's best -- was a particularly poor matchup for the Jackets, Paul Johnson's offense turned it over in its own territory multiple times, Logan Thomas played by far his best game of the season, and that game was still only one possession away from the Jackets (and a dead-heat yardage-wise). Miami, meanwhile, got the benefit of a bevy of Florida turnovers in their signature win and another matching gift set of mistakes from USF in a win last week that shouldn't have been as lopsided as it was.  
With Tech due for a strong performance and Stephen Morris on the banged-up side, a few more breaks the Jackets' way and a few less the 'Canes' way should yield the upset. Besides: it's just not the ACC if we don't get a little bit of chaos in the divisional standings, is it? 
Last week: Hit on Western Kentucky over Navy. Season-to-date: 1-for-4.
TOM FORNELLI: Auburn (+3) over Ole Miss : I feel like the spread in this game is more a result of how Auburn played last season than this season. While the Rebels have a lot of young talent on defense the simple fact is that in three games against FBS competition they're giving up nearly 28 points per game. They're also allowing 4.58 yards per carry against FBS teams. I also have questions about the team's confidence going on the road again after being completely shut down by Alabama last week.

Then there's Auburn, who is averaging 232.25 yards rushing per game and 5.08 yards per carry. The Tigers have also had a week to prepare for this game and looked impressive, even in defeat, against LSU two weeks ago. I expect there to be quite a few points put on the board in this matchup, and with Auburn being at home, I'm giving them the edge in this matchup.
Last week: Missed on USC over Arizona State. Season-to-date: 1-for-4.
CHIP PATTERSON: SMU (+4) over Rutgers : This game is not exactly a headliner (the Noon ET kickoffs on ESPN News rarely are), but it is a pivotal game for SMU after a disappointing 1-3 start to the season. The good news for the Mustangs is the return of starting running back Traylon Shead. Shead has been sidelined since suffering a knee injury on a horse-collar tackle in the first half of the season opener. June Jones is known for the Run-N'-Shoot, but his SMU teams have had a 1,000-yard rusher each of the last four seasons and the ground game has struggled so far this season.

The former Longhorns' running back -- arriving at SMU by way of JUCO in Jan. 2013 -- told reporters he was "frustrated" he hasn't hit anyone in five weeks. His hard running should make life easier on Garrett Gilbert and help the quarterback shake his recent turnover woes (five interceptions in the last two games). Throw in the injury of Rutgers running back Paul James and the fact that I don't see a lot of upsets this week and, sure, let's go with the Mustangs.
Last week: Missed on Wisconsin over Ohio State. Season-to-date: 2-for-4.
Show Comments
Hide Comments
The former coach weighed in on the new NCAA recruiting rules

Wiggins has played more than 30 games in the ACC and SEC during his career

Our panel of experts drafted the best sports video games that have ever been created
The players allegedly conspired to steal belongings from another student's dorm room

Harbaugh handed the Pope a Wolverines helmet and special shoes

How Markeeth Taylor has become a last chance for NFL hopefuls like LeBeaux Cooper