Sorting the Sunday Pile: Bengals need to make decision on Dalton
Here's everything you need to know about what happened in the Chargers 27-10 wild-card win vs. the Bengals.
• 8 min read
It was at this time last season, when Andy Dalton and the Bengals were losing to the Texans in the first week of the playoffs for the second straight year, when I wondered aloud whether Cincinnati should trust Dalton as its franchise quarterback.
(By the way, what would the Bengals look like if they instead had drafted the guy Mike Brown wanted, Colin Kaepernick?).
The results this season have been mixed. Dalton went through a stretch where he accomplished this:
 
Passing
Rk
G#
Date
 
Opp
Result
Cmp
Att
Cmp%
Yds
TD
Int
Rate
Y/A
6
6
2013-10-13
@
BUF
W 27-24
26
40
65.00%
337
3
1
105.9
8.43
7
7
2013-10-20
@
DET
W 27-24
24
34
70.59%
372
3
0
135.9
10.94
8
8
2013-10-27
 
NYJ
W 49-9
19
30
63.33%
325
5
1
125.7
10.83
 
 
16 Games
 
 
11-5-0
363
586
61.95%
4293
33
20
88.8
7.33
That's when he was fantastic.
Then, a few weeks later, he managed this:
 
Passing
Rk
G#
Date
 
Opp
Result
Cmp
Att
Cmp%
Yds
TD
Int
Rate
Y/A
9
9
2013-10-31
@
MIA
L 20-22
32
53
60.38%
338
0
3
55.4
6.38
10
10
2013-11-10
@
BAL
L 17-20
24
51
47.06%
274
2
3
52.2
5.37
11
11
2013-11-17
 
CLE
W 41-20
13
27
48.15%
93
3
2
62.7
3.44
 
 
16 Games
 
 
11-5-0
363
586
61.95%
4293
33
20
88.8
7.33
That's some solid inconsistent consistency (or is it consistent inconsistency?). But if there's one thing Dalton has proven in his three seasons in the league is that when the game is meaningful and important, he hasn't played well. That leads us to Sunday's wild-card game vs. the Chargers.
He wasn't just Bad Andy Dalton on Sunday in Cincinnati's 27-10 loss to the Chargers. He was Really Terrible Andy Dalton.
We had an inkling the Bengals' offense might be in for some trouble when Dalton badly missed running back Giovani Bernard on a third-and-one in the first quarter.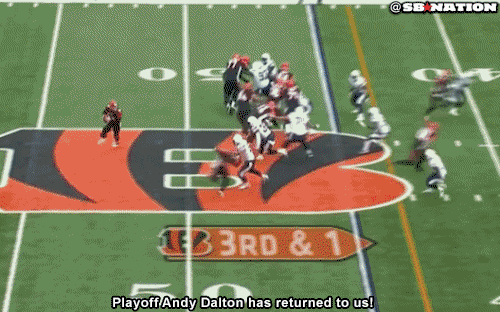 Dalton saved his worst, though, for the second half, fumbling the ball after trying to dive for a first down in the middle of the third quarter. The Chargers recovered and went on to score a field goal that gave San Diego a 17-10 lead.
Later in the half, with the Chargers getting an immense pass rush against Dalton, he threw an out route that, predictably, was picked off, allowing San Diego to take over possession on the Cincinnati 3-yard line.
Dalton threw 7 picks vs. blitz this year, 2nd most in NFL (Eli had 10). that field position screamed for pressure, and Dalton obliged

— Jason La Canfora (@JasonLaCanfora) January 5, 2014
Still, Cincinnati was only down 20-10 midway through the fourth quarter, but on a fourth-and-3 at the San Diego 41, Dalton chose, for some reason, to throw a home-run pass to Marvin Jones on a sideline route in which he was well covered. We don't know if that was the play call from the bench or if it was Dalton's decision to try the low-percentage throw, but either way, it was not an intelligent decision with the season basically on the line. An incomplete pass, and the game, at that point, basically was over.
Overall, Dalton -- who finished the season with seven turnovers in his past eight quarters -- was 29 of 51 for 334 yards, a touchdown and two interceptions on the day, and he never got top-notch receiver A.J. Green involved in the game.
But just like at the end of last season, there are major question marks about where the Bengals offense goes from here. Earlier this year, CBSSports.com's Gregg Doyel warned the team to think about the regret the Ravens might be feeling about giving Joe Flacco so much money last season.
The fact Cincinnati has made the playoffs for the third straight year -- something that has never been done in franchise history -- with Dalton running the offense is impressive. He has skills, and if he put them together consistency, he could be a top-10 quarterback.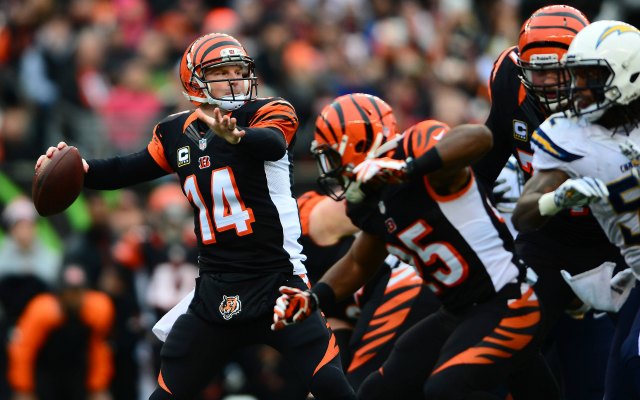 Remember, though, Mark Sanchez led the Jets to back-to-back AFC title games, and there aren't many who would confuse Sanchez for a competent signal-caller. Dalton is better than Sanchez, but maybe not by much. And that's not a great indicator of future Bengals success as it stands now.
At the very least, Cincinnati needs to bring in a live arm next offseason and give him a real chance to beat out Dalton for his starting job. I suspect this won't happen (Bengals coach Marvin Lewis said after the game, "I don't have any questions about Andy's role"). But it should, because at this point, we just don't know if Dalton is the kind of quarterback who can lead the Bengals to anything other than the wild-card round of the playoffs.
• There was much hand-wringing this week when it was revealed that Jeff Triplette would referee the game, but in reality, he had a solid performance and made at least two strong rulings in what turned out to be a busy second quarter of action.
Midway through the second quarter, the Chargers challenged a Marvin Jones catch after it appeared on replays that the ball might have moved after Jones hit the ground. Triplette confirmed the original ruling of a catch and gave a good explanation why.
A few minutes later, Bernard was ruled to have fumbled after he was stripped of the ball from Donald Butler. It appeared the initial call was right, as Bernard caught the pass, landed on both feet and turned around to run to the end zone before he lost the ball. Triplette upheld the ruling.
Then, a few minutes after that -- with less than 12 seconds to play in the half -- Bengals tight end Jermaine Gresham caught the ball on the sideline, even though the Chargers proclaimed that he had lost the ball before completing the catch. Triplette took a long time to review before confirming that the catch was made.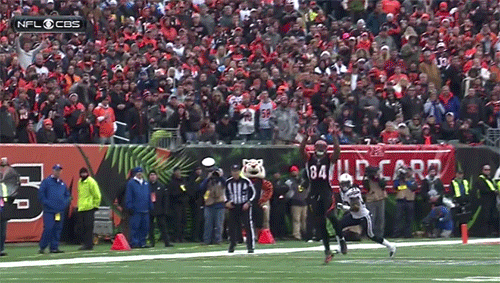 Honestly, I have no idea if he was right in upholding the original call, because nobody, not even the referees, seems to truly know the definition of a catch. But his explanation sounded good and Triplette appeared to be correct.
So, overall, good job by Triplette.  
As I wrote this past week, "the assignments for postseason football assignments are merit-based, so clearly, Triplette was graded high enough that the NFL feels like he deserves to be rewarded. With Triplette, the perception of his job performance is most likely infinitely times worse than his actual grades."
Plus, there's this.
Correction: Triplette would have had to be graded among approximately the top 9 or 10 out of 17 refs to get a postseason game.

— Peter King (@SI_PeterKing) January 5, 2014
(And because my CBSSports.com colleague Will Brinson usually writes these Sorting the Sunday Pile posts, I'm going to take a page from his book and post one of my own tweets, which was only slightly sarcastic.)
So far today, the Bengals get a B, the Chargers get a B-, and Jeff Tripplete gets an A+++++++++++++++++++

— Josh Katzowitz (@joshkatzowitz) January 5, 2014
There were a few minor issues in the second half, but certainly not anything that affected the outcome of the game. Overall, Triplette and his crew did a nice job under much scrutiny.
• What happened to Ryan Mathews?
In the past four weeks, all wins, the Chargers running back had rushed for 473 yards and three touchdowns. After gaining 52 yards on 13 carries Sunday, Mathews didn't run another play after the 11:53 mark of the third quarter.
So, what happened there? CBS sideline reporter Tracy Wolfson said that the team told her Mathews wasn't injured. Some reporters didn't exactly believe San Diego.
That's a flat-out lie by Chargers about Mathews. Either that, or they have dumbest coaching staff ever and I don't think that's true.

— Jay Posner (@sdutPosner) January 5, 2014
There had been at least one report that Mathews was seen walking gingerly on the sidelines -- after the game, Chargers coach Mike McCoy was vague about why Mathews didn't play -- and it obviously would behoove the team to have him healthy for next week. Because ...
• We'll get a third meeting between the Chargers and the Broncos next Sunday at 4:30 p.m. ET, and if you think Denver was rooting for this matchup again, remember this:
In Week 15, San Diego went into Denver and knocked off the Broncos 27-20, and in case you think that was fluky, the Chargers hung close in the teams' first meeting, losing 28-20. It will be fascinating to see how the Broncos adjust, and it will be interesting to see if Mathews (who gained 127 yards in Week 15 played) is healthy enough to dress.
• Even with loss of center Nick Hardwick to a neck injury in the first quarter, the Chargers offensive line played a clean game.
Overall, the Bengals only sacked Rivers once, and the Chargers rushed for a season-high 196 yards, oftentimes behind the blocking of Rich Ohrnberger, who replaced Hardwick at center.
• If Bengals offensive coordinator Jay Gruden lands a head coaching job before Bengals defensive coordinator Mike Zimmer, that would seem rather silly.
After the 2011 season, Gruden was a popular candidate, though he ultimately decided not to interview. The interest cooled down last season, but heading into this offseason, it appears as if some teams might want to talk to him.
There have been some rumblings that Hue Jackson, the running backs coach, is just as much the reason for the Bengals offensive resurgence this season as Gruden, but again, in a big-time game, Cincinnati's offense wasn't effective.
And this has to be disheartening if you're a Bengals fan.
Multiple Chargers tell me Bengals did NOTHING offensively that they hadn't prepared for. No tweaks, no surprises.

— Aditi Kinkhabwala (@AKinkhabwala) January 5, 2014
So, does this warrant more interest in Gruden as a head coach?
Jay Gruden is the hottest coordinator in the NFL, allegedly. Him and Peyton Manning's OC. The NFL is run by idiots, you know that?

— Gregg Doyel (@GreggDoyelCBS) January 5, 2014
Whereas, Chargers offensive coordinator Ken Whisenhunt only raised his stock Sunday and very likely could find himself as an NFL head coach once again.
• Photo of the day belongs to Rivers and his bolo tie. Via Lindsay Jones on Instagram: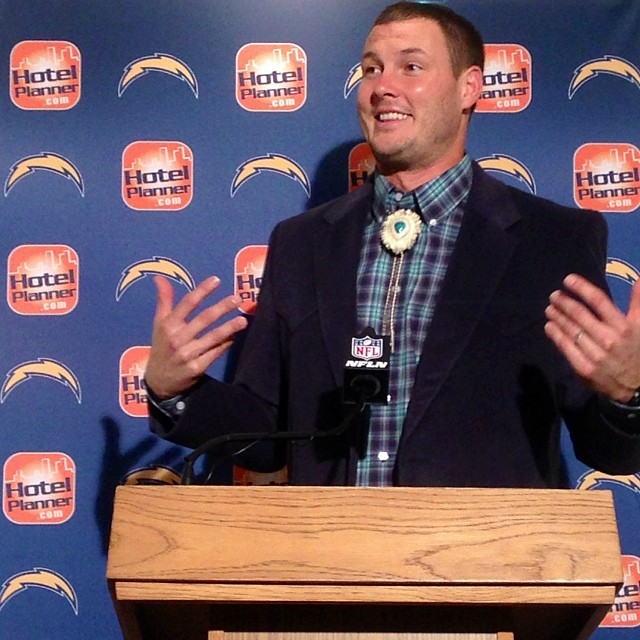 You'll recall that Rivers also wore a bolo tie (but a different bolo tie) when the Chargers beat the Broncos in Denver. So, we might have a lucky talisman kind of thing happening here.
• GIF of the day is right here, because yes, Rivers is on fire.
Follow Josh Katzowitz on Google+
The second-year quarterback already looks fantastic for the Cowboys

The linebacker starts in the middle for Dallas, Mariota shines and more from Saturday's preseason...

If you're an NFL team and you want Phillip Dorsett, just give the Colts a call
Carolina's offense featured McCaffrey in a multitude of ways on Saturday

This is why you should only eat dinner alone

The Kaepernick situation is slowly turning into a black eye for the NFL