Observations: Pearl hire a win for Auburn -- and the SEC
Rothstein: Auburn hits a home run by hiring Bruce Pearl, but it's also a great move for the down SEC. Also, Oklahoma-North Dakota State may be the best game in the round of 64.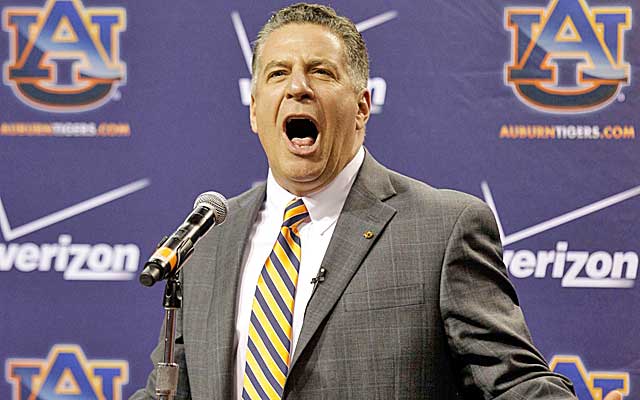 Latest in hoops: NCAA Tournament | Expert Brackets | Coaching Changes
1. Hiring Bruce Pearl was huge for Auburn, but it may be bigger for the SEC as a whole.
Let's be honest, this league needs a jolt. There's no reason for the SEC to have only three teams -- Kentucky, Florida, and Tennessee -- in the NCAA Tournament. The conference is down and while Pearl's hiring on Tuesday was a major coup for Auburn, it may be bigger in terms of how it changes the overall landscape of the SEC. Pearl will recruit, get his players to defend, and is more than capable of turning this program around quicker than people anticipate. Many folks forget that Pearl inherited a mediocre roster at Tennessee when he arrived in Knoxville in 2005 and then coached the Volunteers to a No. 2 seed in the 2006 NCAA Tournament one year later.
2. VCU may play bigger without Melvin Johnson.
Shaka Smart told CBSSports.com on Tuesday that the Rams will likely be without their top outside shooter for Friday's game against Stephen F. Austin due to a sprained knee, and don't be surprised if that alters VCU's approach in certain situations. If the matchups present themselves the right way, Smart said the Rams may look to use Treveon Graham more at small forward in an effort to put a bigger, bulkier lineup on the floor. A big reason for this potential transformation is due to the evolution of VCU redshirt freshman Mo Alie-Cox. A mountain masquerading as a man, the 6-foot-6, 250-pound Alie-Cox grabbed 21 total rebounds in three games last week at the Atlantic 10 tournament and could see plenty of time up front next to Graham and Juvonte Reddic.
3. Oklahoma-North Dakota State will be one of the better games in the Round of 64.
As usual, Lon Kruger has done a terrific job with his team. The Sooners lost Amath M'Baye, Romero Osby, and Steven Pledger from last year's squad and Oklahoma has still wound up as a five seed in the NCAA Tournament. The one thing about the Sooners though? They're not overwhelmingly experienced and North Dakota State is. Oklahoma's starting perimeter is comprised of two sophomores --- Isaiah Cousins and Buddy Hield --- along with a freshman at point guard in Jordan Woodard. The Bison meanwhile are led by three seniors in Taylor Braun, Marshall Bjorklund, and TrayVonn Wright and are by far the more seasoned team. The big X-Factor in this game may be Bjorklund. The 6-8 senior could exploit Oklahoma's lack of size and has been incredibly efficient offensively throughout his career. Bjorklund is averaging 13.4 points and has never shot lower than 64 percent from the field during his time at North Dakota State.
4. NC State's freshman class has terrific long-term potential.
The Wolfpack wouldn't have advanced past Xavier last night in the First Four without T.J. Warren (25 points), but their supporting cast is full of first-year players that have terrific promise for the long term. Cat Barber, Kyle Washington, Lennard Freeman, and Beejay Anya have all had pivotal roles in NC State's season and that will only help this program for the future. Freeman and Anya combined to block four shots in last night's 74-59 win over Xavier and Barber is a jet-quick lead guard that's like a cheetah in the open court. Washington, meanwhile is a strong skilled power forward that will remind people of former Wolfpack star Brandon Costner. Mark Gottfried's team next plays Saint Louis on Thursday in the Round of 64.
5. Andy Toole has again most the most of the NIT.
A year ago, Toole made a national name for himself by beating Kentucky and then last night the 33-year old Robert Morris coach dominated St. John's from tip to buzzer in an 89-78 win at Carnesecca Arena. Every mid-major coach wants to play in the NCAA Tournament in March, but Toole has made two national statements in back-to-back seasons thanks to the NIT. The Colonials may have missed out on the field of 68 after winning two straight NEC regular season titles, but their postseason success is proof that there's still plenty for teams to play for if you aren't fortunate enough to play in the NCAA Tournament.
Buddy Boeheim was so impressive at Peach Jam that Gonzaga offered; others showing interest

The truths and myths about the push for 2018's No. 1 recruit to play college hoops a year...

Here are the under-the-radar players who will have breakout seasons in 2017-18
Duke coach says sometimes troubled guard played hurt last season, adding, 'I'm really proud...

Michigan, Marquette, California, LSU and VCU are also in the 34th annual field

The expected rise of Missouri figures to be a storyline once they start playing for real