Top 10: Biggest impact freshmen
This weekend features a couple of match-ups we've been pointing to since the summer. Both the Alabama-LSU and Oregon-USC games will showcase a group of impressive newcomers. This week's Top 10 list: best freshmen.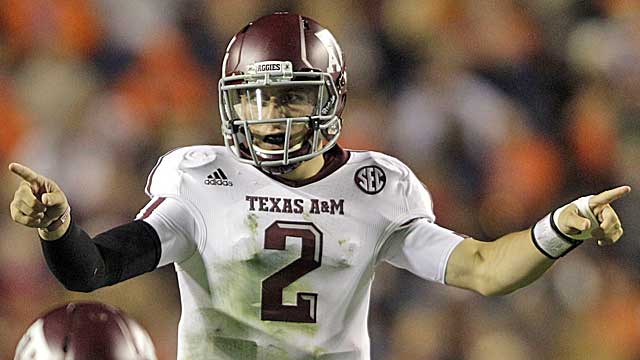 Johnny Manziel is easing Texas A&M's transition into the SEC while setting records and scaring Florida and LSU. (US Presswire)
This weekend features a couple of matchups we've been pointing to since the summer. Both the Alabama-LSU and Oregon-USC games will also showcase a group of impressive newcomers. This week's Top 10 list: Freshmen who have made the biggest impacts on their programs.
1. Johnny Manziel , Texas A&M Aggies , QB: The most exciting thing to happen to Aggie football in decades, Johnny Football has put scares into Florida and LSU and helped made A&M's transition to the SEC a lot smoother than most expected. Manziel also has made the Aggies Must See TV. He's third in the nation in total offense and is ripping up the SEC record book. Oh, and A&M is 6-2.
2. Marcus Mariota , Oregon Ducks , QB: An ideal fit for Chip Kelly's system, the 6-foot-4 redshirt freshman is No. 17 in the nation in passing efficiency and has an 18-5 TD-INT ratio while connecting on 69 percent of his passes.
3. Devonte Fields , TCU Horned Frogs , DE: The latest of Gary Patterson's big-play edge rushers, Fields has wasted little time becoming a force for the Horned Frogs, notching 14 TFLs and eight sacks.
4. Todd Gurley , Georgia Bulldogs , RB: His buddy, Keith Marshall, could fit on this list almost as easily, but I'll go with Gurley here. A 220-pounder with sprinter's speed, Gurley got off to a spectacular start for the Dawgs, ripping off four 100-yard performances in Georgia's first five games. He did struggle in consecutive trips to South Carolina and Kentucky but was sharp last weekend against Florida.
5. Stefon Diggs , Maryland Terrapins , WR/KR: Few things have gone right for the Terps' program since Randy Edsall was hired, but this former blue-chip recruit has been as great as advertised. Diggs is No. 9 in the nation in all-purpose yardage at 169 ypg and is averaging 16.3 yards per touch.
6. (tie) T.J. Yeldon , Alabama Crimson Tide , RB: Bama lost the great Trent Richardson, but Yeldon showed from opening night -- when he ran all over Michigan -- that the Tide is still going to have a fierce, deep backfield. He's also been at his best against the Tide's toughest opponents, averaging more than 10 yards per carry against Michigan; 8.6 ypc against Tennessee and 8.4 ypc last weekend against Mississippi State.
6. (tie) Amari Cooper , Alabama, WR: Nick Saban's program had to replace a few of its top WRs from last season's title team and has had some other receivers banged up. But the 6-foot-1, 200-pound Miami product has emerged as the team's top option outside. In the past five games, he has caught 27 passes for four TDs and almost 400 yards.
8. Brett Hundley , UCLA Bruins , QB: Aside from a bad outing at Cal, where he threw four INTs in a 43-17 loss, Hundley has been quite impressive for the Bruins. UCLA is 6-2, and the redshirt freshman from Arizona has been a big reason why.
9. Leonard Williams , Southern California Trojans , DT: The Trojans' D-line has been surprisingly formidable, and the 288-pound true freshman from Florida has been a big reason why. Williams has 8.5 TFLs and 5.5 sacks in helping spark the nation's No. 6 pass rush.
10. Everett Golson , Notre Dame Fighting Irish , QB: Don't get too caught up in his stats: four TDs, three INTs, 58 percent passing. Golson was terrific in leading the Irish to their biggest win last Saturday at Oklahoma. He has also run for more than 150 yards in his past three games for a program with a decent shot to navigate a tough schedule undefeated and play for a BCS title.
Just Missed the Cut: Duke Johnson, Miami, RB/KR; Shaq Thompson, Washington, DB; Jamaal Williams, BYU, RB: Cory James, Colorado State, LB; Davante Adams, Fresno State, WR; Kenneth Dixon, Louisiana Tech, RB; Keith Marshall, Georgia, RB; Jeremy Hill, LSU, RB; Trevone Boykin, TCU, QB; Alonzo Russell, Toledo, WR; Denzel Nkemdiche, Ole Miss, LB; Storm Woods, Oregon State, RB and Jamie Wilson, Western Michigan, WR.
National powerhouse Alabama joins the throng of schools trying to lure five-star QB Justin...

The shooting took place during an apparent meeting over a cell phone

A decision in either direction would help the NCAA move forward in Sin City
White is the No. 1 running back recruit and No. 6 overall recruit for next year's class

Dennis Dodd goes inside college football to explain why realignment is still an agenda ite...

Shedrick Jackson is a three-star wide receiver