July 5 Prospect Watch: The Cubs and other collections of elite prospects
Following Friday's trade, the Cubs boast baseball's deepest collection of elite prospects. How many other teams have had this many high-caliber minor leaguers?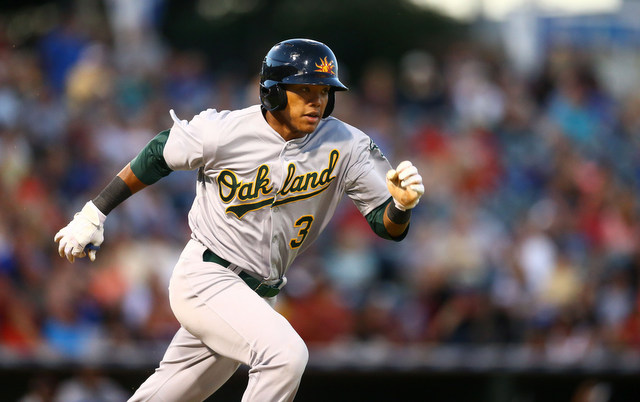 MORE: A's get Samardzija and Hammel | A's push all their chips | Doolittle on trade
The Chicago Cubs and Oakland Athletics swung a whopper of a trade on Friday night, as the best team in baseball got better and the team with one of the best farm systems in baseball got deeper. Chicago landed prized shortstop prospect Addison Russell in the swap, adding to their superb collection of position player prospects.
Depending on your opinion or Russell and others, you could argue the Cubs have three of the 10 best prospects in the game right now. According to Baseball America's preseason top 100 list, they have three of the top 14. How many other clubs have had that kind of elite prospect base? More than I realized. With the help of Baseball America's all-time top 100 prospects list database, here are the teams that had three of the game's top 20 prospects since the turn of the century.
2014 CHICAGO CUBS
Top 20 Prospects: SS Javier Baez (#5), 3B Kris Bryant (#8), SS Addison Russell (#14)
Other Notables: RHP C.J. Edwards (#28), OF Albert Almora (#36), OF Jorge Soler (#41)
Bryant and Russell have moved past Baez since these rankings were released before the season, but they're all elite prospects. We should add C Kyle Schwarber to the list, though he isn't a top 20 type of prospect yet. The fourth overall pick in last month's draft is still a top 100 guy though.
2011 KANSAS CITY ROYALS
Top 20 Prospects: 1B Eric Hosmer (#8), 3B Mike Moustakas (#9), OF Wil Myers (#10), LHP John Lamb (#18), LHP Mike Montgomery (#19)
Other Notables: SS Christian Colon (#51), LHP Danny Duffy (#68), RHP Jake Odorizzi (#69), LHP Chris Dwyer (#83)
The Kansas City Royals had arguably the best farm system in baseball history before the 2011 season -- definitely in the last 15-20 years, that's for sure -- and so far this collection of talent has given them an underwhelming set of corner infielders and a good starter in Duffy. Myers, Montgomery and Odorizzi were traded for James Shields and Wade Davis , so they certainly helped in less direct way. Colon, Lamb and Dwyer have more or less flamed out.
2010 TEXAS RANGERS
Top 20 Prospects: RHP Neftali Feliz (#9), 1B Justin Smoak (#13), LHP Martin Perez (#17)
Other Notables: RHP Tanner Scheppers (#42)
Texas turned Smoak and others into a half-season of Cliff Lee, which helped them get the first AL pennant and World Series appearance in franchise history. Perez was establishing himself as a top shelf starter this year before blowing out his elbow and needing Tommy John surgery. Feliz has been intermittently brilliant and injured. Scheppers is a fine reliever who was miscast as a starter earlier this year.
2008 TAMPA BAY RAYS
Top 20 Prospects: 3B Evan Longoria (#2), LHP David Price (#10), LHP Jake McGee (#15), RHP Wade Davis (#17)
Other Notables: SS Reid Brignac (#39), OF Desmond Jennings (#59), RHP Jeff Niemann (#99)
The motherload. The Tampa Bay Rays had four of baseball's 20 best prospects before the 2008 season and those four prospects turned into an MVP caliber franchise cornerstone third baseman, a Cy Young winning left-hander, and two elite relievers. Niemann was a solid starter for two or three years before getting hurt, and Jennings is at worst an average everyday center fielder thanks to his defensive ability. Tampa had seven of the top 100 prospects in the game and only one (Brignac) failed to turn into something useful.
2007 TAMPA BAY DEVIL RAYS
Top 20 Prospects: OF Delmon Young (#3), 3B Evan Longoria (#7), SS Reid Brignac (#17)
Other Notables: RHP Jeff Niemann (#35), LHP Jake McGee (#37), OF Elijah Dukes (#79), RHP Wade Davis (#97)
Delmon was a very big deal back in the day, but plate discipline, conditioning and attitude problems have caused him to fall short of what was truly a superstar ceiling. The same is true of Dukes, though his ceiling wasn't quite as high and he was much more crazy.
2007 ARIZONA DIAMONDBACKS
Top 20 Prospects: OF Justin Upton (#9), OF Chris Young (#12), OF Carlos Gonzalez (#18)
Other Notables: C Miguel Montero (#63), IF Alberto Callaspo (#82), RHP Micah Owings (#98)
That is one heck of an outfield right there. Both Upton and CarGo have had legitimate MVP caliber years while Young put together some splendid seasons before falling off. Gonzalez was used to acquire Dan Haren during the 2007-08 offseason. Montero's been a consistently above-average catcher in his career and Callaspo has been useful. Owings was a pitcher more notable for his hitting ability. That's a bad thing. This Arizona group has been sneaky excellent in MLB.
2006 ARIZONA DIAMONDBACKS
Top 20 Prospects: SS Justin Upton (#2), SS Stephen Drew (#5), 1B Conor Jackson (#17), OF Carlos Quentin (#20)
Other Notables: OF Chris Young (#23), OF Carlos Gonzalez (#32), RHP Dustin Nippert (#67)
Yes, once upon a time Upton was a shortstop. Same is true of his brother. Both moved to the outfield because they couldn't hack it defensively on the infield. Jackson showed quite a bit of promise before injuries derailed his career and Quentin has never not been a very productive hitter when healthy, which is not often enough. Drew has had a very underrated career when compared to the league average shortstop. Nippert bounced around the league for a few years and has been in Korea since 2011.
2005 TAMPA BAY RAYS
Top 20 Prospects: OF Delmon Young (#3), LHP Scott Kazmir (#7), RHP Jeff Niemann (#20)
Other Notables: OF Joey Gathright (#87)
I always enjoy when people mock absurb trade demands, like when the Houston Astros asked for top prospects in exchange for Bud Norris. If you don't ask, you'll never get Kazmir for Victor Zambrano. That deal worked out splendidly for Tampa Bay. Gathright, meanwhile, was basically a track star who couldn't hit.
2004 MILWAUKEE BREWERS
Top 20 Prospects: 2B Rickie Weeks (#5), 1B Prince Fielder (#10), SS J.J. Hardy (#19)
Other Notables: 1B/OF Brad Nelson (#48), LHP Manny Parra (#69), RHP Mike Jones (#84)
Fielder turned into a bonafide superstar and both Weeks and Hardy were above-average middle infielders for several years. Parra has carved out a niche in the bullpen after trying (and failing in) the rotation for a few seasons. Nelson and Jones both flamed out. 
2003 MINNESOTA TWINS
Top 20 Prospects: C Joe Mauer (#4), 1B Justin Morneau (#14), OF Michael Cuddyer (#17)
Other Notables: OF Michael Restovich (#37)
The Minnesota Twins went to the postseason five times from 2003-10 thanks to a core built around this group of prospects. Mauer is on a Hall of Fame track and both he and Morneau have won MVP awards. Cuddyer's been very good for a very long time. Restovich struck out too much.
2001 SEATTLE MARINERS
Top 20 Prospects: LHP Ryan Anderson (#8), OF Ichiro Suzuki (#9), SS Antonio Perez (#16)
Other Notables: RHP Joel Pineiro (#80), OF Chris Snelling (#98)
Ichiro was technically considered a rookie and thus a prospect, so he made Baseball America's top 100 list back in the day. He's had one heck of a career. Anderson was billed as the next Randy Johnson as a physically huge (6-foot-10!) and hard-throwing left-hander, but a series of shoulder injuries derailed his career. He did not pitch at all from 2001-04 and only appeared in nine games after that. Pineiro enjoyed a nice career but both Perez and Snelling flamed out. Snelling could really, really hit, but injuries did him in.
Here are three other notable prospect bases throughout history:
• The 1999 St. Louis Cardinals had both OF J.D. Drew and LHP Rick Ankiel, who were ranked as the best and second best prospects in baseball by Baseball America, respectively. It's the only time in their rankings that one team had the two top prospects in the game.
• The 1998 Los Angeles Dodgers had both 1B/3B Paul Konerko and 3B Adrian Beltre, who Baseball America ranked as the second and third best prospects in the game, respectively. Only Athletics OF Ben Grieve ranked higher. Konerko and Beltre have combined to hit 825 career homers (and counting). Both will receive Hall of Fame consideration.
• The top four spots on Baseball America's 1995 top 100 list were, in order, SS Alex Rodriguez, OF Ruben Rivera, SS Chipper Jones and SS Derek Jeter. No, those four were not on the same team (Rivera and Jeter were!), but man, that is some collection of talent. Three Hall of Fame caliber careers and a guy Baseball America once declared the next Mickey Mantle.
• The 1994 Toronto Blue Jays had three of the 10 best prospects in the game in SS Alex Gonzalez (#4), C Carlos Delgado (#5), and RHP Jose Silva (#10). Delgado moved to first and went on to have a borderline Hall of Fame career.
Show Comments
Hide Comments