The Answers: LeBron's coming home and the Spurs are terrifying
Can LeBron go home again? Are the Spurs better than ever? Are the Nuggets maybe not sucky? And is there hope for New York?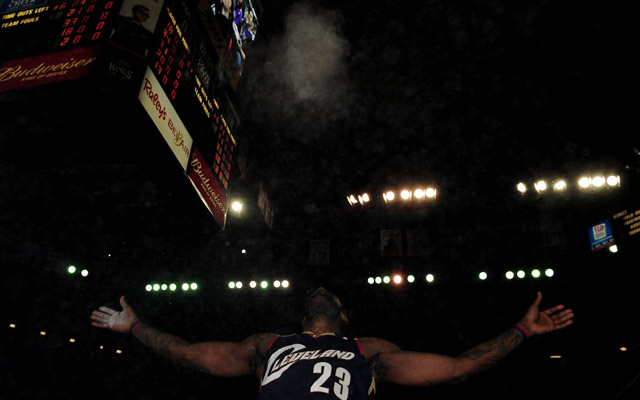 There are questions about the NBA season. We've got answers. Or something that's like an answer but not really because we want to hedge. In this edition, can LeBron go home again? Are the San Antonio Spurs better than ever? Are the Denver Nuggets maybe not sucky? And is there hope for New York? 
1. Can LeBron go home again?
The Cleveland Cavaliers host the Miami Heat Wednesday night in the latest edition of " LeBron James Comes Home And Yes, It's Still Awkward." There will be signs imploring James to return in free agency this summer, the usual boos due to fallout from The Decision, and at some point basketball will be played. James is spending the holiday in Ohio with his teammates, hosting Thanksgiving dinner at his home and basking in the comforts of where he came from.
And over the proceedings hangs the very serious question of whether the Cavaliers have a realistic shot at convincing James to sign with his home-state team this summer should he choose to opt out.
The issue is complicated. Even after The Decision, James never compromised on holding onto his identity as an Ohioan. He maintained his home, kept returning to Akron for his annual charity bike ride, went to Ohio State games, and has always held on to it. He could have ended speculation of a possible return months ago by simply saying that "The Decision" made it impossible for him to go home. But he's left it open, and this is going to continue.
But look at the Cavs right now. They're 4-10, hanging on Andrew Bynum 's struggling knees, Kyrie Irving 's struggling leadership, and Mike Brown's struggling offense. When James goes outside to throw the ol' pigskin around with Norris Cole and Birdman (that's something he'll do, right?) on Thursday, it's going to be a balmy 30 degrees and snowing. That's great to visit. It'll be 73 degrees in Miami.
Just saying, the contrast is stark.
However...
James cares about connections. He's sought out a second family in teammates. Keeping those connections in Ohio weren't necessary for him. He didn't need to do those things, he could have severed ties. He didn't, because for some people home matters. James has also invested himself in being a mentor to young players, and he's particularly close with Kyrie Irving and Tristan Thompson . The Cavs give him a gateway to pass on what he's learned in the league and to be a big brother to players he's close to.
I went home to the small town I'm from last week and for all its faults, I found myself conflicted on the idea of ever living there again. There's a million reasons why I would never even consider it, just like there's there are millions of reasons for James not to consider returning to Cleveland. But while James won't discuss the free agency issues this week while he's home, you can bet it'll be on his mind. You can never go home again, but you can always play there.
/chalk toss
2. Are the Spurs better than ever?
How do you respond to losing in the most painful way imaginable?
If you're the Spurs, the answer is apparently you get better. San Antonio has responded to the Game 6 (and 7) loss to Miami last June not with a post-Finals hangover, but an angry bitter rage. They're basically beating the crap out of any poor kid that happens to get in their way after a bigger kid embarrassed them.
But we've seen great regular season performances every year from the Spurs. What makes this one different?
After the 2007 title, the Spurs knew that they were facing significant changes to their roster. They pivoted to an offensive-centric team. The result was a slippage in defensive efficiency (points per 100 possessions) that cost them every postseason. It wasn't their offense that caused the Memphis Grizzlies ' upset in 2011, the unraveling to the Phoenix Suns in 2010, the bitter defeat to the Oklahoma City Thunder in 2012. It was their defense. Last year they posted a top-five defensive efficiency and made the Finals. Yet they were still an offensive-centric team. There was still an imbalance towards where their focus was. They were an offensive team that played great defense.
Now?
Now they feature the second-best defense in the league and they've returned to grinding teams into dust, only they've held onto the same offensive execution they've had over the past five years. In short, they've pivoted back and are now a defensive team that features an offense that will kill you, no matter what you do.
They've put these numbers up despite Tim Duncan playing like hot garbage offensively. They're winning not with any one particular approach, but with every approach. They are terrifying right now. They've improved every year since their last title. They just lost their first Finals. Instead of politely fading into the background, they've become the headless horsemen and are riding for vengeance. Stay out of their way.
3. Wait, are the Nuggets good?
The Nuggets looked like a complete disaster to start the season. They didn't seem to have any feel for what new coach Brian Shaw wanted, Shaw was asking them to be something they're not (a slow-it-down, back-to-the-basket team) and they had no real strength on either end of the floor.
But these things take time, especially when there's that much change and injuries to deal with. In the past two weeks, the Nuggets have a top ten efficiency differential, Ty Lawson has looked like an MVP candidate, Wilson Chandler came back and tied the room together, and they've somehow surged with JaVale McGee on the shelf.
Most of this can be tied to the balance they have between their offense and defense. While a starter combination of Lawson, Randy Foye , J.J. Hickson, and Kenneth Faried has a negative efficiency differential (points forced vs. allowed per possession) and has the most minutes, Lawson, Hickson, and Faried with Chandler is averaging 112.2 points per 100 possessions in the past two weeks, an insane mark.
Meanwile, Andre Miller , Nate Robinson , Darrell Arthur , and Timofey Mozgov have played the sixth-most minutes together and have a defenive rating of 88.4. That's the only Nuggets four-man combo wih over 30 minutes to have a defensive rating under 105.
Shaw's still learning to compromise on what he wants and what the team needs, and the team is still learning to adapt his principles. But the balance he's finding is starting to pay of in big wys.
4. Are the Atlanta Hawks any different?
Not really. They're still a team that can look great on any given night, but then lets you down in unimaginable ways in certain situation. They never pleasantly surprise, they only meet expectations or disappoint. Even with all the roster changeover, they're still the Hawks. It's disappointing that they're so decent without making progress.
5. Is there any light at the end of the tunnel for New York?
Not from here. They've got to start digging straight up. They can talk all they want about Tyson Chandler being out but that team was bad with Tyson Chandler. The problems go way beyond any single player right now.
Sacramento signs Serbian to 3-year, $36 million contract while passing on Ben McLemore

Free agency is around the corner, which means there could be a ton of significant moves coming...

The Knicks still intend to trade Carmelo Anthony even with Phil Jackson gone
Paul George is a college football coach at heart

CP3, the Point God, is headed to Clutch City, and the NBA landscape has again flipped on its...

According to one league executive, Chris Paul 'despised' Clippers coach Doc Rivers