NFL Division Power Rankings: NFC East moves out of the cellar
The NFC East is moving on up, which means there's a new last place division in this week's power rankings.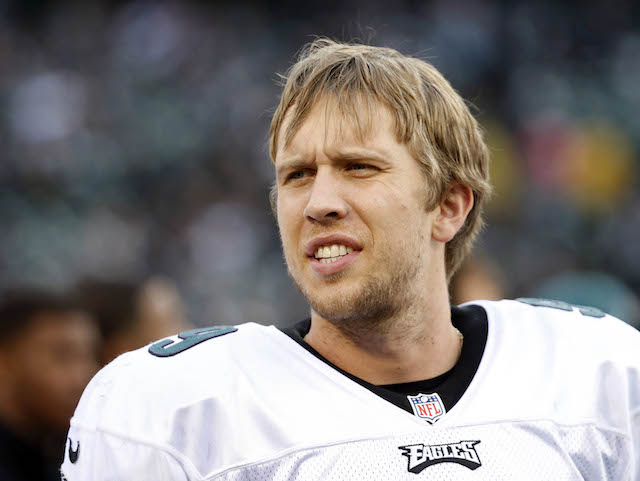 The NFC East's six-week run as the worst division in football is over. It was a spectacular run of horrible football by an entire division that probably won't be matched for the rest of the season.
However, it's time to move the NFC East out of the cellar. In case you missed it, the division went 3-0 in Week 9 and it was like watching one giant miracle play out after another.
First, you had Nick Foles tying the NFL-record for touchdown passes in a game. If you would've given me 21 guesses before Week 9 to name a quarterback who would tie the single-game touchdown pass record, not one of those 21 guesses would have been Foles. I probably would've guessed Peyton Manning 19 times before realized he was on a bye. Then I would have guessed Tom Brady and Drew Brees. 
Back to the NFC East where we also had Tony Romo throw a touchdown pass with under a minute left to win the game against the Minnesota Vikings . Usually Romo's good for a fourth quarter interception -- and he was in this game -- but usually he doesn't make up for that fourth quarter interception with a game-winning touchdown drive. 
Then we had Washington beat San Diego because the San Diego Chargers left the goal line portion of their playbook in California. That's the only way to explain San Diego not scoring a touchdown on three tries from the one-yard line at the end of the game on Sunday. 
The NFC East is on a roll right now which means Eli Manning 's probably going to throw eight touchdown passes in Week 10. Eli's playing the Oakland Raiders too! If Nick Foles can do it against them, anyone can. 
NFL Division Power Rankings after Week 9
1. AFC West: Here's how good the AFC West is this season. The division went 1-2 in Week 9, but it still has the highest winning percentage of any division through nine weeks since the AFL-NFL merger in 1970. If you include both divisional and non-divisional games this season, the AFC West is 23-10 (.697). I'm telling you this stat so you can impress as many people as possible during AFC West-related conversations this weekend. Last week's ranking: 1. (3-0 vs. AFC North, 7-4 vs. AFC South, 9-3 vs. NFC East, 1-0 vs. AFC East)
2. NFC West: The Seattle Seahawks almost lost to the Tampa Bay Buccaneers in Week 9 and I'm glad that didn't happen because it would have left me flummoxed. I would have not had any clue where to rank the NFC West if the division's best team lost to the worst team in football that's not the Jacksonville Jaguars . Thankfully the Seahawks didn't lose and I can keep the NFC West at No. 2. On a completely unrelated note, if you somehow manage to use the word 'flummoxed' in Scrabble, you'll win. I promise. Last week's ranking: 2. (2-0 vs. NFC North, 5-3 vs. NFC South, 8-3 vs. AFC South, 0-1 vs. NFC East)
3. NFC North: There's a big problem in the NFC North right now and that problem is that Christian Ponder is the second best starting quarterback in the division. You can't be the third best division in the NFL if Christian Ponder is your second best starting quarterback. So Jay Cutler and Aaron Rodgers , please come back soon. Last week's ranking: 3. (6-3 vs. AFC North, 0-2 vs. NFC West, 4-3 vs. NFC East, 0-2 vs. NFC South)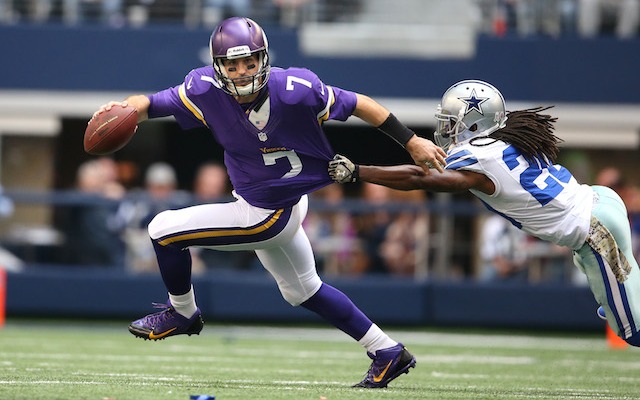 4. AFC East: Bill Belichick dressed as a pirate last week and the New England Patriots still won by 24. I'm not sure what that says about the AFC East. I'm not sure what that says about Belichick and I'm not sure what that says about pirates, but hopefully this means Belichick will wear a pirate costume once a week until the Patriots lose again. Rex Ryan should wear a pirate costume too. Last week's ranking: 5. (4-6 vs. AFC North, 8-2 vs. NFC South, 1-1 vs. AFC South, 0-1 vs. AFC West)
5. AFC North: Last week, the AFC North was ranked ahead of the AFC East, but then the Pittsburgh Steelers lost 55-31 to the Patriots and the Miami Dolphins beat the Cincinnati Bengals on a walk-off safety. I'm not even sure what to think anymore. Until I decide what to think, the AFC North will be ranked behind the AFC East. Last week's ranking: 4. (6-4 vs. AFC East, 0-3 vs. AFC West, 1-1 vs. AFC South 3-6 vs. NFC North) 
6. NFC East: You know what the weirdest thing about Week 9 was? And I mean besides the Dolphins walk-off safety against the Bengals. And besides Tampa Bay taking a 21-0 lead on Seattle. And besides Nick Foles throwing seven touchdown passes against the Raiders. And besides anything that happened off the field or involved bullying. It was the NFC East going undefeated. As I mentioned above, three NFC East teams played in Week 9 and they all won. I thought that was weird. Going into Week 9, the NFC East had a total FIVE NON-DIVISION WINS ON THE SEASON. They almost doubled that total. Because of that, I'm not ranking them last this week. Last week's ranking: 8. (3-4 vs. NFC North, 1-1 vs. NFC South, 3-9 vs. AFC West, 1-0 vs. NFC West)
7. NFC South: I wish there were moral victories in football because Tampa Bay would've gotten like five of them against the Seahawks. How would moral victories work? Would there be a column for them like the win, loss and tie column? How would a team earn five moral victories in one game? I don't know the answers to these questions yet. Give me time though, I'll think of them. Last week's ranking: 6. (2-8 vs. AFC East, 3-5 vs. NFC West, 1-1 vs. NFC East, 2-0 vs. NFC North)
8. AFC South: The Jaguars were on a bye in Week 9 but they still managed to make news because wide receiver Justin Blackmon got suspended for the rest of the season. What this team needs to do is find one of those mind eraser things from Men in Black so they can forget this season ever happened. And then, if they're nice, they'll loan their mind eraser thing to the Buccaneers. Last week's ranking: 7. (4-7 vs. AFC West, 1-1 vs. AFC North, 1-1 vs. AFC East, 3-8 NFC West)
---
Follow John Breech on Google+
Show Comments
Hide Comments
Our Latest Stories
The Falcons go against a historical trend and pick their home red jerseys

Kellyanne Conway says the president appreciates the Patriots who got his back

This won't be a plus for Cleveland fans
Bryan should have a lot to live up to after Lady Gaga performed it last year

Here's everything you need to know about Super Bowl LI

The Broncos legend makes one fan's day during a recent trip to Washington