2013 Las Vegas Summer League: What to watch on Day 1
The 2013 Las Vegas Summer League is here, and we've got the players and teams to watch for on Day 1. Who are the veterans, and who are the sleepers?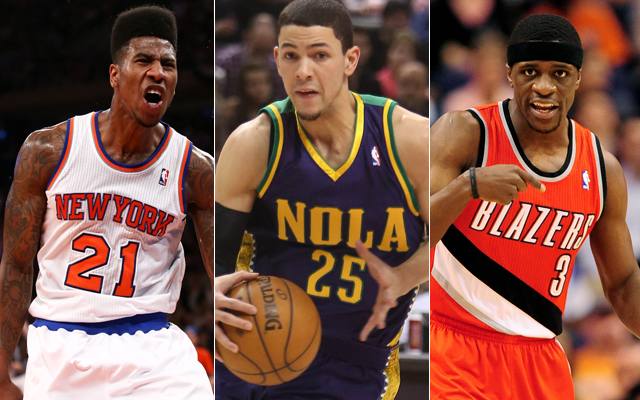 The Las Vegas Summer League is typically about introducing you to the new players from this year's draft class. But it actually goes much deeper than that.
There are stories of redemption with older players trying to work their way back into the NBA. There are stories of redemption also in the sense of disappointing first impressions by 2012-13 rookies who are trying to reverse the public perception about their NBA abilities. And perhaps the most interesting storylines of all come from young players who are largely afterthoughts in the grand scheme of the NBA and come out of nowhere to impress in your first extended look at them.
Play will begin on Friday, and we'll have plenty of coverage for you from the 22 teams and hundreds of players participating. As the action tips off at 4 p.m. ET, we have four games that will showcase a wide range of NBA talent and storylines to whet your appetite for basketball during this month.
For Friday's games, here are the players to watch:
4 p.m. ET -- New York Knicks vs. New Orleans Pelicans
Knicks: The three most intriguing players to watch on the Knicks' summer league roster are  Iman Shumpert , Tim Hardaway Jr. and C.J. Leslie .
Shumpert is headed into his third year in the NBA, but he's still doing work to come back from the ACL tear that he suffered at the end of his rookie season. While he looked good at times last year, it was almost a throwaway season because he was trying to get back to being the comfortable, explosive athlete whom we knew him to be. Hardaway was the 24th pick in this year's draft and will look to show that he's both a good outside shooter and someone who can create off the dribble. Leslie was projected at times to be a first-round pick and ended up not getting drafted at all. He'll look to show the concerns about him not having a position were overblown.
Sleeper to watch: Tony Mitchell. This isn't the Tony Mitchell from the 2013 draft and North Texas. This is the Tony Mitchell from Alabama in the 2012 draft class who wasn't drafted. He has a 40-inch vertical and won the D-League 2012-13 Rookie of the Year award after averaging 21.9 points in his first D-League season.
Pelicans: The three most intriguing players to watch on the Pelicans' summer league roster are  Austin Rivers , Brian Roberts  and Jon Brockman.
The Pelicans are sporting their new name for the first time on a basketball court, and Rivers will hope to sport a new impact on the game. He struggled during the summer league as a rookie, and he struggled during real games as a rookie. Can he rediscover the scoring ability and prove that he deserves playing time with Jrue Holiday , Eric Gordon , and Tyreke Evans ? Roberts made a name for himself in Las Vegas last summer and should be able to break down most defenders at this level. As for Brockman, he was a bit of a second-round sensation during the first half of his rookie season and then completely disappeared. He has to remind everybody how he can impact the game on the boards and prove he can defend.
Sleeper to watch: Darius Miller . The 46th pick in the 2012 draft needs to show more of an overall game in an environment like this. We know he can shoot, but he has to prove there's more to his game as he develops. 
6 p.m. ET -- Atlanta Hawks vs. Los Angeles Clippers
Hawks: The three most intriguing players to watch on the Hawks' summer league roster are  Dennis Schroder , Jared Cunningham  and John Jenkins . 
Schroeder is one of the most intriguing players in the summer league. He has drawn comparisons as a German Rajon Rondo, and he had a great game at the Nike Hoops Summit. Now we get a glimpse at whether his game translates to the NBA level. Cunningham didn't play at last year's summer league due to a hamstring issue but has the ability to create chaos with his defense and open-court abilities. Jenkins might be the best shooter at the summer league. He shot 43.8 percent from 3-point range in three years at Vanderbilt and made 38.4 percent of his threes in his rookie season with the Hawks.
Sleeper to watch:  Mike Muscala . The advanced stats love what Muscala did at Bucknell, but was he facing competition that was tough enough? He was projected to go at the back end of the first round in many mocks and ended up falling to No. 44. He gets to show how polished his game is in the post. 
Clippers: The three most intriguing players to watch on the Clippers' summer league roster are Jonny Flynn, Reggie Bullock and Maalik Wayns .
Flynn's comeback attempt is one of the more interesting story lines at LVSL. He just played with the Indiana Pacers' team at the Orlando Summer League and didn't show a lot there. He played in three games, made 12.5 percent of his shots and averaged 2.7 assists in 10.0 minutes. His goal is to prove he's a competent backup point guard. Bullock was the 25th pick in the draft and could be one of the best 3-and-D guys from this draft class. Wayns came out of nowhere with both the Philadelphia 76ers and the Los Angeles Clippers last season. He struggled to make shots with Philly but scored pretty well in brief minutes with the Clippers.
Sleeper to watch: Jerome Randle. Guards who can get their own shot and handle the ball extremely well tend to play the best at Summer League. That's exactly what Randle can do. He's looking to be one of those lightning-in-a-bottle backup point guards and can showcase his ability to run a team.
8 p.m. ET -- Cleveland Cavaliers vs. Los Angeles Lakers
Cavaliers: The two most intriguing players to watch on the Cavaliers' summer league roster are  Dion Waiters and Tyler Zeller .
The disappointing news is that No. 1 overall pick, Anthony Bennett , will miss the summer league due to shoulder surgery on a rotator cuff. But the Cavs still have Waiters and Zeller to show Cavs fans more glimpses into the future. Waiters is made for the summer league environment. He can create for himself and others and is physically imposing for a lot of guards here. Zeller showed a real nice overall game last summer in Vegas and needs to continue building on his post game and his ability to rebound against contact. 
Sleeper to watch:  Jermaine Taylor . Taylor bounced around the NBA a bit with the Houston Rockets, Sacramento Kings and Minnesota Timberwolves. He's too good for the D-League and not quite good enough for the NBA. If he shows an ability to shoot from outside, he might start re-opening eyes around the league.
Lakers: The three most intriguing players to watch on the Lakers' summer league roster are Chris Douglas-Roberts , Lazar Hayward and Josh Selby. 
Douglas-Roberts has all of the tools to be a good scorer off the bench in the NBA, but he has to show consistency and a willingness to play a team game. This could be a big step for him in showing just that. Hayward has been unsuccessful in catching on with the Minnesota Timberwolves (twice) and the Oklahoma City Thunder. This might be one of the last chances that he has to really grab the attention of executives and scouts. Selby was lava last year in the summer league. He and Damian Lillard were named co-MVP for LVSL, and I'd imagine Selby will once again show off his scoring chops. 
Sleeper to watch:  Ryan Kelly . Kelly was probably the latest Duke Blue Devils role player who annoyed you. Over his last two seasons, he shot 41.4 percent from 3-point range. He's a 6-foot-11 shooter looking to show he can be the next Steve Novak in this league.
10 p.m. ET -- Charlotte Hornets vs. San Antonio Spurs
Bobcats: The three most intriguing players to watch on the Bobcats' summer league roster are  Cody Zeller , Bismack Biyombo  and Michael Kidd-Gilchrist .
The No. 4 pick in the 2013 draft gets to begin proving to critics that he wasn't a reach that high up in the draft. Zeller's mobility and athleticism at his size should make him a pretty good target during this week of games, but he needs to show some toughness on the boards. For Biyombo, he had a great summer league last year and proved he can actually do some things with the ball. He's a project who just has to keep building his skill set. For MKG, we get to see if he's been able to improve on a jump shot that was shaky at best last season. His all-around game can be deadly if he's able to knock down from the perimeter.
Sleeper to watch: Deron Washington. Washington is 27 years old and probably doesn't have a great chance at sneaking back into the NBA, but he's a dunk highlight waiting to happen. He'll probably focus on showing he has more skills than just dunking, but expect him to unleash some dunk fury on any player who is foolish enough to get in the way.
Spurs: The three most intriguing players to watch on the Spurs' summer league roster are  Nando De Colo , Cory Joseph  and Dexter Pittman . 
The Spurs don't have a terribly exciting summer league roster, but they do have two point guard prospects whom we get to see develop. De Colo is good enough to play significant minutes in international play, so the summer league should be a place where he's able to get whatever shot that he wants for him or his teammates. Joseph showed real growth in his control of the game from his rookie season to last season. His ability to run a team will be on display in this environment. Pittman is the type of big man who should be able to dominate at the summer league level, but we get to see how much he wants to dominate this week.
Sleeper to watch:  Marcus Denmon . Denmon was the 59th pick in the 2012 draft and spent the year in France. He struggled with his shot (just 39.4 percent) this past season and didn't show much playmaking as a combo guard. He gets a shot at showing the necessary improvements to spend next season in the NBA. 
Show Comments
Hide Comments
The two best point guards in the East go at it in a series sure to be filled with drama.

Breaking down key matchups as the second season reaches the conference semifinal series

The second round of the 2017 NBA Playoffs tips off Sunday at 1 p.m. ET, with Game 1 of Cel...
The Spurs have homecourt advantage, and will host Game 1 Monday night at 9:30 p.m. ET

All-Star guard flew to Washington after Game 6 vs. Bulls to attend his sister's funeral Sa...

Some love for the Rockets over the Spurs, and at least one expert says the Cavs are going...