Report: NHL planning on 2013-14 stadium series
The NHL is planning on a 2013-14 stadium series that could feature as many as six outdoor games, including the Winter Classic between the Detroit Red Wings and Toronto Maple Leafs at Michigan Stadium.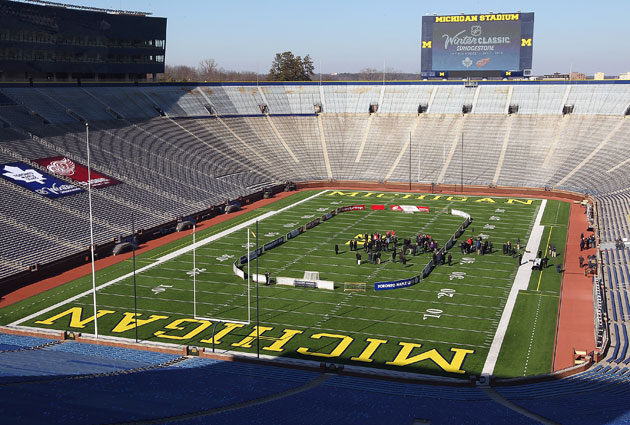 More NHL: Scores | Standings | Odds | Fight-O-Meter | League Leaders | Rumors
If you're upset that you missed out on the NHL Winter Classic this season because of the lockout, the league is apparently getting ready to give you as many outdoor games as you can handle.
TSN revealed on Tuesday night that the league is preparing to unveil a "stadium series" for the 2013-14 season that could feature as many as six outdoor games, including the Jan. 1 Winter Classic at Michigan Stadium that will include the Toronto Maple Leafs and Detroit Red Wings.
The other games that are reportedly in the works:
• The Anaheim Ducks and Los Angeles Kings facing off at Dodger Stadium on Jan. 25
• The New Jersey Devils and New York Rangers at Yankee Stadium on Jan. 26
• The Rangers and New York Islanders at Yankee Stadium on Jan. 27
• The Pittsburgh Penguins and Chicago Blackhawks at Solder Field on March 1
• The Ottawa Senators and Vancouver Canucks at BC Place on March 2
The idea of a second outdoor game being played at Dodger Stadium has already been mentioned, but the stadium series takes it to an entirely new level.
The Winter Classic has been a cash cow for the NHL since it made its debut during the 2007-08 season in Buffalo and has become the signature event of the regular season.
At some point you have to wonder when all of these become too much of a good thing, but it's obvious the NHL is going to try and milk this as much as it can.
Show Comments
Hide Comments
Edmonton gets forward Ryan Strome in return for their seven-year veteran

If Wednesday's festivities were good for anyone, they were good for the Vegas Golden Knigh...

T-Mobile Arena goes wild as it celebrates the unveiling of the Golden Knights' first full...
The Oilers center takes home the biggest prize of the night after a 100-point season

Sergei Bobrovsky claims the top goalie honor for the second time since 2013

Toronto's 19-year-old scoring phenom wins the NHL's rookie MVP honors