Big Picture: Special day, special time in Tennessee
Tennessee has had a brutal past few years, but Saturday showed the Vols finally have the right man running the show. The story of Butch Jones as well as Jameis Winston and the Noles rising up all in this week's Big Picture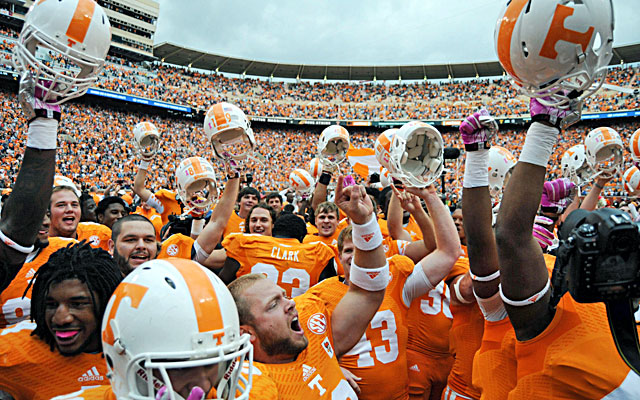 Of all the folks in the state of Tennessee who celebrated the Vols upsetting No. 11 South Carolina Saturday, ending UT's 19-game losing skid against ranked opponents, I suspect none were any happier than Marlon Walls.
"I am still in disbelief," Walls said after the game. "We have been in a lot of situations like this when we should have won. Our love for Coach Jones and each other pushed us through the day. Last game showed that we could play with any team that we want."
Yeah, Walls turned in a stellar performance, notching 2.5 sacks to spark the Vols D and had a lot to be personally proud of, but consider all the 23-year-old defensive lineman has been through with this program and you can only imagine how much Saturday meant to him. Walls was a Phil Fulmer recruit. He played for Lane Kiffin and then Derek Dooley and now Butch Jones. Walls has seen some three dozen UT assistants, a bunch of different strength coaches and a whole lot of losses. And heart-break. And anger. And frustration.
On Thursday night, Butch Jones invited Walls and the rest of the UT seniors over to his family's home for dinner. It was actually the first time those seniors had been invited to one of their head coach's homes since coming to Knoxville.
The bond between the Vols new head man and his players is special. Often times, a new head coach alienates many of the older players he inherits. It usually doesn't happen intentionally. It just happens as the new guy invests in the future with guys with less ties to the old regime. Less history. Less baggage. But what seems to be unfolding in Knoxville is a perfect example of a program rising up and how it can happen.
Jones told me Sunday morning, after having a night to let the victory sink in, that he doesn't worry about what's happened in the past at UT. But he is fully aware of where UT football is going. Last time out, the Vols had Georgia on the ropes, and almost beat the Dawgs at home before losing in overtime.
"A lot of people were waiting to see if that was just a one-game thing," Jones told me.
His players knew that it wasn't. But still, losing is the hardest habit to break in sports.
The Tennessee defense, which had been so dreadful in 2012, put the heat on South Carolina quarterback Connor Shaw and bottled up the Gamecock wideouts from the outset. Shaw, who hadn't gone all season with more than three incompletions in a row, opened the game 0-5 and ended up 7-of-21 for 161 yards with one TD and one INT.
True freshman Marquez North, rangy and strong, emerged as a legit difference-maker, sparking the Vols offense. The 6-3, 220-pound North turned in his first 100-yard receiving game today, by making three head-turning receptions for 102 yards. Fellow newcomer Cameron Sutton, a rising star CB, picked off Shaw, the first time the Gamecock QB had been picked in 177 attempts. Jones, meanwhile, improved his record to a gaudy 43-2 when leading at halftime.
"Belief is a powerful thing," Jones said Sunday morning. "Confidence is a powerful thing. We're talking about inches here, about how inches make a champion and how inches make the difference.
"I see results every single day with them, with this team. I tell 'em, 'Just keep believing. Just keep working every day. You will be rewarded.' And they've been great. They keep embracing it. We had to have individuals step up and make plays when we needed to, to get that sack, to make that block, to make that big catch, to make that big run, and these guys have done that."
Jones gushed about the support the program has. He said there were some 40,000 fans who showed up for the Vol Walk Saturday, no small feat especially for a noon kickoff game. "This place is very special.
"This program needed (Saturday's win) bad. This place is starving to win. And it was a great win, and now we have to go play the No. 1 team in the country (Alabama) next week."
It doesn't hurt that recruiting has been going very well too. UT recruiting class is ranked No. 4 nationally in the updated 247 rankings.
Asked to put the win over No. 11 South Carolina in some context of his coaching career, Jones said, "It's big because it's victory No. 4. I never look at this from a personal standpoint, but it's big for our fans and for our players, but it's really just another building block in what we're doing here."
Random Stuff
•Florida State has faced two ranked opponents this season so far, and the Noles have outscored them, 114-14. Some will dismiss Maryland as overrated and try and say the same about Clemson, and I suspect some pollsters are tempted to put the Noles No. 1 right now judging by how dominant they have looked. But Alabama and Oregon have been equally impressive. Baylor, still waiting for a bigger test, has been very impressive too.
Back to FSU, Jameis Winston has been as good, er, as great as he was hyped to be. To me, Winston seems like a better option than Teddy Bridgewater, the guy many NFL Draft analysts have tabbed as the potential top pick next May. Of course, Winston can't come out yet. That's bad news for ACC defensive coaches and great news for the ACC -- and college football.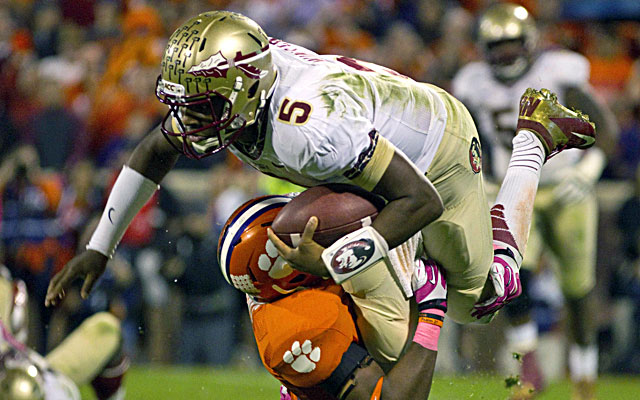 The 6-4, 227-pound Winston went into a charged -- and hostile -- atmosphere Saturday night and torched Clemson. In fact, according to ESPN's research crew, Winston had 293 passing yards against the blitz -- the most by a BCS AQ quarterback in the last three seasons.
The two best QB seasons in FSU history led to Heisman Trophies. In 1993, Charlie Ward had a passing efficiency rating of 157.8. In 2000, Chris Weinke had a mark of 163.1, which is still the Noles record. For context, Jameis Winston's passing efficiency rating through six games is 210.4. Yeah, that two-man Heisman race of Johnny Manziel and Marcus Mariota is now a three-horse race.
But, for as superb as Winston was Saturday night, don't overlook how impressive the Noles D was. They shut down a veteran QB Tajh Boyd and a speedy collection of skill talent at home. The Tigers didn't have a play longer than 19 yards the whole night. That's a big statement of a shut-down defense. Keep in mind this was a Clemson attack that came into the game tied for third in the country on plays of 60 yards or longer.
Boyd averaged a paltry 4.5 yards per pass attempt. (Winston averaged 12.7.) Play-making DB LaMarcus Joyner was the Noles ring-leader with eight solo tackles, two forced fumbles, one sack and one INT.
I know FSU has given a lot of folks false hope after a few dazzling displays of talent only to turn around and stub their toe against some less-than-imposing opponent. Those other Noles teams, though, didn't have Jameis Winston running the show.
•Coming into the 2013 season if you had to pick one coach in the SEC who may have been on the "Hot Seat" it seemed like Gary Pinkel was the most viable option. A 5-7 record with a 2-6 mark in conference play can do that. Then again, Pinkel had averaged 10 wins the previous five seasons before 2012. Now, Pinkel has notched back-to-back wins over ranked opponents and has the inside track to national coach of the year honors. His offense faced a Florida defense that had allowed only one play of 40 yards or more through the season's first six games. Missouri, playing freshman Maty Mauk, matched that on their first play of the game and had three plays that long in Saturday's win while outgaining UF 500-151. Behind Mauk, Mizzou snapped UF's amazing streak of 13 consecutive games holding an SEC opponent to 20 points or fewer. The Tigers 36 points were more than the 34 the UF defense had allowed in its previous three SEC games combined.
The Tigers D, led by a deep and talented defensive line, showed it is for real, overwhelming UF. Michael Sam continued to make a push for SEC Defensive Player of the Year honors, with three sacks to move his season total to nine and his TFLs to 13. The Mizzou D had six sacks in the game.
•Hats off the James Franklin and Vandy for rallying from two TDs down in the fourth quarter to take down No. 15 Georgia despite the Commodores having to play with their back-up QB.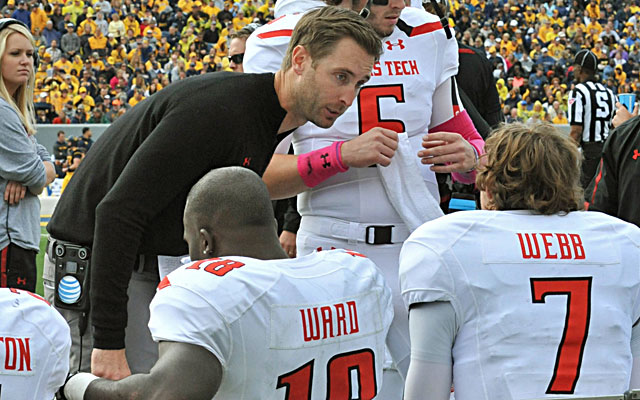 •Kliff Kingsbury will have one heckuva recruiting pitch for quarterbacks this winter: Come to Lubbock and play for the guy who groomed the first freshman to ever win the Heisman and, if you can win my starting QB job, you will throw for 400 yards and win a lot of games. Kingsbury's worked his magic with two true freshmen this fall. First, walk-on Baker Mayfield and now Davis Webb, who went into Morgantown and sparked a nice win for the undefeated Red Raiders. Webb now has back-to-back 400-yard passing days the last two weeks for the 7-0 Red Raiders.
•The banged-up Ole Miss D did a very nice job against LSU. The Rebs picked off Zach Mettenberger three times on his first 12 attempts Saturday night. Maybe even more noteworthy was the way Bo Wallace and Ole Miss carved up John Chavis' D, which had been coming on. The Rebels piled up 525 yards and went 11-18 on third downs. Just when some of us piled onto that Tigers bandwagon ...
•To set the NCAA record, Jordan Lynch had to set a school record, and the NIU star did that, surpassing Stacey Robinson's 308 rushing yards for a FBS QB with 316 to lead the Huskies past CMU. That's only 151 rushing yards less than Washington State has in its eight games this season.
•Wonder what happened to the Oklahoma offense? Check Indiana, where Kevin Wilson's team gave Michigan all it could handle but Jeremy Gallon and Devin Gardner were too much for IU. Still, Wilson's done a nice job juicing up this attack. They've played three Big Ten games and scored 44 points in two of them. The other game? IU scored 28 at Michigan State, which against Pat Narduzzi's D is like 44 against anyone else in the conference. IU is No. 9 in the country in offense and No. 11 in scoring.
•Speaking of the Spartans, they scored another defensive TD on Saturday to give them five for the season. MSU's D has scored almost as many TDs as USF's offense, which has six in six games.
•UCF started the wild weekend Friday night, going to Louisville and snuffing out any hopes the Cards had of sneaking into the BCS title game. Blake Bortles played like a star, leading the Knights on a late TD drive to get the win. UCF's O-line shined, paving the way for more than six rushing yards per carry and limiting a good U of L front to zero sacks and the Cards had only one TFL the whole night.
•Brandin Cooks leads the nation, and by a decent margin, in catches of 20 yards or longer with 26. He also is tied for the national lead in receptions of 40 plus yards as well. Best player left out of the spotlight.
•If Mannion-to-Cooks isn't the most dangerous passing combo on the West Coast, Fresno's Derek Carr-to-Devante Adams is. The Bulldog tandem hooked up for four more TDs in Saturday night's romp over UNLV, giving them seven TD receptions in the past two games. They also hooked up for six passes of over 20 yards in the game. UNLV entered the contest having allowed only 13 completions of 20-plus yards in its first six games.
One thing the Rebels did do right was hang onto the ball. And that was a feat since it's the first time in 19 games under Tim DeRuyter that his FSU team did not record a take-away.
•It's still only mid-October and Melvin Gordon's already eclipsed the 1,000-yard mark to make it nine consecutive years a Badger has gone over 1,000 rushing yards. Gordon, who had 142 yards and three TDs in UW's easy win over Illinois, is averaging a crazy 9.5 yards per carry.
•The targeting rule stinks. Well, at least the part where even when the call and ejection are overturned, the 15-yard penalty still stands. (Dumbest rule ever in college football.) Is the spirit of the rule in the right place? Given rising concussion concerns from research, I think so. The problem is when you have bad calls, it makes the rule look 10 times worse because people are already worked up over the silly 15-yard-sorry-we-got-wrong-but-we-took-all-this-time-so-we-have-to-enforce-something deal. And, in the Georgia-Vanderbilt game, we had such a situation when Dawgs DE Ray Drew was ejected even after a bad call was reviewed and somehow NOT overturned. Huh? I've been roughed up worse walking past our dinner line at CBS Sports Network than what Drew did to that QB.
•Since College GameDay visited Northwestern, the Wildcats have fallen apart, losing three in a row. Worse still, since that loss to Ohio State, the Wildcats have been outscored 55-23 and just lost at home to a Minnesota team that seemed to be reeling coming into Evanston. NU (4-3) has allowed 10 sacks in the past two games and now looks like it might not even make a bowl game with road trips to Iowa and Nebraska on deck before back-to-back games against Michigan and Michigan State.
•Stat of the Day: Auburn, which was 1-6 at this point last season, is now 6-1 after knocking off Texas A&M on the road. Starting a first-year QB, Gus Malzahn's team still has scored 30 offensive TDs this season. In all of last season, the Tigers managed just 24.
•Stat of the Day, Take II: BYU ran 36 plays in the first quarter against Houston in a 47-46 win. For the day BYU ran 115 plays, the most in a game in school history, and tying for the most in FBS history. The Cougars also converted a school-best 41 first downs.
•Stat of the Day, Take III: Ron Garrett is a 6-1, 247-pound senior D-lineman at D3 King's College, who has scored a TD in five straight games. On Saturday, he scored on a fumble recovery, the fourth time that has happened on this stretch. The other game, Garrett scored, returning a blocked field goal.
•Tweet of the Day: From Ohio State cornerback Bradley Roby, who showed just because you get ejected from a game, doesn't mean you get ejected from Twitter.
@BradRoby_1: We still gon get this W, believe that.
Friday's upset to Pittsburgh was bad, but it's not a season-ender for Miami

Pittsburgh pulled the upset of the weekend with a 24-14 win on Friday afternoon

Lock beat out some big-time names with 41 touchdown passes (and counting)
You can remove Patterson's name from your coaching wish lists

The Hurricanes have been living on the edge all season

Barrett Sallee is 12-6 on his best bets at SportsLine and says Oklahoma will prevail this...