Coming Attractions: Christine Michael gives Texas A&M his last, best shot
Assessing 2012's most intriguing players, in no particular order. Today: Senior Texas A&M tailback Christine Michael.
Assessing 2012's most intriguing players, in no particular order. Today: Senior Texas A&M tailback Christine Michael.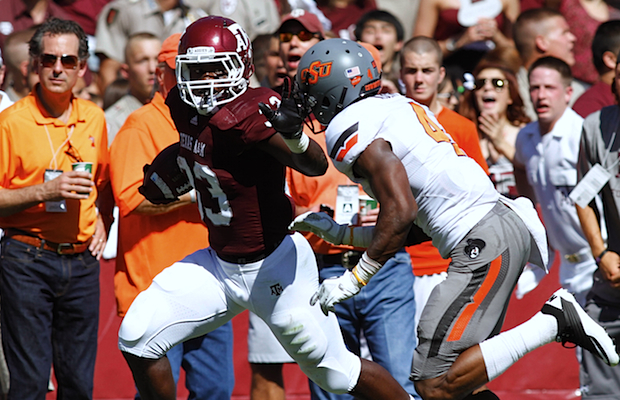 • Typecasting. Former teammate Von Miller once referred to Christine Michael as "a hybrid, mutant running back" who runs "like a 210-pound rabbit on steroids with the speed of a cheetah." Which may be a slight exaggeration, but only slight: Michael arrived at Texas A&M as a five-star headliner in 2009 – he won the Walter Payton Trophy at the '09 Army All-American Bowl as "the nation's fastest, strongest and most dedicated high school football player" – and didn't take long to justify the hype. By the end of his freshman season, he'd ripped off the longest run in school history, supplanted Cyrus Gray as the Aggies' top tailback and earned Big 12 coaches' nod as the league's Offensive Freshman of the Year.
At that point, it would have been hard to imagine Michael entering his senior year plagued by question marks, or even to have a senior season, given the inevitable interest from the NFL. But the story has long since shifted from his big talent to his bad luck: After being cut down in back-to-back seasons by a broken right leg and torn left ACL, respectively, getting through a full season and into the draft in one piece will qualify as a triumph in its own right. Then again, based on glimpses to date, it may also be the least Aggie fans should expect.
• At His Best. Despite his speed (and an early penchant for spinning that rubbed former head coach Mike Sherman the wrong way), Michael is never going to be mistaken for a "wiggle" guy: He'll work laterally and change direction in the backfield, but fundamentally he's a classic between-the-tackles workhouse who gets upfield on decisive, violent cuts, often at the expense of whatever he can't outrun. You can see this tendency on tape as far back as his senior year in high school and, more impressively, in his second career start as a true freshman:
If he's not exactly Barry Sanders, though, he's not a bowling ball with no vision once he rolls into the open field, either. In essentially two seasons' worth of work, Michael has 13 carries covering at least 20 yards, six of those covering at least 30 yards, including the aforementioned 97-yard sprint against Baylor as a freshman, a 67-yarder against Louisiana Tech as a sophomore and a 48-yarder against Arkansas last October that took even his quarterback by surprise:
His afternoon against the Razorbacks (32 carries, 230 yards, 3 touchdowns) was the best of Michael's career, by far, and turned out to be the first of four 100-yard efforts in five games that month before the season-ending knee injury at Oklahoma. He went down with 899 yards in nine games; if he manages the same per-game average (99.9) in a full season this fall, he'll rank among the top two or three backs in the SEC and come within a hair's breadth of moving into second place on A&M's career rushing list.
• Curb Your Enthusiasm. Touches could be an issue, generally, thanks to a) The pass-first/pass-last system installed by new head coach Kevin Sumlin, and b)The presence of two other five-star talents, Oklahoma transfer Brandon Williams and incoming freshman Trey Williams (no relation), in the same backfield. Although he managed to break a couple screen passes for big gains as a sophomore, Michael was never a consistent threat as a receiver in A&M's old offense – last year, he averaged just 4.4 yards on eight catches – and doesn't project as well as either of the Williamses as an all-purpose type.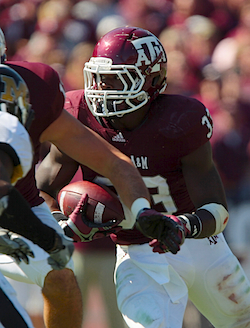 Still, the major concern is Michael's health. He sat out spring practice as a precaution, even while insisting his recovery from winter knee surgery was so far ahead of schedule he could have played in a game if necessary. Meanwhile, Brandon Williams was busy turning heads in drills and carving out a role for himself this fall if the NCAA grants his request for immediate eligibility. If Trey Williams is as advertised, Michael could very well find himself stuck in another rotation like the one he shared with Cyrus Gray.
• You should probably know… Let's go ahead and get this out of the way: Yes, he has a girl's name. (It's pronounced "Chris-TIN.") And like Johnny Cash's eponymous hero, at least some share of Michael's success has been fueled by an inner rage:
Christine Michael, then 12, turned to his mother, Mary, for guidance about his unusual first name for a boy.

"At first, I kind of took it hard," Michael said.

So she turned to an example set by Johnny Cash — the gruff singer — for a little help.

"She told me about a 'Boy Named Sue,'" Michael said Monday of the late Cash's big hit from 40 years ago. "She said I was like that boy named Sue. He didn't care, so I shouldn't care.

"My mom wanted her first child to be a girl, and she had my name picked out from Day 1," Michael said, smiling. "She thought it was unique for a boy. Now, whatever anyone wants to call me, I just go along with it."
Yes, it is so difficult to imagine how a strapping, 200-pound football star managed to survive all the teasing.
• What to expect this fall. If everything's working correctly, Michael has everything he needs to hold up as an every-down SEC bruiser, including the veteran offensive line; aside from South Carolina All-American Marcus Lattimore (also coming off a major knee injury), there is no obviously better back in the conference. But there's nothing obvious about Michael's role in the revamped offense or a potentially crowded backfield, either. Suddenly the Aggies may not have much use for a between-the-tackles bull, or may be perfectly content to spread the workload if they do.
Which is all to say that the opportunities he does get to shine will largely be the ones he creates for himself. Based on what we've seen of Michael at full speed, that should mean a full-time role, his first 1,000-yard season, a little postseason decoration and a strong bid to go in the first two rounds of the draft. Anything short of that may be understandable, given the circumstances, but it will still be disappointing given the potential.
SportsLine's computer model simulated every Week 12 game 10,000 times with surprising resu...

Though a marriage between the Vols and Gruden has been rumored for a while, it seems unlik...

Barrett Sallee is cashing on 67 percent of his best bets and gives 3 strong picks for Week...
The No. 16 Bulldogs will travel to Arkansas Saturday afternoon on CBS

The Owls are 7-3 overall and 6-0 in the Conference USA East division

Wisconsin has another chance to impress the committee