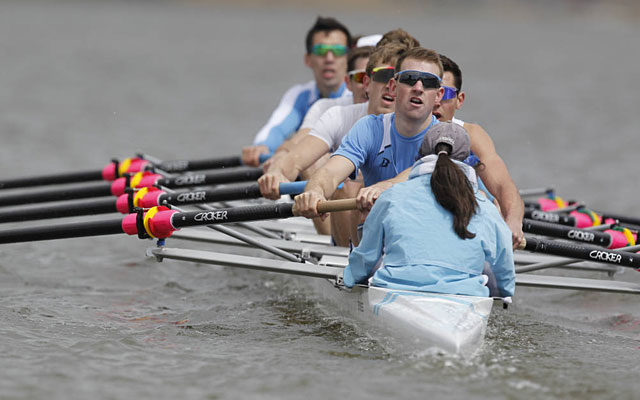 Can college athletes make money on social media off their own name, image and likeness? That question has been raised to the NCAA in recent months by member schools because of a new social network called Tsu, which promises to give 90 percent of its royalties back to users.
Tsu (pronounced "sue") launched in October under the premise that all users are content creators and, unlike Facebook, should be given royalties for use of their content. That philosophy as it relates to college sports is being debated in the courts by the NCAA and Ed O'Bannon plaintiffs, and Tsu is now marketing itself as a potential venue for college athletes to be paid.
The model used by Tsu not only plans to pay users for content, but also for bringing in followers. Tsu divides each post's revenue by keeping 10 percent, giving half to the user who posted, and dividing the remainder with diminishing value among users that person invited and those they invited and so on.
It's a complex question whether college athletes can be paid from Tsu -- and it's one the NCAA won't address publicly. A federal judge ruled in the O'Bannon case in August that colleges are permitted to pay football and men's basketball players deferred payments for use of their names, images and likenesses starting in 2016-17. The NCAA, which is appealing the ruling, is permitted to cap the annual payments at $5,000 per year in 2014 dollars.
The NCAA has verbally communicated interpretations about its rules in relation to Tsu to athletic departments that inquire, according to Tsu founder Sebastian Sobczak and Columbia University lightweight rowing coach Nich Lee Parker, whose program wants to use Tsu to raise funds. Sobczak and Parker described the following as the NCAA's interpretation of Tsu:
• Colleges, conferences, coaches and athletic departments can earn revenue from Tsu accounts. Coaches could have to report any athletically related income from Tsu in their yearly outside income financial disclosure to their athletic department.
• Athletes are allowed to earn Tsu revenue from any posts that are personal. Examples could include taking a photo, making status updates or sharing links. Athletes are not allowed to earn Tsu revenue from any posts related to sports, such as posting a picture in uniform, sharing anything related to the team and sharing team photos.
The NCAA declined to comment for this article. Sobczak and Parker said the NCAA has not put its interpretation in writing.
"There's a new Internet-based economy developing and we have to adapt," Parker said. "I do think there's a difference between a revenue sport and a non-revenue sport. Nobody really cares what people on my team think, and if they're able to generate a great social media following and there's a picture of them at practice, why should that matter? But I think that's a very different situation than an athlete at Columbia University lightweight rowing or J.T. Barrett at Ohio State. He could probably have 50,000 followers in a couple days."
Barrett, Ohio State's injured star quarterback, has more than 15,000 followers on Twitter. New Buckeyes quarterback Cardale Jones is up to more than 44,000 Twitter followers. Ohio State star defensive lineman Joey Bosa has more than 53,000 followers on Twitter.
How much could someone make from Tsu? Sobczak, the platform's founder, said the amount varies. Some bloggers make more than $100 a week; high-profile Tsu users such as Carmelo Anthony (57,215 followers), LL Cool J (42,408) and John Calipari (33,763) could make far more if they're active on the site.
"It's all based on content, distribution and the size of the social network they brought to the platform," Sobczak said.
Tsu says it grew to more than one million users within four weeks of launching on Oct. 21, 2014, reaching that mark faster than any other independent social network. Social network critics have predicted that the same kind of social media influencers who already get paid for their work are going to benefit the most from Tsu's model, assuming it holds up.
That's different in the case of college athletes, who under NCAA rules are not allowed to make money off their own name, image and likeness. Tsu has used the O'Bannon case as a marketing analogy for its platform.
"If a college player's leg bends backward, does that guy have a pension? Does he have something to fall back on?" Sobczak said. "If he was able to take advantage of social media, that might afford him things he misses out in terms of compensation for his effort and laying it on the line."
O'Bannon, a former UCLA basketball star and lead plaintiff in the NCAA lawsuit, joined Tsu and has 6,043 followers. Another Tsu user is Sonny Vaccaro (553 followers), the former shoe marketing executive who aggressively helped in the O'Bannon case. O'Bannon and Vaccaro are not being paid as endorsers of the platform, Sobczak said.
"It's interesting to see the NCAA talking about us yet not putting anything in writing," Sobczak said. "The information is being relayed verbally."
Columbia's lightweight men's rowing team has 52 followers on Tsu. Parker, the coach, has no expectations about the team making much money. About 30 of Columbia's 40 rowers have their own pages on Tsu, and Parker initially instructed them not to take a check until he had more answers. "I don't want to self-report a violation," he said.
On the other hand, the NCAA's interpretation of Tsu could fall into a murky area. Can the NCAA legally prevent athletes from being paid due to their presence on a social media site? The NCAA interpretation as conveyed by Sobczak and Parker suggests the NCAA is willing to be flexible on personal posts while maintaining schools' control over the athlete's value when providing content related to his or her team.
"A lot of my rowers are on a number of social media sites," Parker said. "Do they want to make money off it? Sure. If they can get paid for something they're already doing -- posting pictures and engaging a friend -- why wouldn't they? They're not looking at it like a primary job or primary source of income. That's a different situation than if J.T. Barrett joins."