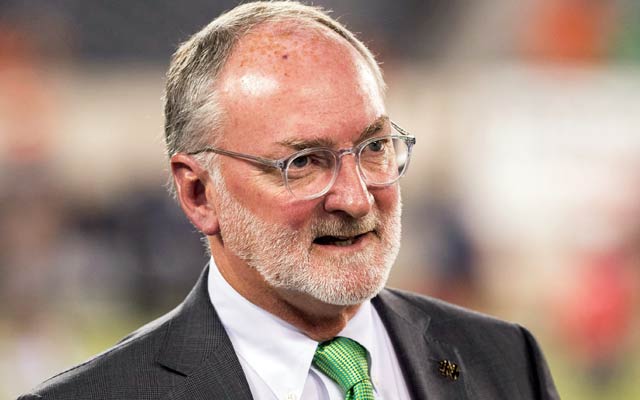 NEW YORK — College sports needs to treat athletes more like other students and let them be paid through group licensing deals for use of their names, images and likenesses, Notre Dame athletic director Jack Swarbrick said Wednesday.
"You've got to stay grounded in this analogy to other students," Swarbrick told CBSSports.com. "There are students on campus making a lot of money because they've launched a business. A classic example: Students are making great money in some internship, and I'm telling my football players they can't leave for the summer. Where's the equity there?"
As college sports faces an uncertain future due to ongoing litigation and interest from Congress, numerous athletic directors paraded onto a podium Wednesday at the IMG Intercollegiate Athletics Forum to talk about their worries.
They fretted about college sports becoming pro or semi-pro. They got frustrated that they're not communicating their positive story well enough. They bemoaned Congress, the courts and the media for getting into their business.
"Any time everybody gets in your business, you've got a crisis," Vanderbilt athletic director David Williams said.
But only Swarbrick cut through the usual rhetoric. Swarbrick's point: College sports brought this on itself with rules that differentiate athletes from the general student body, such as not allowing athletes to make money off their own name.
"If we could get ourselves more grounded in the notion we wouldn't have these problems," Swarbrick said during a panel. "If we're going to do something different than for the normal student, the bar for doing that ought to be really high. If we had that in place, we never would have had a limitation on the cost of attendance because a merit scholar doesn't have that limitation. We did that for athletic reasons.
"But if our standard had been what's the rule for other students, capturing name, image and likeness outside team activity, the musician at school doesn't have that limitation. I'm not sure why the student-athlete should, either. I don't find it inconsistent at all to say we need to get ourselves grounded back in that. I think it would contribute to reducing so many of the problems we have which really spring from this situation we created when we say they're not going to be the same as other students."
College sports faces a growing dilemma on how to handle allowing players to be paid as it becomes closer to a reality. NCAA president Mark Emmert said this week the Ed O'Bannon injunction will be the single biggest topic in the coming months under the new NCAA governance structure.
US District Judge Claudia Wilken's ruling in the O'Bannon case last August would allow Football Bowl Subdivision football players and Division I men's basketball players to receive deferred compensation for use of their names, images and likenesses.
The ruling, which is being appealed by the NCAA, would let the NCAA cap the amount at no less than $5,000 per year. In its appeal, the NCAA said the decision would amount to $7,500 per year over four years. The new benefits would start with the 2016-17 academic year and offers could begin on Aug. 1, 2015.
Meanwhile, new antitrust cases brought by the Martin Jenkins and Shawne Alston plaintiffs are seeking in part a free market for college athletes to be paid.
"From a risk perspective, O'Bannon was a very favorable ruling for everybody," Swarbrick said. "The Jenkins and Alston cases are much more troubling. You can find ways to manage a finite exposure, which is what O'Bannon gave us. Some people may cut sports, some people may increase revenue, some people may endow more, whatever. The open-ended case, that's problematic."
Swarbrick said college sports could manage a group-licensing approach for athletes to be paid immediately, not through deferred payments as the O'Bannon ruling states.
"You need a commercial validation of it," Swarbrick said. "It can't be us, it can't be Joe Fan who's going to say I'll pay you $50,000 for an autograph as long as you go to my school. You've got to avoid all of that. But you could have a group-licensing approach and say, OK, this group licensee can do a deal with EA Sports for student-athlete image and likeness, and we'll go to EA Sports and negotiate it for all of the student-athletes. Here's what it's worth if you wear the jersey in the EA Sports video and here's what it's worth if you don't. You get a market read on it and you distribute it based on the way all group licenses work."
Swarbrick said he believes there's a misperception that college athletes have a lot of unrealized value. Most players possess value because of the university jersey they wear, but a market test would allow those figures to be determined, Swarbrick said.
Swarbrick said he fears schools will take advantage of the current environment of fear and cut sports they don't need to cut. Competitive equity could still be protected while allowing players to be paid, such as limits on roster sizes and defining what a scholarship entails, he said.
"But beyond that, I do think we can manage this notion of treat them like they're peers," Swarbrick said. "Find ways to do that, not excuses for not doing that. And if we do that, they become much more a part of the university, which is our core problem.
"It shocks me today when I'm at an athletic event and I hear students boo a fellow student. That never happened a decade ago. They view it like they're not our classmate. That's what we've got to get away from. If we're just going to be minor league sports, we should leave that to minor league sports."
When asked whether other administrators in college sports feel the way he does, Swarbrick laughed and replied, "Probably not."