Number of bowls drops from 42 to 41 after Austin chooses to wait until 2016
An official with the Austin Sports Commission said Tuesday the city's plans to hold a bowl game would be delayed until the 2016 season.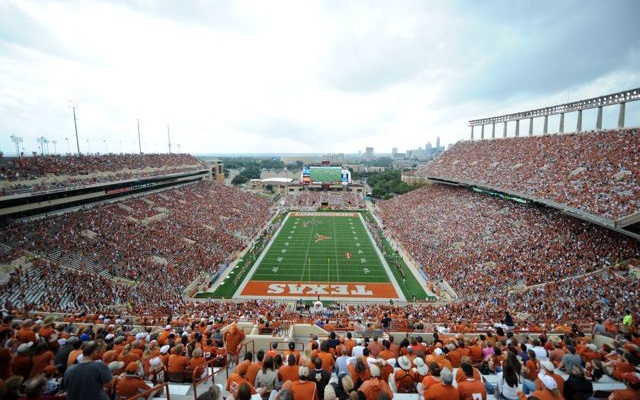 Good news, haters of fun: there's going to be one less lower-rung bowl game than the NCAA expected.
Earlier this month the NCAA certified three new bowl games -- including one in Austin, Texas -- to bring the total for the upcoming 2015-2016 season up to 42. But Lance Aldridge, executive director of the Austin Sports Commission, told the Austin American-Statesman on Tuesday that "with this short a time frame" organizers would be better served waiting until 2016 to hold the game.
Lance Aldridge of Austin Sports Commission tells me Austin will pursue bowl game in 2016, not this year. "We thought it was best to wait."

— Kirk Bohls (@kbohls) May 26, 2015
Wright Waters, executive director of the Football Bowl Association, confirmed to ESPN on Wednesday that the game would not take place until 2016, leaving the number of bowls for the 2015 season at 41. The game will have to apply for NCAA certification a second time in 2016, but Aldridge said he had "no concerns" on that point.
While most college football fans might shrug, the news won't be welcomed at all in the AAC or the Sun Belt, the two conferences which had tie-ins to the game. The Sun Belt, in particular, will be unhappy after seeing multiple bowl-eligible teams passed over following the 2014 season.
And really, we should all be unhappy -- for all the squawking from all the corners about too many bowl games, wouldn't you kill right now for some hot Cincinnati-vs.-UL-Lafayette action? Isn't every chance we get to potentially watch another Bahamas Bowl a good thing? You really want a college football world where this never happens?
If so, I do not get you, supposed college football fan. Get yourself right and hurry back to us, Austin bowl game.
The team at TheMichiganInsider.com have an exclusive look at Michigan's spring practice

The 'Conference of Champions' won't be in the Round of 32 for the time since 1986

Everything you need to know about Colorado's spring game
Gundy spoke at a Stillwater Public Schools Board of Education meeting

Diaco is the former DC at Notre Dame and Nebraska, and also coached UConn for three season...

Russell passed up on the NFL to return to Auburn to play his senior season in 2018