TUSCALOOSA, Ala. – They applauded O.J. Howard in his Telecommunication and Film class back in January. All he did was enter the room.
"Nobody knew I was coming back yet," Alabama's tight end said. "I showed up for class. It was like, 'Oh my God, he's coming back.'"
To play football, mind you. That's the main thing that came to mind in that TCF class. Howard more than understood he was the news of the day.
A buzzworthy Alabama junior was returning for his senior season. It's not the first time it's happened, just the latest. Still, the obvious question regarding Howard -- whether you are totally invested in the Crimson Tide or just watching from the sideline -- is a simple one: why?
Howard broke out in the College Football Playoff, accounting for 44 percent of his season's receiving yards (267) and his only two touchdown catches of the year over two games against Michigan State and Clemson.
For large parts of three seasons, they wondered why Howard wasn't getting the ball. In one night, he became arguably the best offensive player on the field in the biggest game of his life.
Howard's sculpted 6-foot-6, 242-pound body is worth a draft position on its own. Up until the CFP, he had simply been under-utilized. Nick Saban basically admitted as much during the Clemson postgame.
But with your abilities on full display in the biggest game of the year -- once again, O.J. -- why come back?
"We've got next season, man," Howard said.
That reply begins to explain why Alabama juniors under Saban have -- almost always -- made the right decisions. To return, to leave -- either way, it always seems to work out.
Twenty of Saban's juniors have left early between 2009-15, approximately three per year. Almost all of them have made the correct call.
"There's a philosophy; there is a business decision that really has changed here for nine years," Saban said. "Players that are here can look at what has happened to other players."
When wideout Amari Cooper was taken in the first round by Oakland last year, he was the 11th Alabama junior to go that high under Saban. Two more underclassmen have declared for this week's draft -- defensive tackle A'Shawn Robinson and Heisman Trophy winning running back Derrick Henry.
But their departures don't mark the wholesale exit that could have been. LSU's Les Miles was almost broken by his production of early entry talent -- 23 juniors to the NFL in the last four years. This year, the bulk of Miles' underclassmen stayed in school.
This was supposed to be the year those early entries would break the Tide. This was the year Saban faced his toughest rebuild.
Up to eight juniors were projected to leave. Two came out. Out of that group, Saban said, only Robinson got a first-round grade.
"It doesn't guarantee you'll go in the first round," the coach said. "Derrick Henry got a second-round grade, but I don't see how you can improve that grade. If you came back here and gained 10,000 yards, next year I don't see how you could go up in the draft."
Howard, then, believes he can move up in the draft with another year in college. That is, he wants to become a key contributor throughout the season rather than an offensive appetizer as the Tide chase another championship.
"I really thought I had other things to improve on in college," he said.
Yeah, like what? Offensive coordinator Lane Kiffin was savvy enough to make Howard the centerpiece of the offense in the CFP National Championship. The result? Five catches, 208 yards, offensive player of the game.
"I feel like Coach Kiffin is a mastermind as far as play calling," Howard said.
Speaking in the second person from his office, Saban explained it this way: "O.J. Howard, you have a lot of room and a lot of upside in terms of production, toughness, blocking, things that you can do better.
"Even though everybody likes your athleticism, if you really had a great year, you could be the first guy picked at our position next year and be a top 20 pick."
You get the feeling Howard himself has heard these words before. Whatever you want to call it here rings out from the coach's office -- guidance, knowledge, a draft range finder.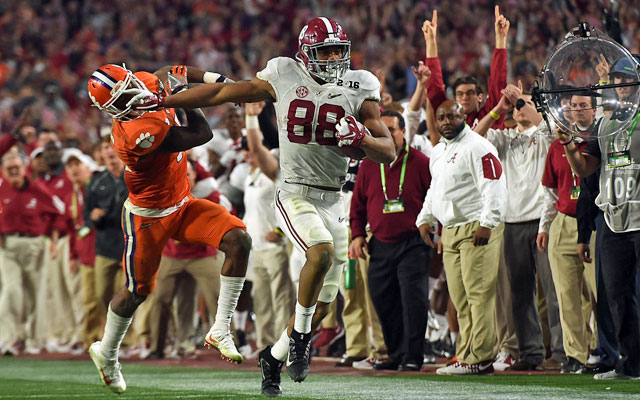 Safety Mark Barron could have left after an All-American season in 2010. He returned in 2011 for a national championship season in which he was an All-SEC performer. Barron then became the seventh pick in the 2012 draft.
Linebacker C.J. Mosely returned in 2013 leading the Tide in tackles and becoming an All-American. A few months later, Mosely became the highest-drafted Alabama linebacker in four years.
Defensive tackle Jarran Reed was a juco transfer in 2014. He considered leaving early after one season but stayed for a productive 2015. He's projected to go in the first two rounds this week.
"What I try to say to players is, 'You can improve draft status in college by staying and playing better,'" Saban explained. "'But once you get picked in the draft, you're stuck with that contract for three or four years.'
"Let's say Jarran Reed went out last year in the fourth round. He gets a $300,000 signing bonus and makes $400,000 per year. Now he might make $15 million."
This week is notable here for who didn't leave. In addition to Howard, safety Eddie Jackson, linebacker Reuben Foster and defensive lineman Jonathan Allen chose to return.
"Jonathan Allen is a second-round grade," Saban said. "O.J.'s a second-round grade. Reuben and Eddie Jackson are probably third-round grades. This is what we go on."
All of it is framed around the early entry discussion. Ninety-six underclassmen have declared for this year's draft. That's two off the record in 1998 when almost 40 percent of the juniors didn't get drafted.
"I was definitely made aware of that," Howard said.
Since then, the draft evaluation process has been streamlined. Even before then, Alabama players, by and large, didn't make those bad decisions. In 2009, running back Glen Coffee was one of Saban's first junior departures. He was drafted in the third round, played one year for the 49ers, then went into the military.
Safety Vinnie Sunseri -- cut Monday by the Saints -- was taken in the fifth round in 2014. That same year defensive lineman Jeoffrey Pagan was drafted in the sixth round.
They're the outliers. It's always easier to come back when there is a track record, when you're winning, when it seems like all of it is never going to end. Think back to that TCF class and remember the love.
"[Other players] can probably get frustrated differently not getting the ball," Howard said. "We're winning here."
About that ... would it be safe to assume a difference-making, cut, fast, sure-handed tight end coming off his first touchdowns in two years might be getting the ball more?
"I have that kind of sense," Howard said smiling. "I think they'll give me the opportunity to make plays."
Make plays ... and potentially make a lot more money 12 months from now.
Alabama early entrants under Nick Saban
Player
Position
Year
Round
Team
Andre Smith
OL
2009
First
Cincinnati
Glen Coffee
RB
2009
Third
San Francisco
Rolando McClain
LB
2010
First
Oakland
Kareem Jackson
CB
2010
First
Houston
Marcell Dareus
DT
2011
First
Buffalo
Julio Jones
WR
2011
First
Atlanta
Mark Ingram
RB
2011
First
New Orleans
Trent Richardson
RB
2012
First
Cleveland
Dre Kirkpatrick
CB
2012
First
Cincinnati
Dont'a Hightower
LB
2012
First
New England
Dee Milliner
CB
2013
First
N.Y. Jets
D.J. Fluker
OL
2013
First
San Diego
Eddie Lacy
RB
2013
Second
Green Bay
Ha Ha Clinton-Dix
S
2014
First
Green Bay
Cyrus Kouandjio
OL
2014
Second
Buffalo
Vinnie Sunseri
S
2014
Fifth
New Orleans
Jeoffrey Pagan
DL
2014
Sixth
Houston
Amari Cooper
WR
2015
First
Oakland
Landon Collins
S
2015
Second
N.Y. Giants
T.J. Yeldon
RB
2015
Second
Jacksonville