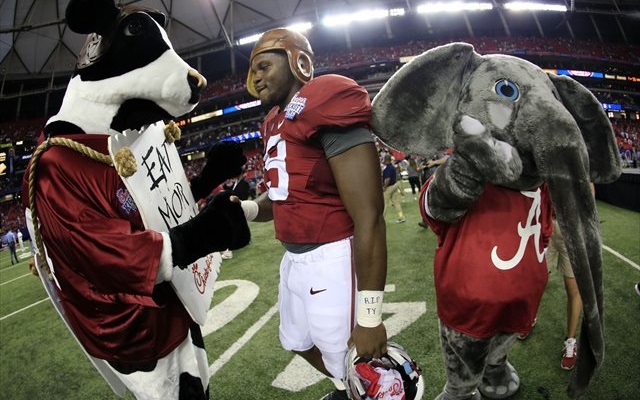 For those college football fans hoping more home-and-home nonconference series replace the current prevailing trend of neutral-site blockbusters, a warning: you might not be too happy with the details from the 2017 Chick-Fil-A Kickoff contract signed by Florida State and Alabama.
Those details were made public Friday following a records request from the Tallahassee Democrat, with the most noticeable one a confirmation of the game's previously reported payout, a cool $5 million per team to play at New Atlanta Stadium in Georgia. But the cash isn't the only noteworthy perk included as part of the agreement. From the Democrat:
The Seminoles will also receive access to 100 complimentary hotel rooms the night before the game, free tickets to the College Football Hall of Fame and a $50,000 scholarship as part of the game contract, which was signed by FSU athletic director Stan Wilcox on July 7.
As previously announced, the game will be played Sept. 2, 2017, though neither a kickoff time nor a television partner for the game have been finalized yet. Alabama will be the home team and wear its traditional crimson home uniform, with Florida State to play as the away team and dress accordingly.
According to a recent Palm Beach Post report, the move makes nothing but monetary sense for the Seminoles: 
Although the Seminoles will sacrifice a home game by playing Alabama at a neutral site, the program will benefit financially. FSU nets about $2.3 million per home game and expects to spend about $275,000 in expenses for the trip to Atlanta. The difference will be about a $2.5 million windfall for the athletic department … not to mention the attention and focus on a game pairing two of the country's most traditional and successful programs.
Of course, what those numbers (or any similar ones for the Crimson Tide) don't describe is the loss of economic impact on the Tallahassee (or Tuscaloosa) community when the thousands of fans who would otherwise descend on Doak Campbell Stadium take their money to Atlanta instead. But as long as this is the economic reality -- that the programs involved will stand to directly benefit by more than $2 million in addition to the recruiting and exposure positives -- neutral-site games will continue to prove more popular than home-and-homes.
In a related story, Alabama will receive a reported $6.5 million for its 2016 appearance at the Cowboys Classic and is already contractually obligated to keep the door open for a return in 2019 or 2010. So no, don't expect reports like this one to go away any time soon.